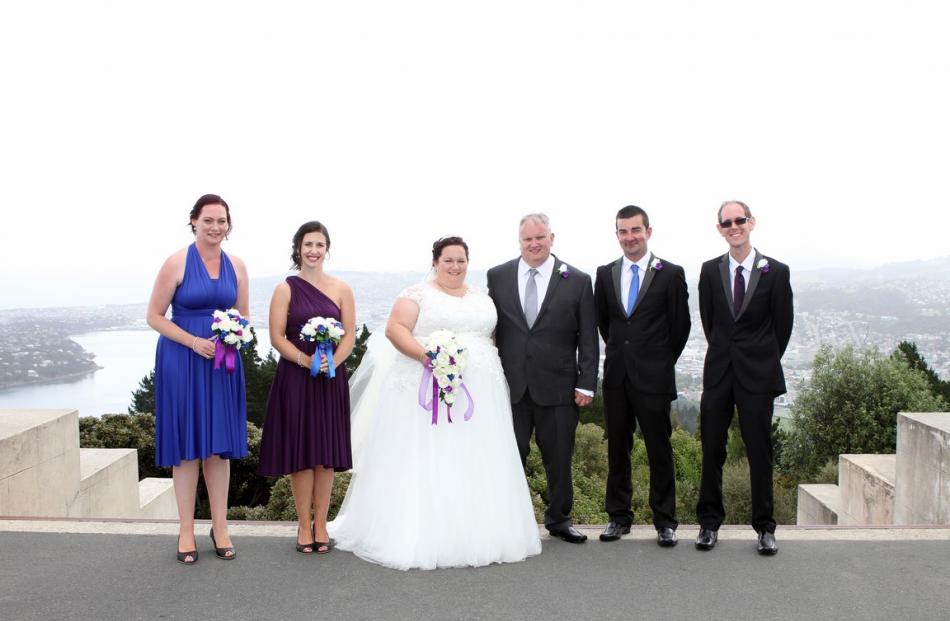 TO VOTE CLICK ON YOUR FAVOURITE COUPLE IN THE POLL AT THE BOTTOM OF THE PAGE. 
Voting closes 5pm Friday 12 August
ONE vote per person - multiple votes will be deleted  
Kelly Lawton, nee Mustoe (32) early childhood teacher and Nathan Lawton (44) retail assistant - Dunedin
When and Where did you meet? 
We met through the online dating site, NZ Dating. We spent almost a year chatting before finally meeting up for a coffee (after a few cancelled dates due to my freak outs!!). A month or so after this we were officially dating and the rest is history. 
The proposal
My favourite place in Dunedin is Signal Hill. After attending a hospital appointment that afternoon we decided to go up there and enjoy the beautiful weather Dunedin was putting on. While there Nathan asked me to marry him. I had always dreamed of being proposed to up there, and he did just that. 
When and where was the wedding?
We got married on Saturday the 20th February 2016. Our ceremony was held at Northview Garden in East Taieri and our reception was held at the Otago University Rowing Club in Magnet Street.
Why did you choose the venue?
We wanted to find venues where our family and close friends hadn't been married. Using my Facebook business page to ask for suggestions, Northview was recommended to us. We went to have a look and fell in love with the place. It was gorgeous - and better yet, we didn't know anyone else who had been married there! The Otago University Rowing Club was also a recommendation after my brother-in-law attended a wedding there. It was exactly what we wanted and had an amazing view as a bonus!
The dresses and suits
My dress was from Elite Bridal in Fairfield. Luckily I got in just before she closed up shop as my sister had gotten her dress from here a few years earlier. It was nothing like I ever imagined - but I absolutely loved it! My bridesmaids wore infinity dresses, one in grape purple and one in royal blue. These dresses are fantastic as they can be tied in many different ways. Having different colours already the girls chose the style that they liked best, rather than trying to find one that suited them both. Nathan's suit came from Suits on Wall Street and was charcoal grey in colour. He wore a white pinstripe shirt and a silver tie. The groomsmen wore black suits from Hallensteins that had charcoal grey collars to tie them in with Nathan. One of them wore a blue tie and the other a purple one to match the bridemaid colours. The couples were matched up with one of each other so no matter what way the photos were taken there was a blue and a purple on each side.
The caterers
Just Essence did our catering on the night and it was AMAZING! Buffet is definately our favourite kind of meal because people can pick and choose what they like. We have had plenty of comments about the range of food we had available and everyone loved it! The dessert tower was amazing too. Our cake was made by Arbitrary Cakes and was served along side our dessert tower. The bottom layer was carrot cake, the middle layer was lollie cake and the top layer a traditional fruit cake that is now in our freezer to be eaten at a later date. Our cake topper was modelled on photos of Nathan and I in our wedding outfits and included our cat Gizmo eyeing up a butterfly! The blue and purple ribbons complemented our wedding colours, and the flowers matched those in our bouquets. 
Highlight of the day
I don't think I can choose only one! Our whole day was just perfect. Having all of our family and good friends there to celebrate with us was most important. The weather played ball - even the rain created some amazing pictures of reflections in puddles at the University. Our band was Idol Frets and they knew exactly how to get the party going! Our photobooth was a lot of fun and the display from the Tiakina in the harbour was an extra added highlight  (one of our guests knew the owner and rang as they sailed past. Before we knew it, it was turning to face us and flashed us with its light). I would change absolutely nothing!
Our photographer
Our photographer was the amazing wife and husband team of Sanna and Blair of SVZ Photography. We also had two amazing videographers - Gayle and David from Mainland Movies. All four made us feel at ease in front of multiple cameras - which was no mean feat! Our favourite photo? All of them! Although two of them with our reflections in the puddles are special as not everyone gets photos like that!