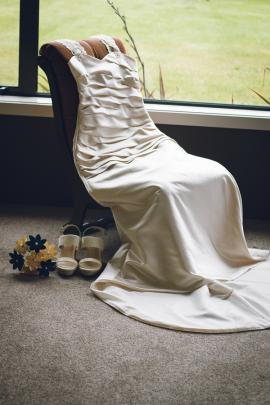 TO VOTE CLICK ON YOUR FAVOURITE COUPLE IN THE POLL AT THE BOTTOM OF THE PAGE. 
Voting closes 5pm Friday 12 August
ONE vote per person - multiple votes will be deleted 
Renee Webster (25) primary school teacher and Bryce Webster (26) meat inspector - Oamaru
Where and when did you meet? 
At Dunedin Teachers College in 2009. 
The proposal
I was out for dinner with friends. When I got home all the lights in the house were off. I opened the hallway door and fairy lights lined the hallway leading to our bedroom door. I opened the bedroom door- candles lit the room and our song was playing. Bryce was down on one knee with Sugar (our dog) beside him. He told me how much he loved me and asked me to marry him.
When and where was the wedding? 
Saturday 16 January, 2016 - the ceremony was held at Totara Estate just out of Oamaru. The reception was at my parents home in a marquee.
Why did you choose the venue? 
We chose Totara Estate because it related well to my rural background. The venue had a relaxed feel to it and provided a beautiful setting for our ceremony as well as photos. We knew it was the perfect place for our wedding.
The dresses and suits
The groomsmen were dressed in navy suits. Bryce's suit was also navy but it had a chequered pattern to it to make him stand out a little. All the dresses were made by Tracey Webster (Bryce's mum). The bridal party were all in navy, I wore an ivory dress which Tracey spent hours making to exactly how I wanted. I love my dress, in particular details such as ivory buttons taken from Bryce's nana's wedding dress, pleating at the front and seeded pearls on my lace straps. I wore a long veil that draped from my hair with a pearl clip that matched my jewellery.
The caterers
Our caterers were Pozzobon's Catering in Oamaru. They did the most amazing buffet - all the food was delicious.
Highlight of the day
Apart from marrying the love of my life it was being able to spend the day with our family and friends and dancing the night away to the Southern Man 'Denis Henderson'. The best man's speech was also a highlight.
Our photographer 
Our photographer was Kirsty Lind. She did an amazing job and all of the photos were incredible. We highly recommend her.