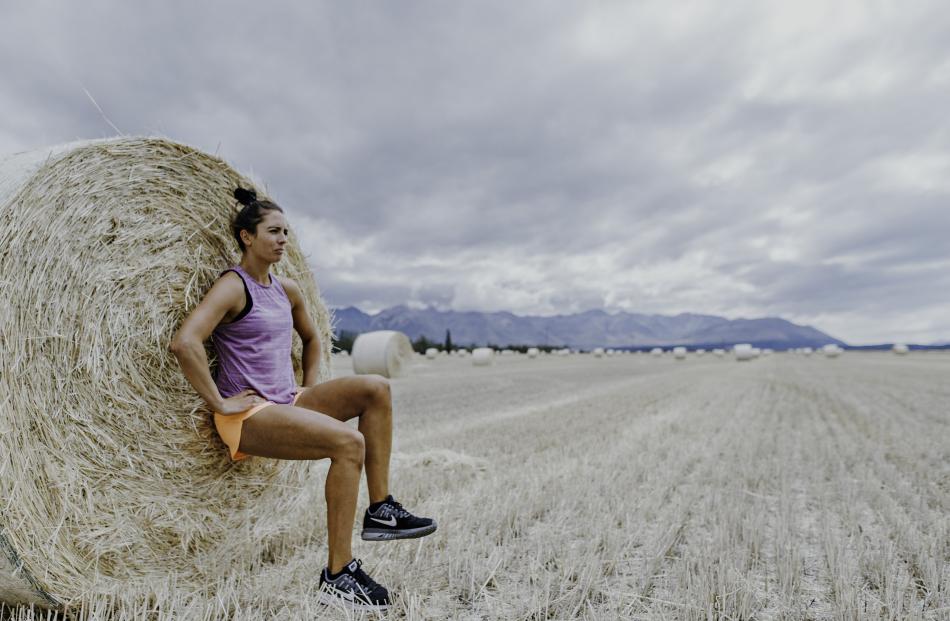 Busy mother-of-three Kate Ivey might live in a remote location but that hasn't stopped her developing a business which is helping inspire Kiwi women  to get fit,  as Sally Rae reports.
Kate Ivey has always been passionate about exercise.
From her home on a high country station, she has forged a business out of that interest, helping women throughout New Zealand to lead positive, healthy, fitness-filled lives. Her email signature says it all - Mum, Wife and Life Changer.
Since launching Kate Ivey - Fitness, Health and Inspiration at the end of July last year , momentum had continued to build.
Living in the Mackenzie might be a far cry from London, her previous home, but it was also a return to her rural roots.
Brought up on a farm at Cheviot in North Canterbury, Mrs Ivey (32) attended secondary school in Christchurch and then shifted to Dunedin to study at the University of Otago.
She graduated with a bachelor of physical education majoring in exercise prescription and management and a bachelor of science majoring in psychology.
After graduating, she worked in health promotion, including for the Heart Foundation in schools concerned with nutrition and exercise, and for a stop-smoking service. She also did some personal training.
It was while home during university holidays that she met her future husband, Mark, who was working on a farm down the road from her parents.
Mr Ivey grew up on his family's Glentanner Station, a vast high country property near Aoraki Mt Cook National Park.
He later returned to help farm the property and he and his wife, with their three young children, now live on the station's run-off block at the eastern end of Lake Pukaki.
Personal experiences helped contribute to Mrs Ivey's decision to launch a business; she had experienced fluctuations with both weight and self-esteem and put on a lot of weight during her pregnancies.
''I just really want to help other women ... to feel good about themselves and lead a lifestyle they can maintain. I feel I understand what people want ... because it's what I wanted and needed.
''Reaching out to busy New Zealand women, this is what I am. I feel it's a real passion. People changing their lives is what it's all about,'' she said.
Her most memorable and inspiring experience was helping a severely overweight client who had been diagnosed with type 2 diabetes.
That was the push the woman needed; she did not want to be a burden on the health system. Armed with both focus and motivation, she lost 60kg over two years.
It had been an ''amazing journey'' that not everyone in the health and wellbeing industry got to experience, Mrs Ivey said.
She developed the Shape Up 12-week health and fitness programme, which included nutrition tips and goal-setting advice.
Although she was not involved in daily farming activities, she supported her husband and loved rural living. But she also liked to have her own independence and identity. With the arrival of children, she felt her self-identity had been ''taken away a bit'' and where they lived was quite an isolated area.
Immersing herself in her business had solved that problem.
''I've got a spring in my step, I'm me again,''she said with a smile.
Sport had always been a big part of her life, including netball, basketball, touch, swimming and volleyball.
She was in the Canterbury Flames squad for netball and played for the Rebels development squad, Rebels B team, and Otago under-21 while at university.
Despite leading a busy lifestyle, she made time to play basketball, enjoy tennis with friends and go for runs and do her power sessions.
And with Aoraki-Mt Cook as the backdrop, it was a great environment, whether she was doing her power sessions on the shores of Lake Pukaki or running around the farm.
Mrs Ivey was a firm believer that there was no such thing as ''Superwoman''. ''There's only so many hours in a day. Something has to give. My life's not perfect, I'm continually trying to work out the right balance. It's about prioritising what's important.''
She was working with beach volleyball player Melissa Ruru who was aiming to qualify for next year's Commonwealth Games.
She was providing Ruru with strength and conditioning programmes and support, motivation, and general fitness and nutrition advice.
Having such a range of clients was what she loved and it was important to always be learning and challenging herself.
It was also a good way to get to know people and she felt more connected to the community since starting the business.
Her followers came from throughout New Zealand, some were city-dwellers, others were like her and lived on farms.
Mrs Ivey intended to keep growing her business, including a possibility of expanding out of New Zealand. If that happened, then her intention would be to target smaller communities.