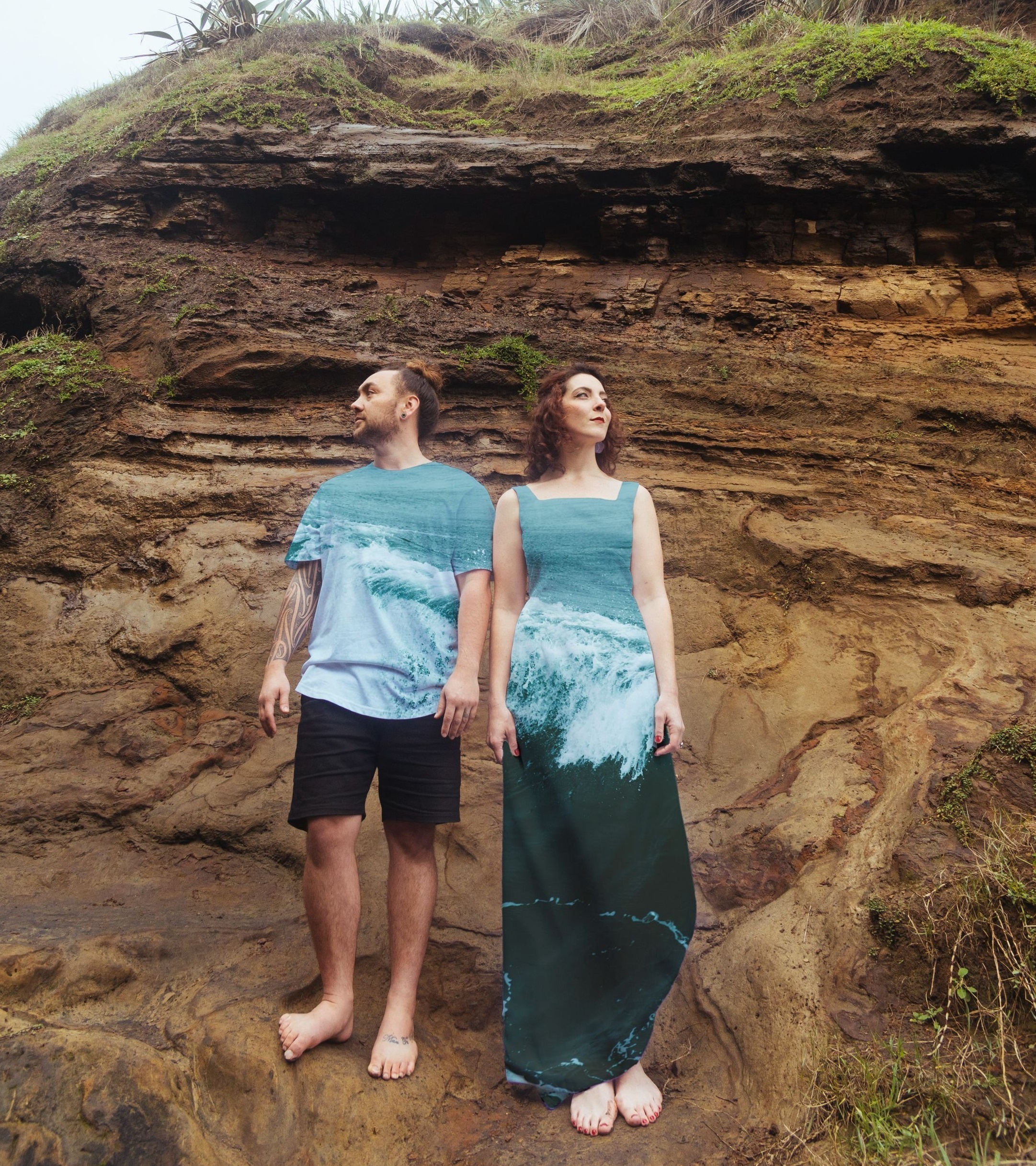 The spirit of song and the wairua of waiata flow together in the music of Aro. Tom McKinlay talked to the two halves of the musical partnership about their new EP.
On opening track Taniwha, Charles Looker sets the music in motion, chanting in te reo Maori.
Partner in life and song Emily Looker then picks up the thread in English, bringing jazz stylings to the mix before returning to te reo Maori for the chorus.
And so it goes, the chant, accompanied by taonga puoro returns for the bridge.
Charles says the song, which leads off the pair's new EP, sums up their very deliberate, if seamless, melding of influences.
The Lookers perform as Aro. Their EP He Wai is due for release on September 3, a day before they are due to play in Dunedin at the start of a national tour. At least, that was the case at the time of writing.
''It pretty much happens organically,'' Emily says of their mixing of Maori and Pakeha. She is the latter, while Charles (Ngapuhi, Ngati Te Ata, Te Rarawa, and Te Ati Awa) grew up speaking te reo.
When writing a song they might start off in English but if it's not clicking, switching tongues can do the trick, she says.
''Sometimes I will have an idea and then Charles will take it and be able to write something to that theme, but it is in Maori or vice versa. We like the fact that our music gets to be a combination of the both of us.''
As with the lyrics, the music is the best of all worlds.
''I turn to Emily when it comes to vocal things,'' Charles says. ''I prefer my rhythms and to an extent the harmonies but I think Emily's jazz influences are quite unique, as far as my musical background is concerned.
"So the combination of my kapa haka, R&B, gospel, blues with Emily's jazz - classic Beatles, Sting, all of that stuff - becomes what you are hearing with He Wai."
They set out to write pop songs with strong hooks, but Charles says it's important they still sound like Maori songs, not just translations of something from another culture.
''It feels like a really good marrying of the worlds that we dance between.''
He Wai follows their previous release Manu in promoting a concern for te taiao, the environment. That focus seems set to continue.
Charles says they were at a workshop where Dr Ihirangi Heke was talking about the five significant signs Maori looked to when assessing change in their environment. It turned out manu, or birds, were one.
''He started that list with birds and we thought, hey, if we find out what these other four signs are maybe we have ourselves concept art for the next 10 years or something,'' Charles says with a chuckle.
''We won't ruin the surprise about what the next two or three major themes are, but one of those signs was the creatures of the sea.''
That gave them the starting point for He Wai.
From there, they dived into some research and came up with stories of te wheke, the octopus, tuna, the eel, and tohora, the whale, among other characters.
Charles says the tohora has particular significance for his northern iwi connections, as the sperm whale andthe kauri tree are related in that whakapapa.
The seed for their song Whai also grew from whakapapa.
''I had the pleasure of being at Ihumatao earlier this year, learning about the kaitiaki in the Manukau Harbour, which is in the form of a great stingray.''
Often, that's the secret, being in the right place, around the right people to hear important stories, he says.
Those stories then become part of the educational programme that Aro shares as it tours, visiting schools and doing workshops.
The story of the wheke, or octopus is a case in point, asit picks up the message from a well-know whakatauki: Kaua e mate wheke, me mate ururoa, which translates as ''do not die (or fight) like an Octopus, die (fight) like a hammerhead shark''.
The wheke always runs away, Charles explains. Which in the case of Aotearoa was a useful quality, as Kupe made his discovery after giving chase to a pet wheke. In their workshops with children they might use the whakatauki to talk about the need to sometimes turn and face our fears.
''How can we strengthen ourselves, or each other to face it head on like a shark would?'' Charles asks.
''The last line in the chorus says the eighth time is the charm. We're not always going to get it straight away.''
There is growing support for music in Aotearoa made using te reo Maori, he says.
''I have met some artists for whom it has been, maybe, a secret journey... And I have heard some of our top performers, I suppose, of Aotearoa, have turned up to reo Maori song writing wananga and things like that, really wanting to find the language for themselves.''
The gig
Aro plays Bellamy's Gallery,
Dunedin on Saturday, September 4.
• He Wai is released the day before.