When they first launched Gilbert's Fine Food, Kevin and Esther Gilbert were given some great advice that still rings true.
An early business mentor said that if the couple believed in something, they should stick to their guns - a philosophy that has guided the Dunedin food company since.
It inhabits their focus on local ingredients, authentic baking methods, and sustainable business practices. With these personal ethics at the core, the company has gone from strength to strength since the Gilberts first became involved in the Dunedin food industry in 2006.
That was when they bought Charlotte Bakery, closely followed by opening Lievito Bakery at the Otago Farmers Market in 2007. Soon, Charlotte was sold, while the business at the market was developed to the point that the Gilberts began looking for permanent premises.
Moving to 47 Otaki St in 2011, the Gilbert's Fine Food name was adopted, with Lievito Bakery continuing as a gluten-free range.
Selling a wide variety of breads, pastries, and pies, they specialise in traditional, naturally leavened sourdough European-style breads, exclusively using South Island grown grain and flour. Gilbert's Fine Food use as many other locally produced ingredients as possible, and sell many New Zealand artisan produced goods.

''We had this view of the world, like ripples in the pond that radiated outwards,'' Kevin says. ''And we'd always give the closest ripple as much attention as we could.''
While he reflects that a business accountant might not agree, there is a rationale that lies parallel to the ethics. And that is in the quality of the products that Gilbert's Fine Food uses.
The flour from South Canterbury not only wins on the food mile scale, it is also of superior quality. The same applies to the free range eggs they use, which are sourced from another Otago Farmers Market outlet, as is most of the meat and vegetables.
And it's not just as a provider of quality ingredients that the market continues to be central to Gilbert's Fine Food's existence.
''It's a great testing ground,'' Kevin says. ''We can come up with a random weird idea, and take it to the market for two weeks. They give us instant feedback as to whether they like it or not.''
And the Gilberts will also have customers ask them if they can make various products for them. It's that kind of instant connection that is one of the most attractive things about doing business in Dunedin, they say.
As Esther says, it is the perfect sized city, big enough to offer plenty of customers, while also maintaining a village feel.
This was some other good advice they were given in the early days of the business - that there are few degrees of separation in Dunedin. Kevin says his counterparts in Auckland may know the accounts person at the businesses they deal with - but not the owners.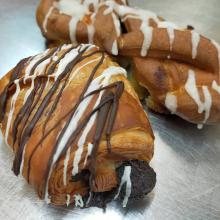 ''Whereas down here, we go into a cafe - many of which we supply - and we know them,'' he says ''And they know that they can get on the phone to us. We do things a bit differently, but it seems to work for us southerners.''
Raised in Christchurch, Kevin first learnt the baking trade working in supermarkets. From there, he worked around New Zealand, as well as overseas.
Having experienced European baking he was aware there was much more on offer that most New Zealanders were aware of. This was further emphasised when he married Esther, who is from Swiss heritage.
''And I was introduced to a whole new realm of things,'' he relates. ''It wasn't hard to learn, because I'm interested in it and it's what I enjoy, so the results justify the work. I'm still learning, and always hope to be.''
All Gilbert's Fine Food products are made from scratch , with no pre-mixes used, and only those highest quality locally sourced ingredients.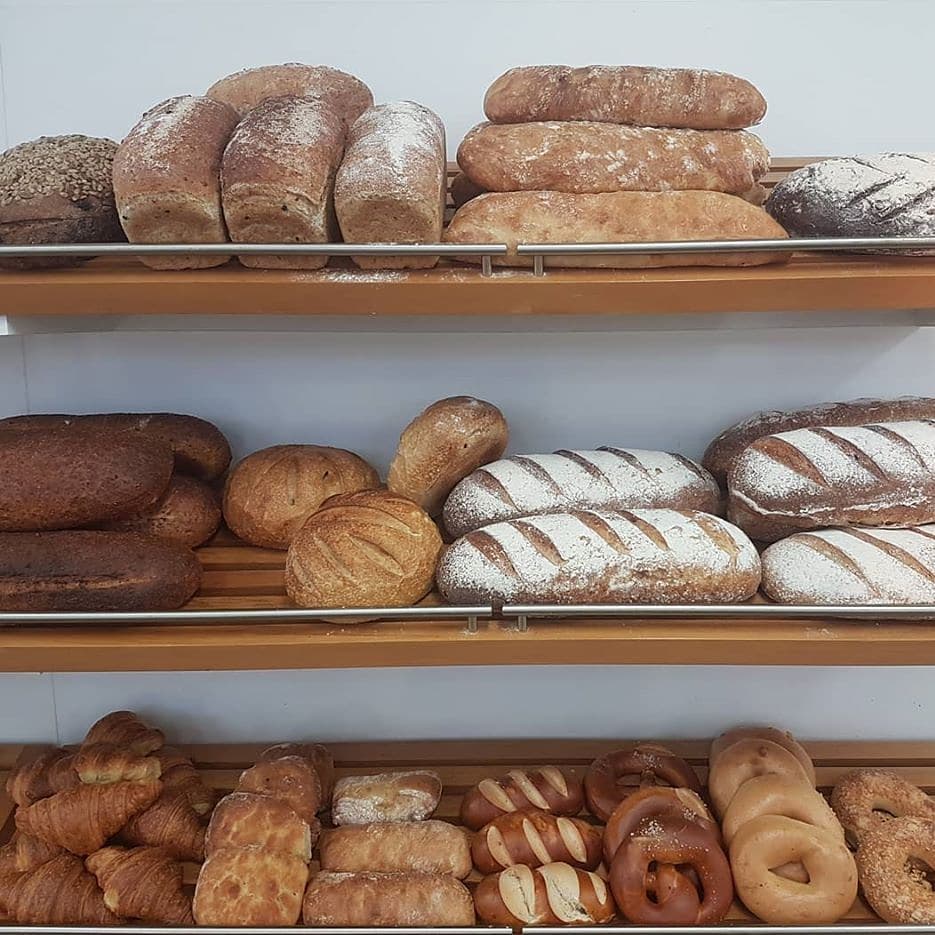 As with a number of things, they've been ahead of the curve, having always made the types of sourdough bread that have in recent years become extremely popular.
Sustainability is another ethic that has long guided the company. Gilbert's Fine Food's admirable commitment to this is evident throughout their operation.
Products are reclaimed or reimagined into new items, edible leftovers go to KiwiHarvest each day, compostable waste to Doubt Not Compost, there are no single use coffee cups, minimal plastic packaging, and they now use flour sacks as rubbish bin liners.
''We are trying to do the best we can,'' Esther says. ''But I still look at the two bins that go out every week and think, 'how can we change that?' We're constantly looking to improve.''
Recently Kevin has stepped back from the Baking Industry Association of New Zealand, where he'd been President since 2016. But he's still involved in the industry, locally through Work Skills, and also with his many connections internationally.
His aim has always been to try and shift people's perceptions about bakers, and baking, which he says is a combination of art and science. So, what makes a baker?
''It's passion, and it's the question of 'why?''' Kevin says. ''I can teach anybody to make croissant, but it's the people who are truly curious so they can advance and tweak it. It's somebody who likes the alchemy of taking four almost inert objects and turning them into life.''
❏ Gilbert's Fine Food:  47 Otaki St, South Dunedin. Phone (03) 455-7161 or email
shop@gilbertsfinefood.co.nz