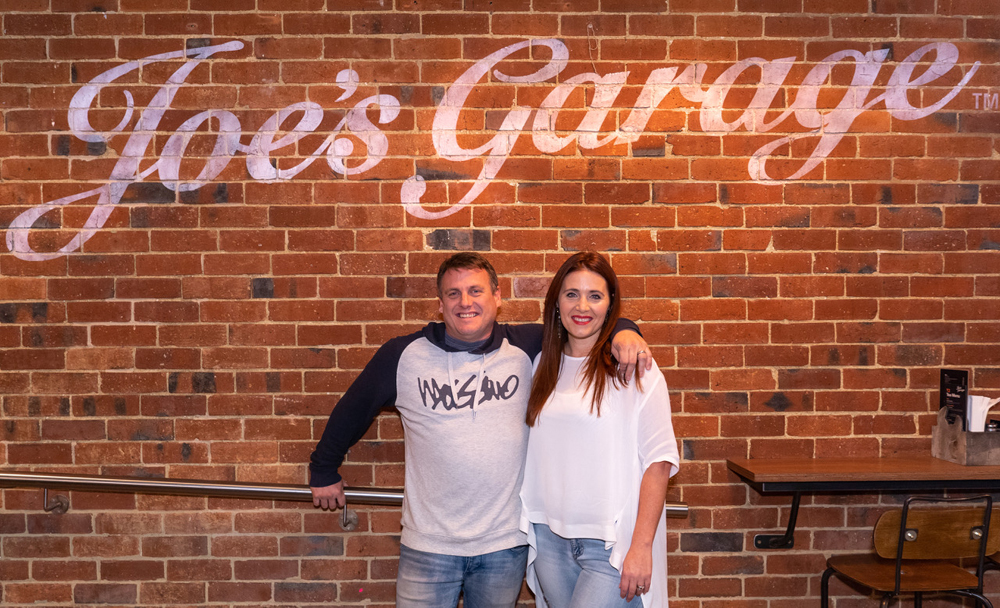 Open 7am-late seven days a week. 19 Frederick St, Dunedin.
Call (03) 777-3388, or see www.joes.co.nz 
Open the big metal door with the spanner handle at 19 Frederick St in Dunedin, and you'll definitely be surprised by what awaits.
Joe's Garage is a spacious multi-faceted inner-city cafe, offering something for everyone.
From generous breakfasts and lunches, coffee, a tempting dinner menu, bar, and much more, this is truly one of Dunedin's best-kept secrets.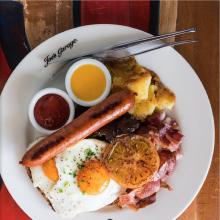 Owned by local hospitality experts Nick and Neisha Nilsen, who have been in the industry for 15 years, Joe's Garage opened in Dunedin in April this year and now has 27 staff.
It is part of an extremely popular brand that started in Queenstown's old post-office building back in 2000. Even then, there was a sense of mystery about what lay behind a frontage that gave little away.
''You didn't really know it was there,'' Nick says. ''And here, a lot of people come through the door and are like 'Oh my God!'.''
Behind the door at Joe's Garage are a number of relaxed areas for eating, drinking, and relaxing with family or groups of friends, intimate meetings, or even solo.
At the back there is a boardroom that can be booked at no cost for parties of up to 30 people; perfect for meetings with brunch for example.
The space can be extended into a function room with space for up to 120 people, which is great for birthday parties and work functions, with dining from the menu or canapes.
And it's possible to book the entire Joe's Garage for larger functions of up to 325 people. The venue has successfully hosted large 21st birthday parties and business functions exclusively.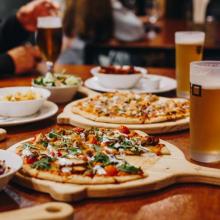 It has an open kitchen so customers are able to see everything that goes on. Outside, there's an excellent covered courtyard, with a big open fire making it cosy on cooler days. And in summer, all the doors can be opened to create an airy welcoming space.
Joe's Garage is fully wheelchair-accessible. The cafeis also particularly child-friendly — there are baby-changing facilities in both the men's and women's bathrooms. Dogs are also welcome in the outdoor area!
Importantly, the menu caters to all tastes and dietary requirements. Joe's Garage is open from 7am, with the kitchen open right through until 9pm each day. The motto for the menu is ''Simple, Fast, and Reliable'' — all words to live by when it comes to food.
From 7am until 5pm the breakfast and lunch menu offers a huge selection. Breakfast staples include porridge, eggs on toast, breakfast rolls, and ''The Local'' full cooked breakfast. Then there are burgers, salads, hot-pots, and much more.
The dinner menu runs from 5pm until 9pm, with burgers, salads, pizza, and mains including pork belly, salmon, and steak.
There's also a great range of counter food.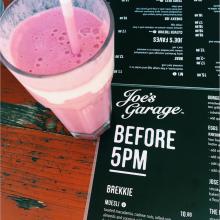 Joe's Garage takes individual dietary needs seriously, with many vegetarian, and gluten- and dairy-free options. They have available a special cheat sheet that lists the menu for those with food allergies, which also details how dishes can be adjusted to suit.
Kids are well catered for, and the cafeis the perfect place to visit after school for a snack with a shake or a smoothie.
There is quality coffee, and on a cold day it's far more pleasant to wait for your takeaway drink in a warm environment. Food is also available to take away, with some items only taking minutes to prepare, for those in a hurry. And the menu is available for delivery with Uber Eats, for those office-bound or at home.
Joe's Garage is also the perfect place to have a relaxing drink after a concert, rugby game, or any event in town. Pizza is available after 9pm until the early hours, have a glass of wine by the fire in the evening, or perhaps a Bloody Mary on a quiet Sunday.
So if you haven't yet discovered what's behind the door at Joe's Garage, what are you waiting for? And download the ''Regular Joe'' app — a reward system that will keep you up to date with deals and new offerings.

Joe's Garage is proudly supported by the following businesses: