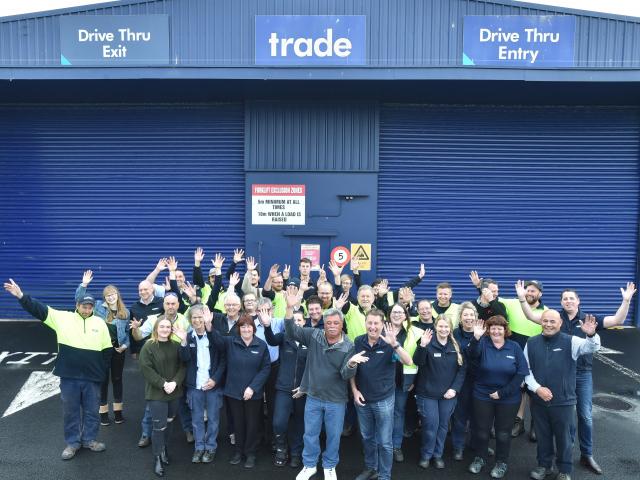 It's been a huge ten years for Justin Macready since he stepped up to become the joint venture operator of Dunedin's power packed trade store PlaceMakers. He came with a 16year work history at PlaceMakers Christchurch having already notched up the 2005 Young Retailer of the Year Award in the New Zealand Hardware Awards and was involved with Riccarton winning the 2007 national Trade Store of the Year Award.
The move to Dunedin marked a significant step in his career with PlaceMakers, New Zealand's largest building materials manufacturer and distributor. A move that he says he and his wife Gwen and their children have never regretted.
"We came filled with excitement at the opportunity to have a fantastic lifestyle and work within a great business and in such a vibrant community. Our experience has not just met our expectations it's exceeded it. We love it here."
Mr Macready says the joint venture concept allows those who take it up the best of both worlds. "We have the back-up strength of Fletcher Building, New Zealand's largest Publicly listed company. We also have the ability through our own integrity and local knowledge to do what is best for our team and customers."
 "We are very much a trades-focussed business but also have many serious DIY customers who appreciate that they are dealing with a team who know what they are talking about and are focussed on the right product for the job, which might not necessarily be the cheapest. We have genuine experts in all aspects of the business. We are the only store in town dedicated to the Trade open seven days a week. We're very much a solution-based business ensuring our trade and serious DIY Customers get the 'total solution' of materials that fit together and do the job properly. This involves strong relationships with the leading suppliers.
Mr Macready's business approach has continued to be a winning formula. In 2016 he won the New Zealand Hardware National Award for Retailer of the Year for a leader in a building supplies and DIY company. His prize was a trip to the Eco Build show in London.  He says, "Our business mantra is built on repeat customers, it's what drives us, so we need to make our trade customers efficient in their businesses. We are very mindful that our success relies on their success." 
Engaging with and supporting the community is also high on Mr Macready's priority list.  PlaceMakers has been a sponsor of the Otago Polytechnic Charity House since it started back in 2005 and they also play a big role in supporting local rugby.
"We are the official Community Partner of the Highlanders. We are their grass roots supporter. We have been involved with events with rugby clubs throughout the whole franchise since 2012. This includes coaching clinics with schools and with junior rugby clubs. We sponsor the annual Junior Rugby Club Half Time Race where every rugby club enters a team to compete for the PlaceMakers -Highlanders "We love Rugby" trophy and every junior rugby club member gets a free ticket to a Highlanders match.
"We are in a region that is very proud of its rugby and our average customer is very much a supporter of the Highlanders. What we are helping to do with the younger rugby players is to give them some tangible connection to the Highlander franchise.
"We also have a community BBQ trailer that we lend out to schools and various charities to help them with fundraising and events."
In November this year PlaceMakers are helping to sponsor a Community Climate Safe House initiative in conjunction with the ODT Home and Leisure Show on November 2-3. 
Mr Macready explains, "It's all part of my philosophy that you only get back from your community what you put in."
The Macready family themselves are very active locally on many different levels.
"As a family we feel very much a part of the community. Gwen, who gave up her successful Events Management business in Christchurch hasn't stood still since we made our home in Dunedin. She has been involved in ID Fashion, Arts Festival Dunedin, events at the Regent Theatre, has run school fairs, been on school boards and just last month was the convenor for the annual fete at John McGlashan College. I'm a past Junior chairperson of our children's rugby club committee and current chairperson of our son's high school rugby club committee. I'm also a member of the Otago Chamber of Commerce."
"Gwen and I couldn't think of a better community for our children to grow up in. Everything is here for them. Marshall and Francesca are both into their sports where they enjoy world class facilities, coaches and support. Our family has been involved with the St Clair Surf Life Saving Club. Our son Marshall is a Junior Lifeguard loves his mountain biking and rugby and last year he played for the Otago under 14's. Our daughter Francesca has just recently won a bronze medal at the Aerobics National Champs and has been involved in Surf, Touch, Netball and Raza school of dance.
"We've made lifelong friendships and love our lifestyle here. I'm proud of the ongoing community support that PlaceMakers delivers and I'd like to think that my great grandfather who came to Dunedin from Scotland, would also be proud of what the Macready lineage has put its name to."

Check out other related stories:
Meeting the Changing Demands of the Construction Industry
Investing in Staff

Thank you to our supporters: