Recipes like this are perfect for an unexpected guest or if you decide to go on an impromptu picnic.  I keep it simple by using ready-made pastry and topping it with  refreshing seasonal produce.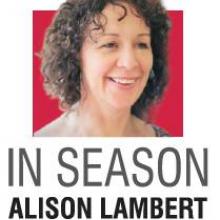 Serves 6
400g flaky puff pastry
20 spears asparagus (approx)
4 Tbsp Greek yoghurt
2 egg yolks
40g grated parmesan cheese
1 tsp dijon mustard
1 Tbsp chives, finely chopped
1/2 lemon, zest only
1/4 tsp salt
freshly ground pepper
Optional
1 tsp dill or fennel frogs
Method
Heat the oven 190degC.
Roll the pastry out to 30cm in length by 20 cm width. Allowing 3cm around the edge of the pastry, lightly score a border with your knife, being careful not to go through the pastry. Transfer to a lightly greased baking tray.
Trim the asparagus so the spears fit inside the border of the pastry.
Mix the yoghurt with the remaining ingredients and stir to combine.
Spread evenly over the pastry, avoiding the edges as this will prevent them from rising.
Lay the asparagus across the filling until the tart is covered.
Bake for 20-25 minutes or until the pastry is golden and well risen and the filling has set.
Remove and cool for 5 minutes before eating.