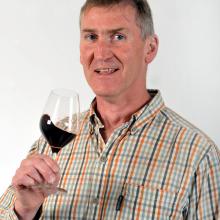 Mark Henderson samples some pinot noir.
Followers of the biodynamic movement have a calendar listing days that are propitious for different activities in the vineyard.
Root, leaf, flower and fruit/seed days are also said to affect wine tasting, with root days the least preferred. I had thoughts of root days the first time through this line-up, as the structure and tannins tended to dominate the fruit.
Perhaps it was just me, as the second and third time through, the wines became more expressive. The tasting today features second-label wines offering value-priced alternatives to estate labels.
2015 Sileni Estates Cellar Selection Pinot Noir
Price: $20
Rating: Very good to excellent
This opens to cherry and spice, edging to plum and perfume with time.  Light to medium weight with a lovely carry of flavours through the palate. Quite a bit of interest here and very drinkable.
Develops a toffee note, a little bit of funk and a refreshing sweet/sour note on the close. Very appealing this, and grows on me.
2014 Fifth Bridge Pinot Noir
Price: $29
Rating: Very good to excellent
Subtle nose with strawberry jam at first, becoming nicely perfumed. Powerful strawberry and dark cherry in the mouth followed by a firm tannic structure and finely judged acidity, evolving to dried herbs on the close.
Youthful and deceptively concentrated, rounding out very nicely in the glass.
2015 Wooing Tree Beetlejuice Pinot Noir
Price: $28
Rating: Very good to excellent
A fragrant nose with cherries to the fore, backed by oak spices and a top note reminiscent of eucalypt. Quite dense on the palate, savoury with fruit pastilles bound together by chewy tannins.
Youthful and bright with vibrancy and energy on the palate. Another youngster with much to offer with some time in bottle.
2014 Chard Farm River Run Pinot Noir
Price:  $35
Rating:  Excellent 
Sweetly perfumed with strawberry and fruit jubes. Strawberry again on the palate with cherry and a touch of earthiness; that lovely sweet fruit core carrying the flavours through the wine to the fresh lift on the finish and excellent length.
Supple, rounded, just lovely balance here. Very drinkable and moreish.
2011 8 Ranges Trail Rider Pinot Noir
Price: $25
Rating: Very good
This looks and seems more mature on the nose with secondary characters evident, developing fragrance and perfume rather than primary fruit. Strawberry jam and balsamic, then cranberry, cherry and potpourri creep in. 
Supple on entry with quite bright acidity and tannic backbone still. Drinking well now.