As you read this, preparations for harvest 2019 in Otago will be getting under way: machinery is checked and re-checked, tanks and barrels are cleaned, and wineries are generally made shipshape for the onslaught ahead.
Many factors influence the start of grape picking: the subregional macro-climate, vineyard micro-climate, crop load, wine style, Mother Nature (which can influence pressure from diseases) and so on, and different grape varieties ripen at different times.
Early pickings for bubbly production began roughly three weeks ago when the main harvest began for some of the warmest sites.
Traditionally early pickers are likely to start in the coming week, continuing on into late April for cooler subregions such as the Gibbston and Waitaki valleys.
It is too early yet to engage the crystal ball, but fingers crossed for a good harvest.
Easter Show results
Trophy results are out for the Royal Easter Wine Show. The 2017 Giesen The Brothers Marlborough Chardonnay took the gong for Champion Wine of Show. This is about $20, so very accessibly priced.
Local trophy successes were the 2018 Ata Mara Central Otago Riesling and the 2014 Wild Earth Reserve Earth and Sky Pinot Noir.
Locally, gold medals went to 2018 Tatty Bogler Waitaki Valley Pinot Gris, 2017 Akarua Central Otago Pinot Noir, 2017 Fifth Bridge Central Otago Pinot Noir and 2016 Wild Earth Pinot Noir. Congratulations!
Raymond Chan
Former Dunedin man Ray Chan died on February 10.
From his early fascination for wine at his family's restaurant, his role in the foundation of the Wine Federation of Otago (which remains active today), keen involvement in wine options competitions, becoming a wine judge in the late 1980s, to moving to Wellington to further his career, Ray has been a vocal advocate for New Zealand wine and local producers.
His knowledge and passion for the local industry will be missed.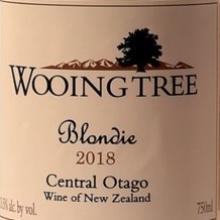 2018 Wooing Tree Blondie
Price: $28
Rating: Excellent
Fragrant nose, a little bubble gum at first, before notes of peach, spice, red fruits and strawberry take charge. Richly textural, fresh fruit- driven palate adding nashi pear notes with a core of spice. A whisper of sweetness, but the growing crispness sees this through to a relatively dry finish.
This would be great with a summer lunch alfresco.
2018 Providore Luminaire
Price: $25
Rating: Very good to excellent
There's real delicacy to the nose with a backdrop of pear, stonefruit and wine gums. The pear and stonefruit drive the palate and nutty hints add interest, the palate building in richness and depth as it opens up, a little citrus note adding freshness.
A drier style with crisp acidity that appeals for its elegance.
2018 Devil's Staircase Blushing
Price: $26 (cellar door)
Rating: Very good
The sweetly fragrant pear and spice notes leap out of the glass, becoming more subtle over time. A fruit jube sweetness is kept in check by the fresh acidity, notes of apple building on the mouth-filling palate as this flows through to a dry, zesty close.
Softens a little over time on a warm day: this will reward being served a little cool.