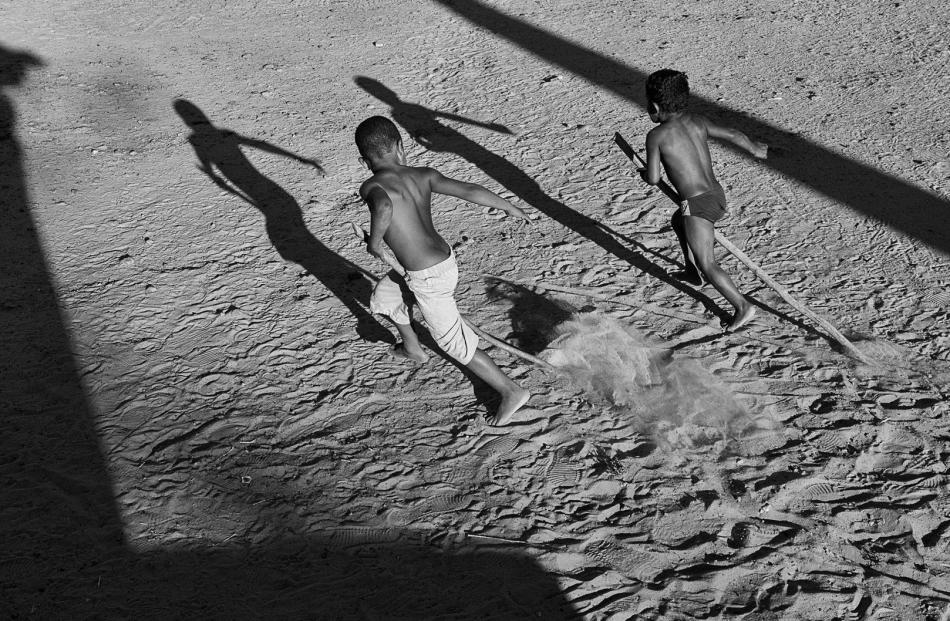 With the Rio Olympics in full swing, Dunedin painter and photographer Bruce Hunt (51) reflects on three years in the real Brazil; a country of beauty, energy, love and danger.
From the balcony of our eighth-floor apartment, I can see the sprawling city dissolving into smog to the west and the Peri favela tumbling down the steep hillside to the north.
Above and below me are the reverberations of Brazilian life. I have almost grown to love the noise, the unbridled energy and flaunting of emotion ever-present on the streets.
Two years earlier and six weeks after arriving in Brazil, I woke to these sounds, wandered out to this balcony and witnessed the first murder of my life.
A poleaxed body in the street below, surrounded by brain matter, blood and curious onlookers.
It would prove to be the first of many I would see in my time in Brazil.
My wife, Fabia Oliveira, is Brazilian. After 12 years living in New Zealand, she could no longer resist the urge to reconnect with her family.
We were comfortable and settled in our Dunedin home, the only bugbear the Dunedin climate. Yet her desire to be back among her own was far too strong to ignore. 
I, too, needed change. My work as an artist had led me on extensive explorations of the New Zealand landscape as the core of my paintings for more than 30 years.
But most of all, I needed to better understand my wife or we would be destined to a life of mutual confusion as to one another's daily motives.
As we departed on that April day in 2013, despite the ordeals of selling home, cars and virtually everything else, it all seemed right.
An adventure was about to unleash itself on our lives and adventure is a vital fuel we sometimes forget should be topped up regularly.
Now, after nearly three years living the Brazilian life, I have been reshaped somewhat, by the people, by weird and wonderful situations and by the landscape, both physical and cultural.
The thing I've learned about Brazil, is that on a daily basis you may experience the best of what humanity can offer up but you are just as likely to bear witness to the worst.
This is a lucky country, but there are times you come to conclude that perhaps Brazilians, Brasileiros, don't really deserve Brazil.
Base camp for our numerous excursions throughout Brazil has been Sao Paulo,  a heaving, concrete megacity that I have not been able to find much love for.
Like any major city it has its good points but for me these get lost among the filth, hardness and dysfunction of much of the sprawling urban environment.
Danger has the potential to raise its ugly head at any time here.
Photography has become the complex and intriguing means by which I can tell my story of Brazil.
During those moments when I wondered what on earth I was doing in this strange country, it was the ability to make pictures that refocused my sense of purpose.
Having been  a painter all of my working life, certain ways and methods have become entrenched. Photography is just another means to express one's self. But with any creative medium, it is the urge to go beyond your perceived limits and challenge doubt that moves you forward.
Photography has presented me with all manner of unexpected opportunities to truly test myself. Brazil's people and culture are the most lively and stimulating stage upon which to work.
I have photographed many aspects of Brazilian culture: The enormous sugarcane industry, from a high-tech ethanol and sugar processing plant in Sao Paulo, to the resilient and spirited seasonal cutters of Bahia.
Brazil's soils are rich and it is a major agricultural producer. Coffee farms, both state of the art and traditional, in Sao Paulo and Minas Gerais; massive soya, cotton, corn and dairying belts of the interior; and, Goias where we discovered a thriving Fonterra operation.
Sao Paulo's enormous central markets where thousands of tonnes of fruit and vegetables are bought, sold and distributed every day.
The state of Minas Gerais with its stunning historical architecture and cachaca production.
The drums and rhythm of Salvador da Bahia and its Afro-Brazilian culture and religion including Candomble  and the Yemanja celebrations in Cachoeira, Bahia.
Here we were lucky to escape an armed holdup on a remote back-road.
The rich culture of street art in Sao Paulo. The Pantanal and its multitude of waterways and fantastic wildlife. What fantastic creatures birds are!
Behind the scenes at Carnival where we enjoyed  access to the construction of floats, costume making and rehearsals with the Tucuruvi Samba School. The Brazilian women's rugby sevens team and its Kiwi coach.
Rio de Janeiro, where riots and demonstrations took place daily leading up to the World Cup and where our highlight was accompanying a young journalism student on an eye-opening and insightful journey through his home, the troubled Rocinha favela.
We've experienced three years of political turmoil and corruption investigations, the World Cup disappointment and preparations for the Olympics. The country has boiled with unrest.
My wife's roots became a significant catalyst to the reason for, and direction of, my photography.
It enabled me to understand that she is indeed defined — more so than I, as a Kiwi — by her place of birth, her family and her sense of what it means to be a Brazilian. So, I was able to experience a unique slice of life.
Significant periods of time were spent in the rural interior of the northeast, in the state of Piaui, birthplace of my wife and where her grandmother and many relatives still reside.
They had not had a gringo living in their midst before. Initially there was reserved curiosity and probably suspicion of me and my English tongue.
I enjoyed several visits there and fostered simple relationships, thus gaining  a special access to lives and homes so unlike my own.
This was once the poorest state of Brazil, fraught with drought and poverty until Lula, ex-president of Brazil and champion of the northeast, turned the fortunes of Piaui around during his time in office.
A collection of images portray the Brazilian theatre of life here.
They describe a simple existence focused on transforming the land into food and a strong sense of community encompassing religion, family, hard work and celebration. They are set against the backdrop of an arid and stubborn landscape punctuated with pockets of lush green where hazy hamlets reside.
Rugged and dusty red dirt roads link and support these communities, all under the veil of a towering sky.
Intergenerational contact is constant, respectful and tender. Family is all-important.
The camera has captured a place rich in life, love and death.
I have been constantly amazed by the generosity and tolerance of Brazilians. 
Their home is most sincerely your home. They are among the most accepting people on Earth; the debilitating level of corruption is an absolute blight on the Brazilian way of life.
It makes you appreciate that New Zealand runs like morning tea in a kindergarten, all very polite and above board.
Brazilians don't mind hard work. Their ability to construct anything that is large and made of concrete and steel is legendary.
Small businesses,  tucked away in every nook and cranny throughout the cities, provide all manner of goods and services as Brazilians strive to make a buck.
The only way to photograph Brazil successfully is to walk out your front door and immerse yourself in life.
Strange and wonderful things just happen and the place creates a real thirst for curiosity.
Temper this curiosity though, with a generous dose of caution.
Brazil also teaches important lessons about judging situations and people. An artist needs to connect with his or her subject, regardless of the art form.
Connecting with Brazil is stimulating because fascinating images abound as Brazilians play out their colourful lives on the streets.
To connect with Brazil rationally, with its culture of corruption and contradiction, violence and injustice, has been challenging.
Life drama is what Brazil is all about. You must come to Brazil prepared to be shocked, annoyed and delighted all in the same day. This place is not for the faint-hearted.
How it will be perceived by the world during the Olympics will probably depend on how well the event comes off, especially given our turbulent times.
Little is likely to change for Brasileiros but one thing is certain, in Brazil surprises await around every corner.