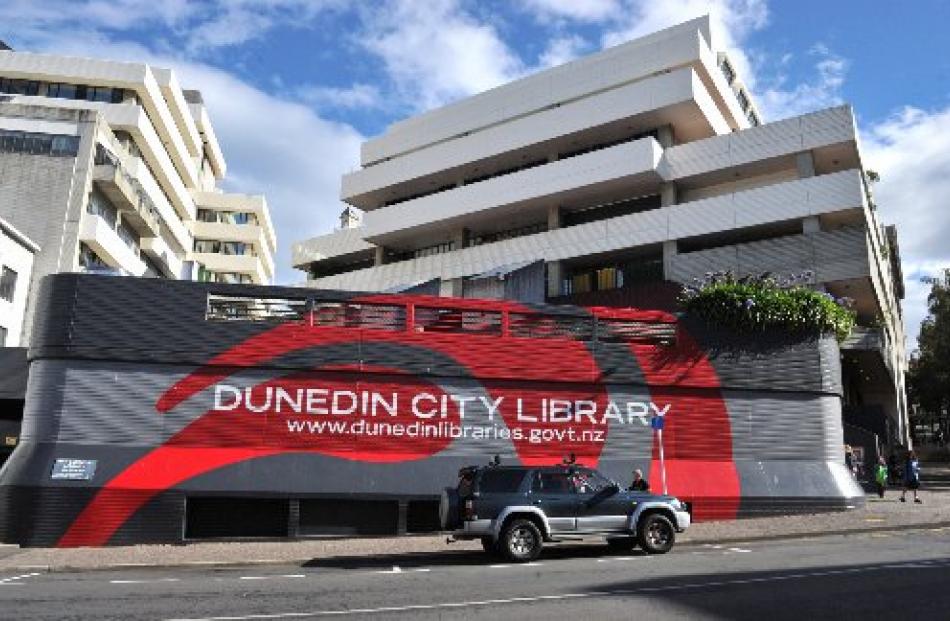 No longer just a collection of books, the public library is using new technologies to deliver content anywhere, any time. Kim Dungey visits the Dunedin city library and talks to those who use its services.
Mike Mulrooney has read entire series at the public library without taking a book home.
''Obviously they're the least popular ones, because they don't go out,'' he says, laughing.
''I leave them on the shelf and hope to hell they're here the next day.''
It's 9.15am on a sunny Wednesday and Mulrooney is one of about 20 people waiting for the Dunedin city library to open. When the glass doors do part 15 minutes later, there is a flurry of activity as they make a beeline for the newspapers and the computers.
Use of the terminals is on a first-come, first-served basis and he needs to come early if he is to have a reasonable amount of time on one, explains the 59-year-old who spends eight hours a day and up to seven days a week here.
When looking for jobs on the internet becomes tedious, Mulrooney looks at conservative websites and delves into books, usually alternate histories which look at some of history's most pivotal turning points and present a completely different version: an alien invasion in the middle of World War 2, survival of the Byzantine Empire. But lugging the volumes home does not appeal so he reads them here.
''I'm part of the furniture,'' he says.
Nearby, Jan Anderson is perched on a stool, the morning's Otago Daily Times spread before her.
''I like to read it early, when it's fresh and clean,'' she explains.
''Sometimes you can smell smoke on it and I don't like that.''
A widow in her late 60s, Mrs Anderson is poring over the People Page, hoping to find photos of former colleagues from 50 years of nursing.
She also reads the world news but doesn't bother with the television listings because her TV ''packed up'' weeks ago and she hasn't missed it.
The library is a ''second home'' which she visits three or four times a week but like Mulrooney, she will leave the books on the premises: ''I lost one and there was such a kerfuffle, that I haven't had one out since. They wrote me a nasty note and I don't think I deserved it.''
Opened in 1908, Dunedin's first free public library was one of more than 2500 around the world bankrolled by American industrialist Andrew Carnegie. Today's network, comprising five libraries, two book buses and more than 700,000 items, is a far cry from the past when index cards and stamps were the librarians' stock-in-trade.
And with libraries now serving as the social hub of a community, members are rarely told off for talking loudly.
In 2012-13, attendances at local public library programmes reached 47,022, a record level of participation in events which include everything from wriggle and rhyme sessions for babies and mothers to author visits and teen film screenings.
Computer and WiFi access is free and members can go online from home 24 hours a day to pay their fines, reserve or renew items, download electronic books and access digital databases.
Before long, Mulrooney jokes, the self-checkout machines will recognise them using fingerprint analysis, retina identification or ''genetic biometrics''.
In Dunedin, as elsewhere, there has been a decline in physical borrowing and an increase in online usage. The e-book collection, comprising 2224 titles, is still small but growing and downloadable audio was introduced recently, both available via buttons on the library's homepage.
It might be a digital-dominated, Google-governed world but people like Greg McConnell do not believe that the traditional book is outdated.
He's seen e-readers but prefers to to sit down with a printed book and a cup of coffee, Pink Floyd or Moody Blues playing in the background.
The 51-year-old visits twice weekly to read his emails and the newspapers, check the internet for supermarket specials, and borrow fiction by James Patterson, Lee Child and Clive Cussler.
Another regular is freelance writer Mike Hamblyn. He'd love to travel the world, visiting its great reading rooms.
The 55-year-old used to own a secondhand bookshop and is a former librarian. Wife Cheryl still is one, on duty in the heritage collections on the third floor which he describes as ''an absolute oasis of calm, scholarship and contemplation''.
On Monday nights, she works late and his ''great joy'' is to drift around the stacks, dipping into back copies of Sky and Telescope or New Scientist, reading about model aeroplanes or astronomy.
Today, however, he is copying maps showing the location of early runs for his latest book, Up the Hill: Lee Stream and Hindon.
Hamblyn claims e-books have reached a plateau and there is ''not a hope'' that bricks-and-mortar libraries will disappear.
''I have every confidence they're going to stay for ever. I pray they will, anyway.''
Pulp fiction from the 1960s and '70s - produced in great numbers and once used to insulate houses in the United States - is now being collected by libraries as a cultural artefact, he says.
Remembering things from electronic books is difficult, he says, because they lack reference points.
The more associations a particular memory can trigger, the more easily it tends to be recalled, so remembering that you read something in chapter five or that it had an illustration beside it can help cement material in your mind.
The fact he cannot remember where he read this does not seem to worry him.
Nearby, well-dressed, quietly spoken Barry Thomson (72), is trying to trace his ancestors. Among those discovered so far: a petty thief on the West Coast and a relative who was declared bankrupt in the 1880s.
And on the ground floor, 22 preschoolers are beginning to fidget as the weekly story time draws to a close. Jack Tancred's mother, Rachel, hopes that visiting the library will give the 20-month-old an appreciation of books and prepare him for school. For now, he is ''really obsessed with diggers''.
Miriam Geard (38), says the library is a ''fantastic resource'' for her own study and for the children she looks after as a Porse nanny. Charlotte Pomeroy (2) and sister Sophie (5), enjoy talking to the librarians, having them stamp the back of their hands and taking out CDs, DVDs and books.
Samantha Trevathan (17), is revising for a biology exam, music from an iPod helping her study. Distracted online, the Otago Girls' High School pupil prefers to learn from books rather than computers.
In the teen space, however, computer terminals are sociably grouped together. Colourful and chaotic - a bit like a teenager's bedroom - the area has a widescreen television, listening stations and an entranceway decorated with ''acquired'' street signs.
But at 3.30pm the football table and the food vending machine are still idle and Kavanagh College pupil Pandora Ryan is one of the few teens to have arrived. The 14-year-old comes here once or twice a week to ''hang out with friends or go on Facebook''. She also socialises at McDonalds and the Meridian.
IN another part of the building Australian cruise ship passengers Terrance and Shirley Matthews are also using the internet.
The charge for this on their boat is $10 a minute so as soon as they berth somewhere, many of the 3600 passengers and 890 crew seek out a library or a McDonalds, Mrs Matthews (73) says.
Apart from this, the trip has been ''fantastic''.
''Every night there's entertainment. And you wouldn't believe the food. My husband puts on weight, so he's not eating today. All he had this morning was porridge and a cappuccino ...''
Mr Matthews is using the internet to check their bank accounts.
The 75-year-old has been impressed by the Cadbury factory and the railway station. Dunedin is a ''beautiful little town'' and its library, ''old but well-used, well-organised and easy to find''.
Throughout the brutalist concrete premises (opened 1981), people adopt a variety of poses: sprawling on the tiling around the perimeter; relaxing among the magazines; concentrating in the carrels.
A teenager dozes on a bean bag while an elderly woman is bent over a table talking to herself and writing page after page in a tiny scrawl.
In the evening, two men watch the TV3 news on the ground floor while English and Irish electricians gather around a table, studying for an exam to gain New Zealand registration.
Sherlie Barnett, a registered nurse ''on the wrong side of 50'', searches the shelves for a thriller and women from Dunedin's Japanese community plan an upcoming event.
The library is an ideal meeting place, they explain, as there is plenty of parking nearby and those who arrive early can browse among the books.
At one stage, two police officers arrive to speak to some teens. Later, a librarian is alerted to a man who has brought up ''naked bits'' on a computer screen. By the time she checks, the page has disappeared.
Eventually a security officer approaches each person in turn, advising them that the library will shut in 10 minutes. Then the computer terminals automatically turn off.
Finally, staff flick the light switches to gain the attention of any stragglers and close the front doors just as the town hall clock outside chimes 8pm.
Like Mike Hamblyn, many of the the world's most famous people have waxed lyrical about libraries. Andrew Carnegie described them as a ''never failing spring in the desert'', outranking any other one thing a community could do to benefit its people, and a cradle of democracy where rank, office or wealth held no sway.
Shirley Matthews is less eloquent but just as appreciative: ''People who don't use libraries are stupid don't you think? They're so beneficial.''
The changing face of libraries
Libraries of the future are likely to look quite different from those of today.
As more, older content is reformatted into digital products, the amount of space given over to physical collections will reduce, according to ''Public Libraries of New Zealand: a strategic framework 2012-17''.
This could lead to a single national store for last copy items that are not in digital format.
This month, the Dunedin City Council is upgrading the checkout technology at libraries from barcodes to radio frequency identification (RFID) tags, allowing members to scan multiple items at once and use the EFTPOS facilities on the self-check machines to pay library charges.
Other changes the report says are being seen around the world include:
- A redesign of libraries to include spaces for music, performance and lectures, parenting rooms, outdoor reading areas and more collaborative use (for example, small meeting spaces and spaces where students can study together).
- Homework centres, where young people can get support to source materials.
- Kiosks to dispense books and DVDs on insertion of a library membership card. These are often at transport hubs or in neighbourhoods without a physical library.
- Libraries with business centres or technology labs where young entrepreneurs can use the library's high-end technology in return for volunteering to help customers with technology-related needs.
- Libraries used as part of urban regeneration, often linked with recreation centres, shopping centres, childcare facilities, council service centres, schools or museums.
- Libraries lending e-readers (as well as e-books) to overcome the economic digital divide.
- Smartphone and tablet apps that enable the library catalogue and other information sources to be at a person's fingertips 24/7.
- Libraries providing digital repositories for the access and archiving of local user-created content. For example, after the container ship Rena struck the reef outside Tauranga harbour, Tauranga City Libraries created a repository to capture people's feelings through poetry, photos and stories which were made available to the world.