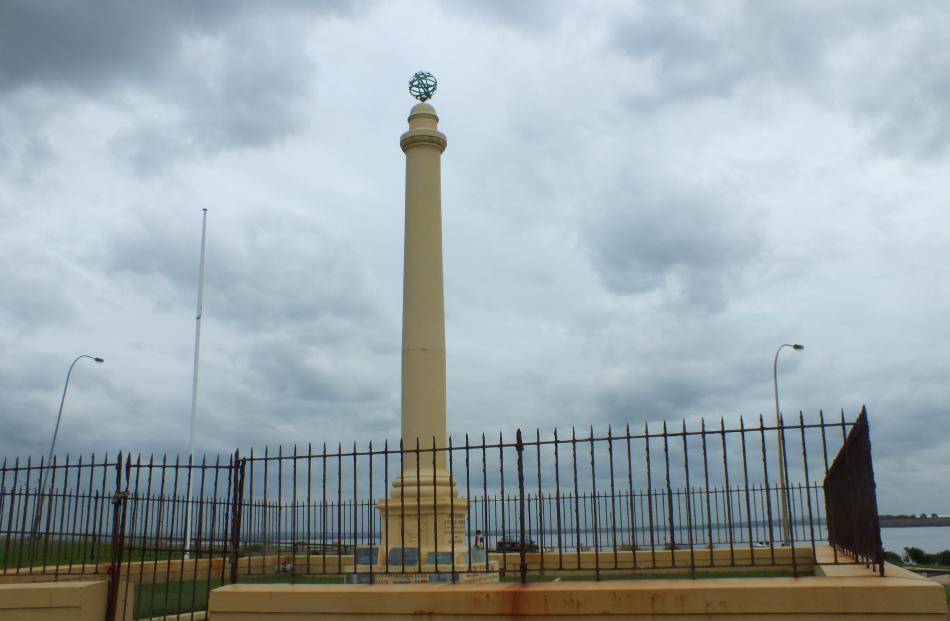 Gillian Vine considers how close Australia came to being a French colony.
"Parlez vous anglais?'' I ask the immigration officer as I hand over my arrival card.
``Non, c'est l'Australie,'' he responds.
This exchange is a figment of my imagination, but might well have happened had a French explorer not run into difficulties in Samoa.
The explorer was Jean Francois de Galaup, Comte de Laperouse, appointed in 1785 to explore the Pacific, carrying on where Captain James Cook had left off. The delay in Samoa meant that he arrived off Botany Bay eight days after HMS Supply, the first of Captain Arthur Phillip's 11-strong First Fleet.
To get a feel for Laperouse, I caught a bus from central Sydney to the suburb named La Perouse in his honour. Although it was a sunny Saturday in autumn, there were surprisingly few people about. I was assured that it's busier in summer and on Sundays really buzzes, as this is considered New South Wales' top scuba-diving spot and snorkelling is popular, too.
There's a New Zealand connection, as what is now the Laperouse museum started life as a cable station for the first submarine telegraph communications cable laid between Australia and Nelson. Disappointingly, the museum is open only on Sundays, but a 4km walk from to Endeavour lighthouse is a pleasant alternative to looking at Laperouse-related exhibits.
Laperouse's expedition had two ships, L'Astrolabe and La Boussole, each of 500 gross tons, and in another of those fascinating twists of history, a 16-year-old was turned down for inclusion in the crew. He was Napoleon Bonaparte and his exclusion was something he was later to be thankful for, as the expedition did not return to France.
The two vessels, carrying 220 men, travelled via Chile, Easter Island, Hawaii and Alaska, then south to California, across to Macau and through Asia to Russia, which Laperouse reached in September 1787, two years after leaving France.
Letters brought overland from Paris ordered him to check what the British were doing in New South Wales, so the party was on the move again. A landing in the Navigator Islands (now Samoa) proved disastrous, as 12 Frenchmen including the commander of L'Astrolabe, were killed by Samoans. Twenty of Laperouse`s men were wounded, including one of the two chaplains, so the ships sailed to Tonga for help.
Finally, Laperouse made it to Botany Bay on January 26, 1788, eight days too late for the victory he craved.
A further disaster occurred in Sydney, the death of the injured chaplain-scientist, Pere Louis Receveur, aged just 31. He is buried at Frenchman's Cove, La Perouse, in the earliest known marked grave of a European on Australia's east coast. Pere Receveur's tombstone was erected in 1825, the gift of Hyacinthe de Bougainville, son of the man after whom the island of Bougainville is named. In a charming tradition, visiting French sailors put wreaths on the grave and there is a ceremony here each year on Bastille Day.
Alongside Receveur's grave is a tall monument to Laperouse and nearby is the 1820s Barrack Tower, where soldiers watched for smugglers, while in a nod at Captain Cook, an islet off the south coast picks up on his note of ``a small bare island'' and is named Bare Island. Approached by a footbridge, it houses a fort, built in 1885 as a base to repel invaders, as Australians feared that Russians could arrive through this back door to Sydney.
Laperouse's close-run thing was later to be replicated when the French missed another chance to colonise Australia. This time, it was Napoleon Bonaparte's protege Nicolas Baudin who stuffed up. Ordered by Bonaparte to circumnavigate Australia, the explorer and cartographer fluffed around for months in Vanuatu and Timor, so arrived in Australia too late to get his name into the history books. Instead, it was Englishman Matthew Flinders who - in an epic journey from 1801 to 1803, accompanied by native Australian Bungaree (who rarely gets a mention) - proved that Australia was an island continent. Although their countries were at war, Flinders and Baudin actually had a cordial meeting in South Australia at Encounter Bay, Kangaroo Island.
Two ill-fated explorers mean I don't need a French phrase to get into Australia: as I hand over my card, the immigration officer smiles and says,``Welcome to Sydney.''
Laperouse's fate
When Laperouse's two vessels left Sydney, that was the last sighting of them.
In 1826, some items said to be from the French ships were found on an island in the Santa Cruz group of the Solomon Islands, although a 1917 expedition claimed to have found the remains in Vanuatu.
In 1964, wrecks found on the reefs of Vanikoro, Santa Cruz, were believed to be the missing vessels, but it was not until 2005 that they were formally identified as the L'Astrolabe and La Boussole.
It is believed the ships were wrecked in a cyclone in 1788, two months after leaving Australia. Local tradition says that the crew of one vessel was massacred, while the men on the other left in a small boat and were never seen again.