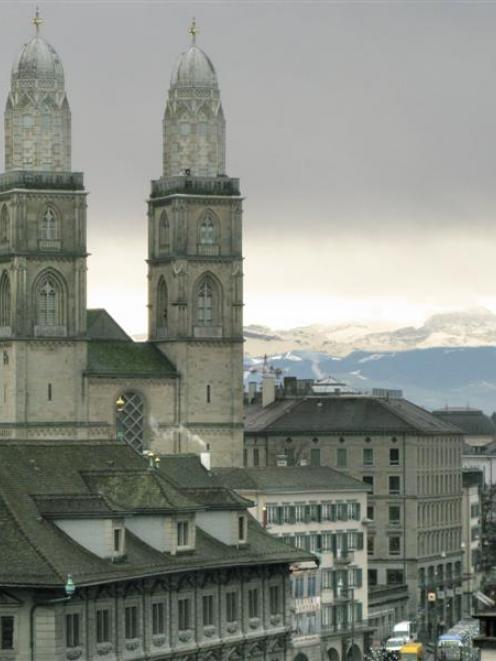 There is no sign of gnomes, but Jeff Kavanagh finds Zurich to be both small and nice.

"The biggest city in Switzerland; the city with the second-highest quality of life in the world; and the sixth most expensive."
Aptly, given that we're in Zurich, a city founded on numbers, figures continue to flow from our tour guide's mouth: "Four hundred thousand people live in districts identified by numbers here, and there are 1200 public drinking fountains, drawing their water from three different sources, one of which is Lake Zurich."
Soon there's no space for digits left in my head, and the dates of churches and other historic buildings we visit on our walking tour are simply registered as "old" or "very old".
Knocked off its perch by Vienna as the city with the best standard of living (our tour guide blames the banking crisis for the demotion), Zurich is certainly no dive.
Surrounded by hills, situated on the edge of a lovely lake and with the Alps for a view, it's a fitting location for a city of wealthy bankers and international financiers.
Compact and immaculately clean, it is also a breeze to get around, and a wander down its busy main street from the Hauptbahnhof (Main Station) to the lake takes about 10 minutes - assuming you don't stop off to do a spot of shopping on the way.
Luxury stores and boutiques selling everything from designer clothes to diamond-encrusted watches line Bahnhofstrasse, and, inevitably for a city with such an intimate relationship with wealth, there are also frequent gratuitous displays of it; although in fairness perhaps the worst are perpetrated by tourists (while on the walking tour we pass a small group of women speaking Russian, all in enormous fur coats, the youngest of whom has "Rich" emblazoned around the top of her knee-high boots).
Fortunately for those who haven't quite achieved fat-cat status, there are plenty of other affordable luxuries in which one might indulge.
Cakes, for example, and here the name to pass between your lips is that of Confiserie Spruengli.
The cake shop's style more closely approximates an exclusive jeweller, while it's work is discussed in almost reverential tones by our guide.
Among its creations of renown are Luxemburgli or macaroons, brightly coloured cream-filled treats that are piled into elegant little pyramids in the store's display windows, daring shoppers to come in and sample their delights.
That is precisely what we do, and not just because it's on the tour.
After a couple of fact-filled hours, our tour ends and my girlfriend and I are left to our own devices.
The weather is relatively mild for December, but the rain that has been threatening all morning begins to fall, sending us hurrying into the nearest café.
We learned earlier that Zurich boasts more than 1700 cafés and restaurants and that the city's stunning Federal Institute of Technology has produced 21 Nobel Prize winners, including Albert Einstein, which all comes together as we find ourselves in one of the physicist's old haunts, the Café Odeon.
Ensconced in a snug window booth, surrounded by polished wood and red marble, we read about the café's illustrious former clientele: Lenin, Mussolini, and James Joyce also all enjoyed a drink or two here at one time or another.
It's a slight disappointment then that the music for our feast of rosti (Swiss-style hash-browns) and fried eggs is Scorpion's Wind of Change.
Following our late lunch, and once the rain has abated, we head the short distance up the hill from the café to Niederdorf, its long, narrow main street, Niederdorfstrasse with its trendy second-hand stores and local emporia, a kind of laid-back, Bohemian cousin to the opulent Bahnhofstrasse.
It's an area of the city you can happily while away a good few hours in, popping in and out of shops and drinking mugs of outrageously good hot chocolate on velvet chaise longues in Café Schober or cups of freshly roasted Jamaican coffee in the simple cosiness of Café Schwarzenbach.
Zurich is undoubtedly a gourmet's dream.
But all the rich living takes its toll after a while, even if you are a tourist.
And though wandering the city's pretty streets as well as a visit to the lovely but largely underwhelming Swiss National Museum is burning a few of the excess calories we've clocked up, we decide to accelerate the process by sweating it out in one of the city's many saunas.
Located on the lakefront, one of Sauna am See's advantages is that you can sit in its 90degC heat and look out over the lake towards the Alps, a particularly pleasurable experience when it's inclement outdoors.
Another is that you can take a dip in the lake's pristine waters to cool yourself down afterwards.
It's a bracing experience, not least because it involves the same state of undress that's expected of visits to the sauna; in other words, total. 
A couple of sessions in the sauna happily tire us out, necessitating a power snooze in the relaxation room, which stands us in good stead for an evening exploring the city's chic art and nightlife district, Zurich West.
From the Hauptbahnhof, it takes just a few stops on the tram - the best way to get around the city in winter (in summer you can also jump on a free bike) - and we are in Zurich West, once the heart of the city's manufacturing industry.
These days, it's home both to Zurich's red-light district as well as many of its hippest venues.
Old factories that once produced soap and ship engines now house places like Les Halles, a retro-style bar, tapas restaurant and delicatessen decorated with old racing bikes, and LaSalle, a super-stylish eatery and bar inside a giant glass cube.
The area also boasts a plethora of art galleries and design studios, as well as the Swiss firm Freitag's remarkable flagship store.
Selling bags made from recycled truck tarpaulins, the shop is constructed out of a precarious-looking stack of old shipping containers and is reason enough to visit this side of the city.
Later in the evening, trundling back to our hotel on our perfectly punctual number 13 tram (it's a cliché, but the public transport really does run like clockwork in Zurich), we pass some of the sights we visited earlier in the day.
As the National Museum, Bahnhofstrasse, Confiserie Spruengli and Lake Zurich all roll past, I am reminded of our tour guide's opinion of Zurich: "klein aber fein" (small but nice).
It is difficult to disagree.
• Jeff Kavanagh is a travel writer, formerly of Dunedin, now based in Hamburg.