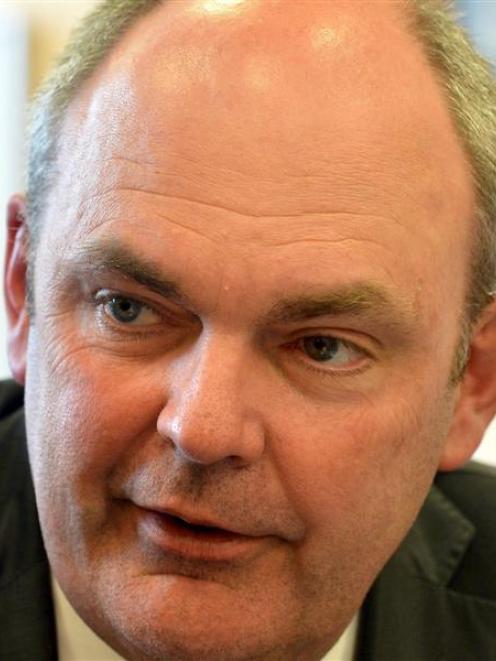 The chief of the company which found holes in AgResearch's case for cutting jobs at Invermay has fired back at comments by Science and Innovation Minister Steven Joyce questioning its independence and the quality of its work.
And local politicians have also struck out, with Dunedin Mayor Dave Cull and Stephen Woodhead both attacking Mr Joyce for his criticisms of Business and Economic Research Ltd (Berl).
Mr Joyce last night stood by his comments, adding that in his experience Berl was an advocate for ''preserving the way things were, regardless of the real economics of changing circumstances''.
Mr Joyce's original criticisms came after Berl - which was contracted by the Dunedin City Council and the Otago Regional Council - questioned AgResearch's case for restructuring and slashing about 80 jobs at Invermay.
Mr Joyce through a spokesman told the Otago Daily Times on Friday - despite not having by then having read the report - that he had previously had concerns about the robustness of some of Berl's analysis work and that it was difficult to describe Berl as independent because it tended ''to write reports which uncritically support the views of those who commission them''.
Berl executive director and chief economist Ganesh Nana on Saturday said he was ''disappointed and saddened'' by Mr Joyce's comments.
''We ... totally dispute the assertion that we are not independent or that we write reports to clients' order,'' Dr Nana said.
''That's something that we don't do, but if we did do that we wouldn't have lasted 55 years,'' Dr Nana said.
He also took issue with the minister questioning the quality of Berl's work.
''I'd like to know which [analysis] he is referring to, because I know quite a few that may not have come across his desk, but have gone across some other ministers' desks and they have been quite comfortable with them.''
Berl had a good reputation and he stood by the findings in the report.
''We stand by the report's conclusion, which is that the ... information that was in the public domain did not stack up.''
We have brought up what we see as valid points following his own Government's guidelines from Treasury about how these sorts of business cases should be assessed,'' he said.
The minister should be willing to ''engage in the debate'' and take a look at the issues raised in the report.
''One would hope he would like to hear advice from all sides.''
But Mr Joyce - who by last night had read the report - remained unapologetic for his comments when contacted.
''Unfortunately, the analysis is as light as I was concerned it would be.''
The seven-page document - which contrasted with the hundreds of pages and thousands of hours put into the development of the AgResearch future footprint proposal - ''more or less'' said things should stay the same, and ''doesn't even attempt to address the challenges and opportunities that AgResearch faces,'' he said.
Those included that the organisation had too much invested in a range of properties around the country and needed to shift investment to more actual science and technology work; that it needed to upgrade its facilities to attract and retain top young scientists in a competitive international market; and that it needed to build on its collaboration opportunities with key university partners.
''Berl has more or less nothing to say about the issues the future footprint raises and seeks to address. And, sadly, that is my experience of Berl.
''They tend to be advocates for preserving the way things were, regardless of the real economics of changing circumstances in the modern world. Mr Nana himself is known for his left-wing economic views.''
Otago Regional Council chairman Stephen Woodhead at the weekend reiterated his belief the report was independent and said if the AgResearch business case had stood up to scrutiny, the Berl report would have said so.
''I would suggest that the minister is trying to sideline the discussion and avoid the facts that are presented in Berl's examination of the proposal.''
If Mr Joyce was serious about his commitment to ''thoroughly test'' AgResearch's business case, he should follow up on the issues raised in the report.
Dunedin Mayor Dave Cull said he found it ''hard to understand how the minister can criticise a report that he says he hasn't read''.
He urged Mr Joyce to read the report and take the issues raised seriously.
Mr Joyce last night said opportunities for the Invermay campus involved developing collaborations which had not been happening up until now with institutions like the University of Otago and the regional councils.
''I repeat my suggestion to the mayor on Friday that he seek to engage further through the processes that AgResearch have set up which are continuing to consider a range of options for the future at Invermay.
''These opportunities include greater involvement of and investment by key southern partners. My view is that will ensure the best possible outcome for all parties.''