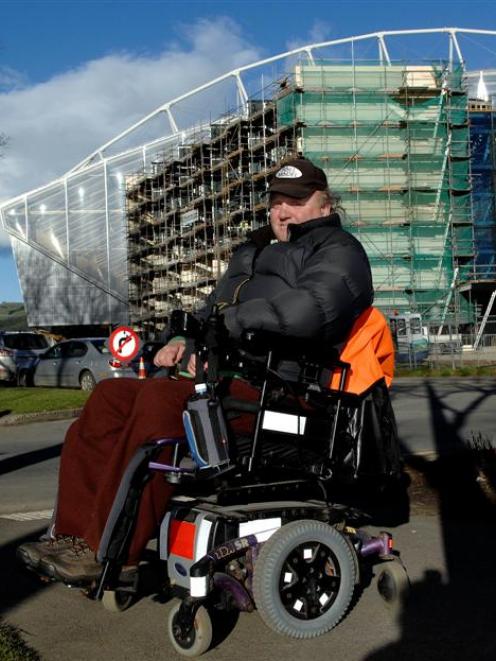 The Dunedin City Council has moved to allay fears people with disabilities will be left out in the cold at this year's Rugby World Cup.
The council last week confirmed plans for passenger trains, street closures and walking routes to cater for the tens of thousands of fans expected at the Forsyth Barr Stadium for tournament matches.
However, an apparent lack of detail about planning for disability access prompted concerned calls to the council.
Yesterday, council transportation operations programme engineer Michael Harrison confirmed plans were already being drawn up to cater for people with disabilities unable to walk to the stadium.
The council was seeking advice from Dunedin-based support groups Disability Information Service and CCS Disability Action, to gauge the demand from people with disabilities wanting to attend matches, he said.
A service would be finalised after the feedback was received, catering for a mix of needs and helping people with disabilities get to and from the stadium.
"Once we know what we're going to do, the number, and how we're going to do it, we'll get back to them and say 'this is the plan'.
"The plan is to make it quite individual. We're trying to cater it to their specific needs."
Dunedin Venues Management Ltd chief executive David Davies said design features once inside the Forsyth Barr Stadium exceeded international standards "by some distance".
There were about 50 disability spaces - each with a companion seat next to them - on the second level of the main south stand, reached by elevators, and about 50 more on viewing platforms at the back of the north stand's lower level, reached by ramp access, he said.
Other features included floor-mounted dimples near stairwells, to alert people with sight issues, as well as disabled toilet facilities in both stands, he said.
"Their experience should be what they expect when they come to a brand-new stadium," Mr Davies said.
Seven dedicated disability car parks were also available close to the main south stand, and could be booked in advance during normal stadium events, he said.
CCS Disability Action Southern regional manager Paul Martin said disability access remained a "key issue", with one in six people having some form of disability.
He was encouraged by the council's planning to date, but wanted more details.
"A person in a wheelchair has different needs from, say, a person who walks on sticks . . . or needs the support of another person, or a person who is blind.
"Catering for all those groups is obviously a challenge, but not impossible."
He understood "quite a number" of people with disabilities, including those travelling south from Christchurch, were planning to attend matches in Dunedin, and had bought tickets "on the understanding that [access] will be sorted".
He was "certainly appreciative" of the stadium's design features, but the real test would come when the venue was operational.
"We need to establish in fact that it's all going to work the way it's intended to, and that is often, I have to say, an issue, in terms of new buildings."
He planned a meeting of people with disabilities and would invite Mr Davies to discuss issues raised, and wanted anyone concerned about disability access to contact the CCS Disability Action office.
Disability Information Service Inc information consultant John Marrable - who uses a wheelchair - was also encouraged by council planning, but also wanted feedback from anyone with access concerns.
The information would be collated and passed on to the council to help its planning.