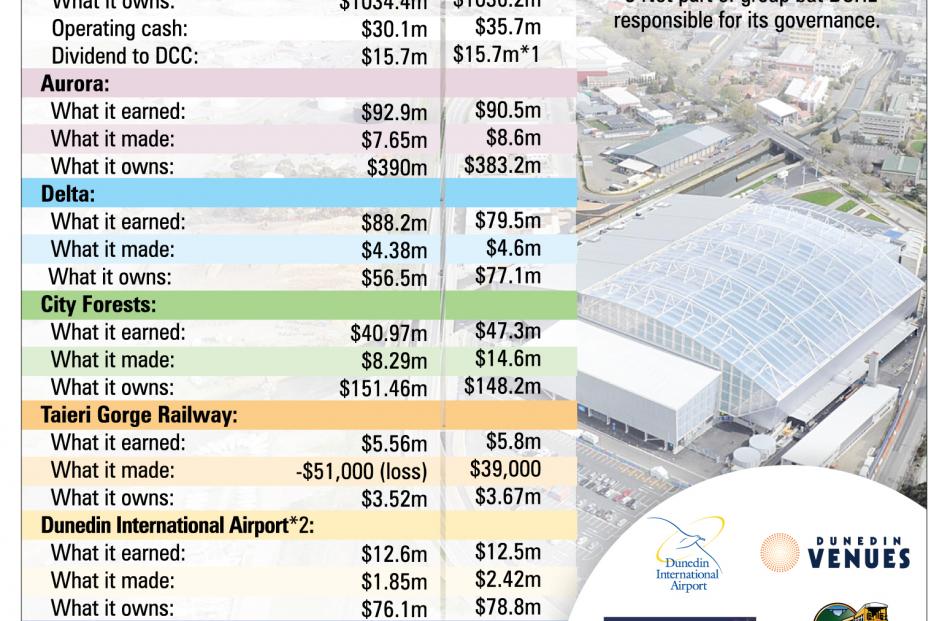 The Dunedin City Council's group of companies remain in a bullish mood, despite an $8 million drop in profits and another loss for the entity running Forsyth Barr Stadium.
The companies' 2013-14 results, released yesterday, showed Dunedin City Holdings Ltd's group after-tax profit dropped to $12.5 million, down from $20.5 million the previous year.
DCHL chairman Graham Crombie put the result down to higher interest rates, the revaluation of City Forests' investments and a mild winter that cut into Aurora Energy Ltd's profits.
Dunedin Venues Management Ltd, which runs the stadium and other venues, also recorded a small net loss, of $58,000.
DVML chief executive Terry Davies said the result was a good one, despite the overall loss. Revenue was up by about $870,000, to $9.1 million, and operating profit also up by 10.3%, to $2.7 million.
The operating profit turned into a net loss of $58,000 once other factors, including a $4 million rent payment, were included.
That was still an improvement on earlier forecasts, which pointed to a $98,000 loss for the year, and a $986,000 net loss recorded the previous year.
It also reflected the ''significant'' revenue boost delivered to DVML by hosting an All Blacks test in June, earlier than expected, which boosted results for 2013-14, he said.
However, that made the 2014-15 year even more challenging, and the outcome of the council's stadium review ''imperative'' to DVML's future, he said.
The results of the review were now due to be made public in November, and Mr Davies said his view on the rent burden applied to DVML had not changed.
''A business that's turning over $9 million revenue, versus a $4 million rental, is not sustainable.''
Neither he nor Mr Crombie would be drawn on the review's findings yet, but Mr Crombie indicated the working party had identified solutions designed to address the stadium's troubled financial position.
''We wouldn't put a report forward that didn't address the issues, or what we believe would be the answer.''
In the meantime, Mr Davies said DVML staff were doing what they could to lift revenue and improve the business, which was delivering results.
More concerts were being signed, the range of events was increasing, and the Dunedin Centre was securing more conferences, contributing to 330,000 people passing through the venues' gates during 2013-14, he said.
DVML had also restructured as part of a push to adopt a more commercially-driven focus, and the aim was to lift revenue to $10 million a year over the next 18 months, he said.
He expected an improved operating result in 2014-15, but could not say if DVML would ever be profitable while still paying rent.
''We're doing as much as we can from an operational point of view to continue to grow.''
Mr Crombie said he remained upbeat about the DCHL group of companies - also including Delta, Taieri Gorge Railway and a 50% stake in Dunedin International Airport Ltd - over the past year.
City Forests' profit had fallen, from $14.6 million to $8.3 million, after the value of its investments increased by just $1.6 million in 2013-14, compared with $7 million the previous year, he said.
However, the company had still enjoyed ''a strong year'', including paying a record dividend of $5.1 million to DCHL, he said.
In other areas, Aurora's profit was down by about $1 million, to $7.7 million, due to last year's mild winter, while Delta's profit was down by $200,000, to $4.4 million, in 2013-14.
Taieri Gorge Railway also booked a small loss, of $51,000, compared with a $39,000 profit the previous year, he said.
Despite that, cash generated by the companies' operations - used to fund dividends and capital investment - remained strong, at $30.1 million across the group, he said.
As a result, DCHL had provided $15.7 million of dividend, subvention and interest payments to the council, without borrowing to do so, he said.
That would continue this financial year, but dividends to the council would then cease from 2015-16, in part due to Aurora's need to reinvest in its network.
That would see overall cash payments from DCHL to the council drop from $15.7 million to $11.152 million a year for at least two years - and possibly longer - which the council would have to grapple with during budget hearings.
However, the council's consolidated debt position - spread across the council and its companies, including the stadium - was improving, having dropped by $4.7 million to $621 million, Mr Crombie said.
''That's building on the fact we have reached our debt peak and that we are coming over the top of that now and coming down the other side.
''That's in line with expectations, so we're very pleased that we are consistently performing.''