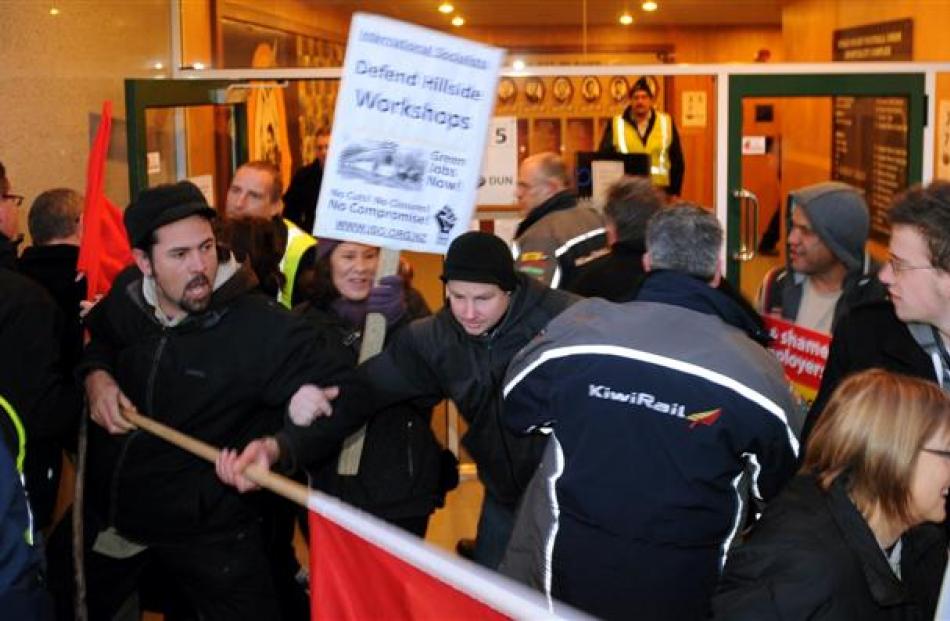 Hillside Engineering employees were left reeling after a meeting yesterday afternoon, at which KiwiRail managers announced more jobs will be cut from the workforce than was first proposed a month ago.
Up to 44 jobs will go from the landmark South Dunedin engineering workshops, a surprise decision which has outraged union delegates and dismayed longtime Hillside workers.
The announcement to increase the number of staff cuts at Hillside from an expected 40 jobs, came as a shock to Rail and Maritime Transport Union delegates, who have spent the past month in consultation with KiwiRail bosses.
RMTU organiser John Kerr condemned the decision to increase the number of job cuts at Hillside and ignore alternatives.
"It's inept. It's ill considered. It's rushed. I just think this outfit is being run by a bunch of amateurs. In my view, they're not fit to run a bath let alone a railway system," he said.
Workers were angry and confused about the announcement, which came from KiwiRail manufacturing general manager Lloyd Major and Hillside manager Andy Bissett, Mr Kerr said.
The increase in job cuts came on the same day KiwiRail chief executive Jim Quinn visited Dunedin on a nationwide tour of the State-owned enterprise's outfits to update employees about the fortunes of the organisation.
Mr Quinn did not attend the afternoon meeting with Hillside workers, after delivering his "roadshow" update to senior managers and supervisors at Carisbrook in the morning.
Asked whether it was a bad look not to meet Hillside workers, he said: "I have not shirked anything. I'm accountable and I have to sign things off, yes. But there is a management team who has been involved with the consultation, and they are the ones best equipped to answer questions about the details of this process."
Union workers had formed a picket line outside Carisbrook to dissuade KiwiRail employees from attending the roadshow; a meeting Hillside workers ignored.
Mr Quinn said there "was obviously a small turnout" to the roadshow and described the meeting as "fine".
"The people who attended were interested in finding out about this company."
He did not want his presence to be a distraction at the later meeting with Hillside employees, Mr Quinn said.
Hillside employees have been asked to volunteer for redundancy and have until Monday afternoon to apply.
A selection criteria would then determine the up to 44 who would lose their jobs, Mr Kerr said.
The announcement had been mismanaged by KiwiRail and the information put to Hillside employees "lacked clarity".
"The CEO is quite happy to come and run his 'death by Powerpoint, rah, rah,' roadshow at Carisbrook - of which no-one has gone to - but he's not going to front up to all these workers who are staring down the barrel of losing their livelihoods," Mr Kerr said.
KiwiRail had agreed to protect the jobs of 12 apprentices at Hillside, which was a positive, Mr Kerr said.
Mr Quinn said opportunities for Hillside employees would be made available at other KiwiRail workplaces countrywide.