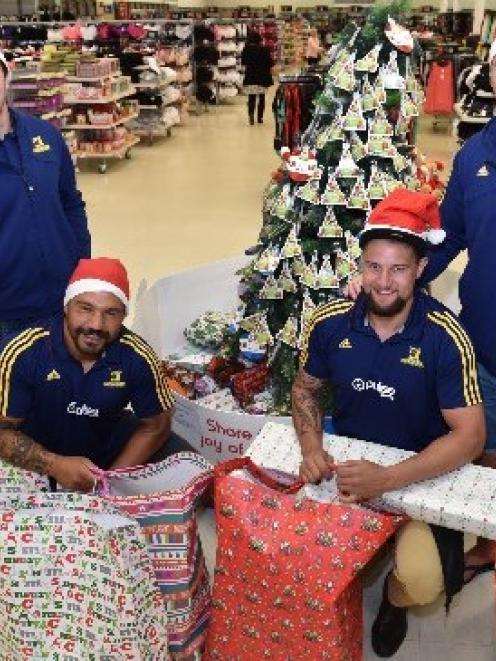 The Highlanders are used to receiving cheers, but for Christmas they are giving some cheer of their own.
The 2015 Super Rugby champions abandoned secret Santa to deliver bundles of presents to the Kmart Dunedin wishing tree.
Lock Joe Wheeler said it was an opportunity to give back to the community that had backed them.'
'We thought about doing a secret Santa among the team but we thought we would go a little bit further and help out the community and we wanted to do something for the families that are a little bit less fortunate than ourselves,'' he said.
The team had a ''whip around'' and spent the money on children's gifts to give to the wishing tree.
Highlanders Wheeler, Marty Banks, Ash Dixon and Elliot Dixon delivered the bundles to the store on Saturday and took time to pose for photographs with fans and staff.
''All the boys were happy to do something for the kids,'' Wheeler said.
''We have had some amazing fans this year and an amazing community and it's sad some can't afford to celebrate Christmas.
''Hopefully [thanks to the wishing tree] everyone can have a good Christmas. This is Merry Christmas from the Highlanders.''Kmart Dunedin wishing tree champion Dawn Barnes said the gesture was ''amazing''.
While the contributions to the wishing tree were progressing well, there was still room for more, Ms Barnes said.
''We appreciate each and every gift, no matter how small,'' she said.
People can still offer gifts to the wishing tree until 10pm on Christmas Eve.