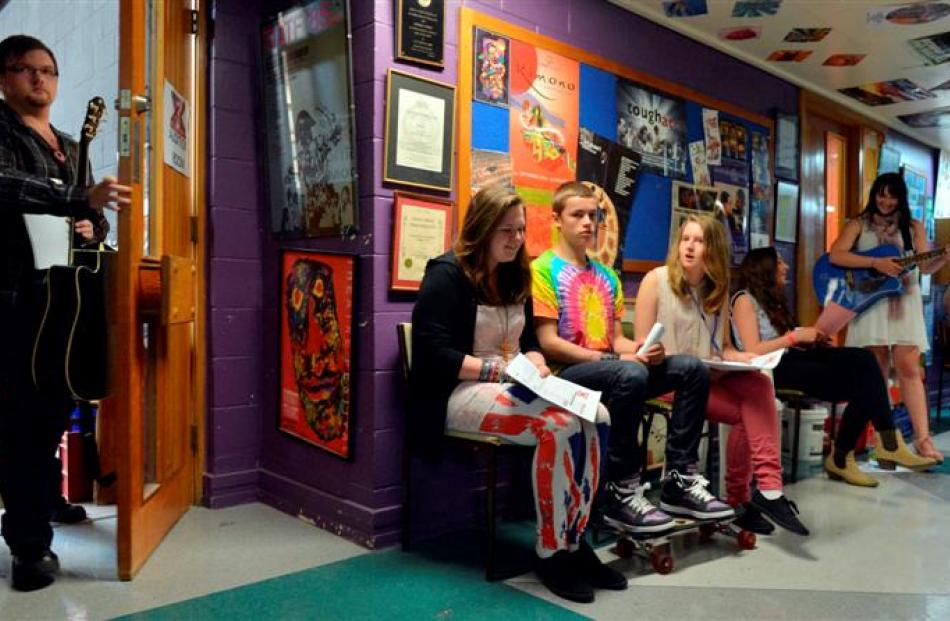 Dunedin musician Andrew Hornby (22) leaves the X-Factor NZ audition room at Logan Park High School in Dunedin yesterday.
Waiting their turn are (from left) Caitlin Hoare (15), of Dunedin, Tai Somerford (16), of Auckland, Simone Williamson (14), of Dunedin, Alice Dooley (15), of Dunedin, and Bryony Harrison (18), of Gore.
More than 100 performers attended the pre-audition tour for TV3 television talent quest X Factor NZ yesterday, while a similar number turned up for the Queenstown auditions on Sunday, publicist Rose Swale said yesterday.
The pre-auditions are being held in 27 locations, with successful contestants then performing before a studio audience and judging panel in Auckland.
The programme will be hosted by presenter Dominic Bowden and the winner will receive a prize package which includes a contract with Sony Music Entertainment New Zealand. The X Factor NZ pre-audition tour continues at the Oamaru Opera House from 10am to 3pm today.