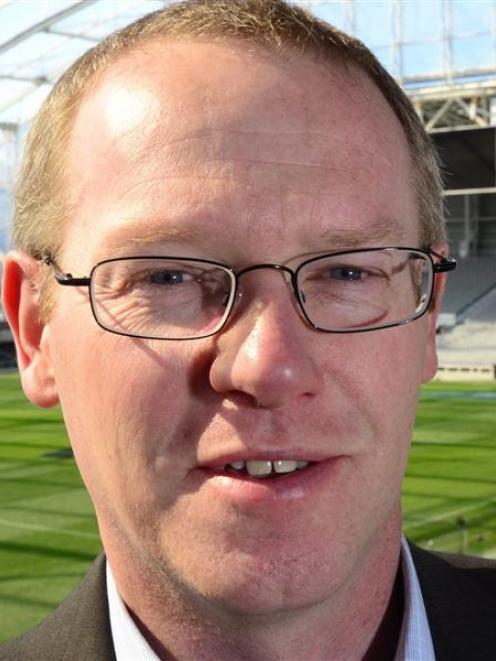 The cost of Forsyth Barr Stadium for Dunedin's ratepayers will rise to more than $9.1 million a year if extra spending signalled by city councillors this week is confirmed.
Despite that, Dunedin Venues Management Ltd chief executive Darren Burden said yesterday there was no guarantee more money would not be needed in future - although he hoped that would not be the case.
Mr Burden told the Otago Daily Times extra support signalled by councillors this week would allow DVML to turn losses into small profits, while the events fund helped attract more big acts to the city.
However, he could not rule out a further call for council cash, saying there were ''always going to be risks'', as well as opportunities, associated with budget forecasts.
''This gives us the best opportunity to ensure we don't come back to council, but there isn't a cast-iron guarantee.''
His comments came after a breakdown of funding arrangements for the stadium was presented to councillors during the 2013-14 pre-draft annual plan meeting, which concluded on Monday.
The breakdown showed the stadium already cost the council - and therefore the city's ratepayers - $7 million a year in reduced dividends, extra debt repayments and the cost of a service level agreement with DVML.
That included $5.25 million of annual dividends from the council's group of companies, normally used to offset rates, which had been diverted to Dunedin Venues Ltd - which owned the stadium - to pay stadium debt costs.
Councillors last year also decided to spend an extra $1 million a year to accelerate the repayment of DVL's stadium debt, reducing the loans from 40 years to 23.5 years and saving $94 million in interest costs.
In addition, councillors gave DVML an extra $750,000 a year last year for a new service agreement that promoted greater community use of the stadium.
That brought the bill for ratepayers to $7 million a year by last week, when the council's 2013-14 budget meeting began.
Then, on Monday, councillors indicated a desire to spend another $1.725 million a year accelerating stadium debt repayments across DVL ($1 million a year) and DVML ($725,000 a year).
That increased the total cost of the stadium for ratepayers again, to $8.725 million a year, while also freeing up DVML cashflows and saving another $25 million in interest.
And, if the proposed $400,000 events fund was included, drawn from existing council budgets to begin with, the total cost of the stadium for ratepayers was $9.125 million a year.
Extra spending signalled this week was yet to be confirmed, but would be part of the council's 2013-14 draft budget to be released for public consultation in March.
Mayor Dave Cull said yesterday it was important to note extra spending to accelerate debt repayment meant greater savings in the longer term, by reducing interest costs.
''The ratepayers are going to have to pay this debt sometime, and the longer we take the more interest we pay.
''I see this as an investment in savings.''
Any decision to increase the repayment of DVL stadium debt by another $1 million a year, signalled on Monday, would also come in part from within operational savings identified by council staff.
Mr Burden said the financial boost would see DVML's budgets move from the red into the black, with forecasts of a $98,000 loss for 2013-14, followed by small profits of $9000 and $88,000 in the following two years.
The extra spending on stadium debt and the events fund - expected to generate more revenue for DVML - had already been included in DVML's draft budgets.
Asked how confident he was of the new numbers, Mr Burden said a ''pretty thorough'' review by Dunedin City Holdings Ltd had concluded DVML's revenues were at optimum levels and expenses tightly controlled.
DVML operating costs had been cut by 5.8% for 2013-14, while staff costs were down 10% since 2011, the review found.
However, the company still had to pay rent worth $4 million a year to DVL to cover its share of stadium debt costs, which came from revenue and had, to date, turned DVML's operating profits into end-of-year losses.
Mr Burden, in a report to councillors on Monday, said it was ''reasonable'' to expect operating profit of $3.5 million a year, before rent to DVL.
However, without the changes signalled, DVML would continue to post annual losses of $300,000 to $350,000 a year, he said.
Mr Burden would not say if progress on the events fund would help secure deals for two more major concerts already ''on the table'', but talks were continuing.
The company's latest six-month result, covering the first half of 2012-13, would also be released at the end of February.
It would show another operating profit - before rent - for the period, and forecast a full-year result that would ''certainly be an improvement'' on 2011-12, when the company lost $3.2 million, he said.
---
The bill
Already in place:
• $5.25 million a year - reduced dividend from Dunedin City Holdings Ltd to Dunedin City Council (goes to Dunedin Venues Ltd instead to pay debt costs)
• $1 million a year - DCC to DVL to accelerate stadium debt repayments (agreed 2012); reduces loan repayment period from 40 to 23.5 years; saves $94 million in interest.
• $750,000 a year - DCC to Dunedin Venues Management Ltd, in return for service level agreement providing more community use.
Yesterday (subject to consultation):
• $1 million a year from DCC to DVL to further accelerate stadium debt repayments, from 23.5 years to 18.5 years; saves $25 million in interest.
• $725,000 a year from DCC to DVML to pay off debt in four years.
• $400,000 events attraction fund (from existing council budgets in 2013-14).
Total: $9,125,000
---