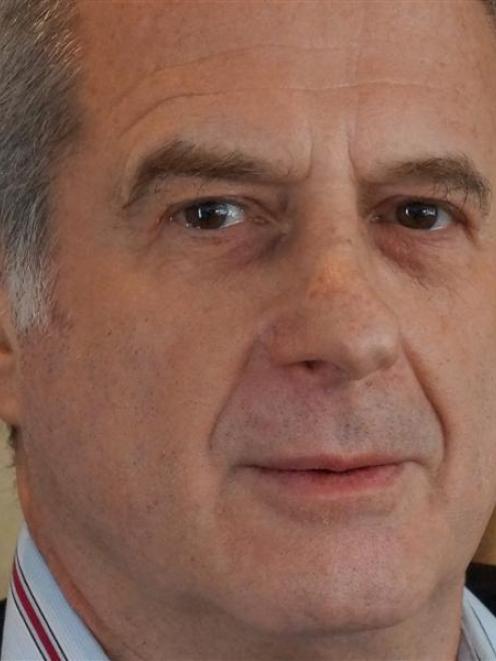 Australasia's biggest promoters are promising more big acts as Dunedin's concert drought threatens to become a flood. Reporter Chris Morris speaks to the men bringing the music to town.
Michael Gudinski once vowed never to return to Dunedin.
But, more than three years after the accomplished Australian music promoter slammed the ''completely unprofessional'' managers at Forsyth Barr Stadium, he is back.
Mr Gudinski is the man behind Frontier Touring, the company bringing Rod Stewart to Dunedin for tonight's stadium concert.
A crowd of 25,000 is expected, and among the fans will be Mr Gudinski, keeping one eye on the stage and the other on ticket sales and all the other details that add up to a successful concert.
It will be the first time Mr Gudinski has stepped inside the stadium, and it is a trip that seemed unlikely as accusations flew in 2011.
The fallout began when Mr Gudinski's New Zealand representatives were blocked from bringing Meat Loaf to the stadium in October 2011.
The well-advanced plans were scrapped mid-year, when stadium managers withdrew to protect a deal with Sir Elton John guaranteeing an opening-night show later that year.
And, months later, Mr Gudinski was again left livid after a clash with Orientation Week events saw plans for a Rod Stewart show shelved as well.
The problems caused an ''extremely disappointed'' Mr Gudinski to criticise DVML and vow never to return.
''Once bitten, twice shy ... we won't be coming back to the venue, that's for sure,'' he said at the time.
And, Mr Gudinski was not alone in his criticism of the venue and its management, which followed up Sir Elton's sold-out show with a concert drought that dragged on for nearly 18 months.
The sound of silence was eventually broken by Paul Simon and Aerosmith in 2013, but not before DVML found itself in a legal dispute with another promoter, McManus Entertainment.
The company had planned to follow up Aerosmith's show with Fleetwood Mac later the same year, as part of a two-show deal signed with DVML.
The deal collapsed when Fleetwood Mac committed to Live Nation instead.
McManus Entertainment managing director Andrew McManus slammed DVML's decision to try to charge a $50,000 cancellation fee.
''I guarantee you I will never, ever bring another show to Dunedin while those people are in charge,'' he said at the time.
The fee was eventually reduced to $15,000, but the dispute added up to a seemingly fractious relationship between the company tasked with securing big concerts for the stadium and the promoters capable of delivering them.
But fast-forward to the present, and something appears to be changing in Dunedin.
The city, so often the forgotten destination for travelling bands, has suddenly caught the attention of promoters and the international acts they tout to cities around the world.
As a result, the drought is threatening to turn into a glut as the stadium prepares to play host to Rod Stewart, Neil Diamond and Fleetwood Mac this year.
Compare that to Wellington's Westpac Stadium, which, after a four-year concert drought, now aimed to secure one big act a year, beginning with Elton John in November.
In Dunedin, the renewed interest by the industry would be most evident tonight, when three of Australasia's biggest promoters fly in from Melbourne to watch Rod Stewart's stadium show.
Mr Gudinski would be joined there by Tim McGregor, the group managing director of Dainty Group, and Michael Coppel, president and chief executive of Live Nation Australasia.
Live Nation is the world's biggest promoter, and together the three companies represent acts ranging from Fleetwood Mac and Bruce Springsteen to the Foo Fighters, Miley Cyrus and Katy Perry.
Dainty Group is bringing Neil Diamond to Dunedin in October, while Live Nation Australasia is behind Fleetwood Mac's appearance in November.
Contacted by the Otago Daily Times this week, all three men confirmed the industry was now sitting up and taking notice of what was happening in Dunedin.
That had been underscored by demand for Fleetwood Mac's show, which saw 28,000 tickets snapped up last week in less than an hour.
Mr Coppel said the sales had gone ''sensationally well'' and would only encourage his company, and other promoters, to bring more big acts to the city.
''I don't think anyone in the industry would have thought that Dunedin ever had the capacity to mount major concerts.
''Certainly, I'm sure our competitors have sat up and taken notice of how strongly the Fleetwood Mac show has sold, and I'm sure it's going to lead to more events coming through.
''If a city of a region is delivering those outcomes, you'll keep coming back there.''
His company was already ''working on a few things'' with Dunedin in mind for 2016, details of which he could not yet divulge.
Mr McGregor, of Dainty Group, said Dunedin's recent success was due to a combination of factors, including New Zealand's recent economic strength.
The rising value of New Zealand's dollar against the Australian had closed the profit gap for promoters considering whether to cross the Tasman or add another Sydney show.
That helped more established venues in cities like Auckland, but it still took ''something extra'' to lure major acts to a previously unproven venue in Dunedin, he said.
The Dunedin City Council's $400,000 events attraction fund - used by DVML to offer incentives to event promoters - had helped bridge that gap, he believed.
But all three promoters were in agreement on one key factor behind the city's recent success: DVML's new chief executive, Terry Davies.
Mr Davies, who took up his role just over a year ago, has been busy behind the scenes, flying to Australia to knock on promoters' doors and build trust in the city and its stadium.
He drew on his industry experience from stints at Adelaide Oval and Melbourne's Etihad Stadium, while working to tackle the logistical and financial obstacles standing in the way of promoters considering Dunedin.
Mr Coppel said the approach was evident as Mr Davies pushed to secure Fleetwood Mac for Dunedin.
''Quite frankly ... [as a promoter] you stick to what you know, and unless someone draws your attention with an opportunity somewhere else, you may tend to ignore it.
''If it wasn't for Terry knocking on our door, coming through when he's been in Melbourne, and being in touch ... Fleetwood Mac would not be playing there.
''The only way you get ahead in this business is persistence and energy, and he's got that in spades.''
Mr Gudinski agreed, saying there was ''no comparison'' between DVML's earlier approach and its new one.
Mr Davies had worked hard to rebuild the relationship after the ''bit of a blow-up'' involving Mr Gudinski and DVML in 2011, and was now delivering the results, Mr Gudinski said.
''He's a chirpy go-getter and he knew what he was doing.
''It's an example of the right guy in the right job, and I think the time's now right.''
Mr Gudinski acknowledged the stadium - built for $224.4 million and set to cost ratepayers $11.65 million a year - had been a ''very ambitious project'', but believed the situation was improving.
''There's venues all over the world that have had issues. Some of them have turned them around, and some haven't. This is certainly on the way.''
However, he cautioned the new approach needed to be maintained if Dunedin was to continue to enjoy success.
''Terry's got to stay keen. If the venue think people are just going to come knocking the doors down, that's not going to happen.
''It [Dunedin] is still an isolated spot in an island, but I think with what's going on, only good can come from it. I think Dunedin could be in for some exciting times.''
Mr McGregor said Mr Davies and his team had been able to solve some problems faced by promoters looking for a venue with a track record of ticket sales when planning big events.
''You can build a great facility, but you've got to have a market of people that are definitely going to buy tickets. Without any track record, it's very hard.
''It's a bit of a chicken-and-egg problem ... That's a major issue that Terry and his team have eradicated.''
The city still faced significant challenges, including a shortage of beds that forced some Fleetwood Mac fans to take rooms as far away as Oamaru and Balclutha.
The length of Dunedin International Airport's runway also meant larger acts still had to fly equipment to Christchurch, then freight it overland to Dunedin, which was not ''super efficient'', Mr McGregor said.
But, ultimately, ticket sales would remain the key to the city's future concert success, Mr Gudinski said.
''Look, if you're going to sell out ... you're going to go out of your way to get there.''