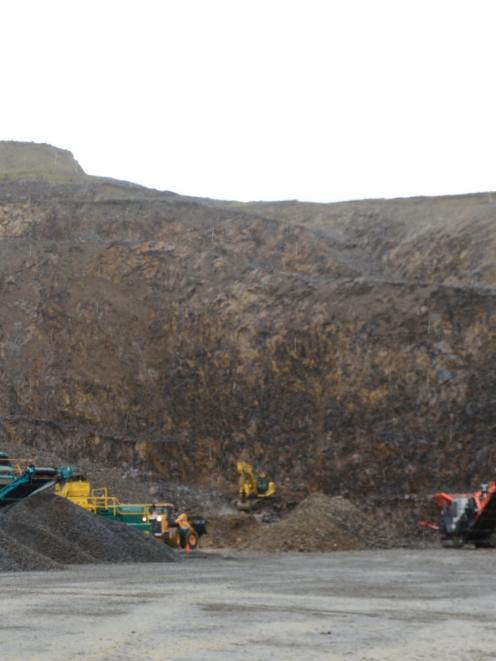 Residents deeply disappointed with a High Court decision that a consent does exist to quarry Saddle Hill, near Dunedin, are vowing to fight on to save it.
A public meeting has been organised and residents are calling on the quarry's owner to put the community before money, and stop digging up the hill.
A recent High Court decision overturned an Environment Court finding that a consent for quarrying the hill, a copy of which cannot be found, did not exist.
Saddle Hill Neighbours Group leader David Hiom said the original decision put a question mark over whether quarrying by Saddle Views Estate Ltd could continue, something people wanting to save the landmark, including the neighbours' group, had fought for for years.
''It's unbelievable because it's taken such a long time to get this far and then to be told that, it's just a smack in the teeth.''
Scurr Rd resident Marjorie Orr said she was ''profoundly disappointed'' with the judge's decision, which is the latest decision in 50 years of public agitation to protect the hill from further quarry damage.
It follows several years of court action instigated by the Dunedin City Council to try to establish the legality and extent of quarrying allowed on the lower peak, Jaffray Hill.
There was more than just a legal issue, Ms Orr said. There was a moral issue.
''Is it right for a few people to make a financial benefit against the wishes of the community? Nobody's considered that.''
The only hope now was that the company would consider the wishes of the community and leave the skyline intact.
''How can it be satisfactorily resolved? It seems to me that if it can't be solved legally the ball's in [sole director of Saddle Views Estate Ltd, Calvin Fisher's] court and we just have to hope that public pressure and his conscience will stop it.''
Mr Hiom said he did not have much hope that would happen, noting he had footage of a digger apparently working on the skyline, which was at present protected under a court injunction.
''They're quite happy just to dig the whole of Mosgiel up, really.
''It's all about how much money they can earn. They are not bothered about what the place looks like.''
Saddle Hill Community Board chairman Scott Weatherall said Saddle Hill people had worried about losing the hill for a ''long, long, long'' time.
He received calls daily from concerned residents, and disappointment with the High Court decision was widespread, he said.
''I don't think you've seen the last of this.
''We will continue to advocate for the community and the feeling we get as representatives is to try to do whatever we can legally, to see if there is any chance the quarry owners could have any empathy for what the public is asking.''
Mr Weatherall encouraged people to attend the public meeting at Mr Hiom's property on December 13.
Mosgiel Taieri Community Board chairman Bill Feather said the quarry was as visible from Mosgiel as from the Saddle Hill area and Mosgiel residents were also concerned about the hill's desecration. His board would support the Saddle Hill Community Board.
He said it was a tricky situation because the land was privately owned, and it was the owner's right to run a business there.
Dunedin South MP Clare Curran, who organised the meeting, said she had wanted to hold a public meeting for a while but had been waiting for the court's decision.
Ms Curran said she had received ongoing contact from people worried about the hill disappearing.
Mr Fisher could not be contacted for comment yesterday.