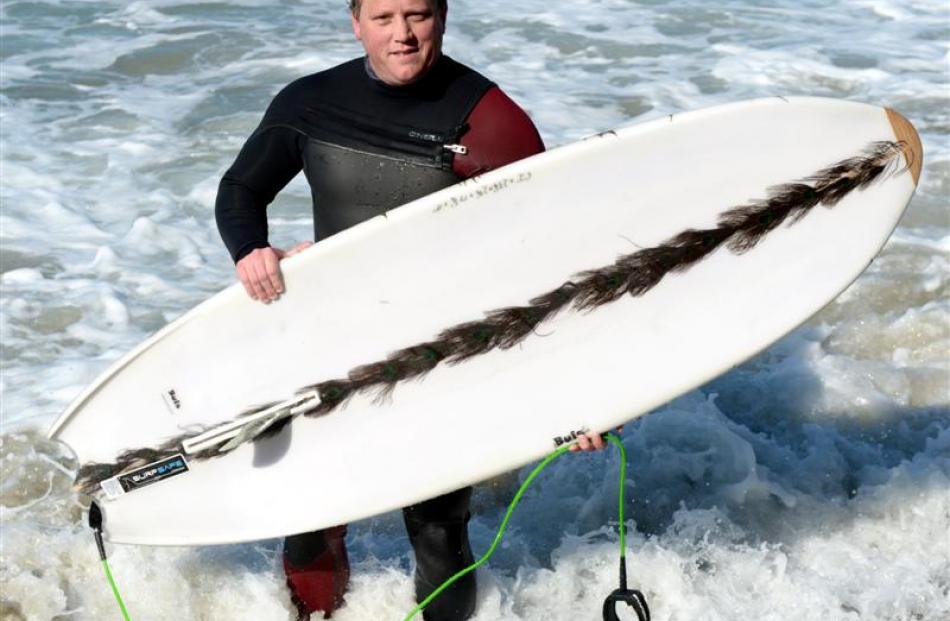 A Dunedin surfer who used to panic on hearing the shark bell sound at St Clair is panicking no more.
Jeremy Buis now has a shark-repelling surfboard.
The keen surfer had seen a shark fin three times while surfing, once off Aramoana and twice off St Clair.
However, ''Next time I hear it [the bell], I'm not sure I will even get out of the water.''
The reason for his new-found confidence was watching the Surfsafe device deter 5m-long white pointer sharks off the coast of Stewart Island recently.
''While the device was turned on, not one fish was taken; however, when [it was] turned off, they were destroyed. It convinced me.''
Mr Buis, who is the New Zealand distributor and installer of the product, was involved in the New Zealand testing of the device alongside its inventor, David Smith, who could not get the testing done in Australia because of regulations.
The small electronic device, which was fitted to the bottom of boards, sent an electric current that deterred predatory sharks up to 6m away.
Mr Buis said he had used the device for the past six months and likened it to wearing a seat belt in a car.
Because it weighed just 120g, the surfer did not notice it, and one charge lasted for 10 hours' surfing.
Three people died from shark attacks off Dunedin beaches in the 1960s: Les Jordan, at St Clair in 1964, Bill Black, at St Kilda in 1967 and Graham Hitt, at Aramoana in 1968.