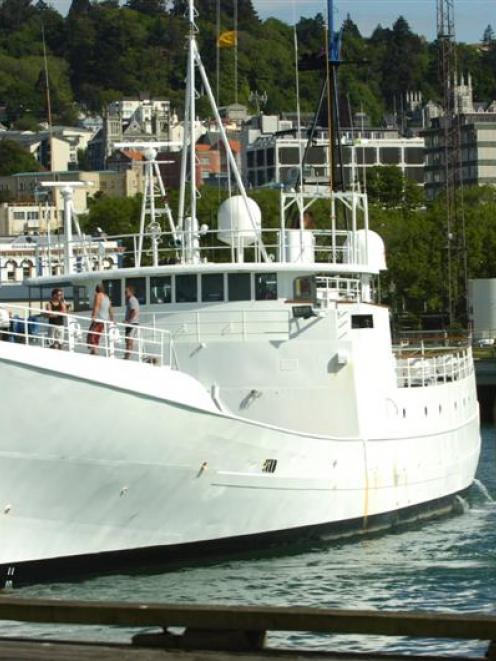 Otago Daily Times business reporter Simon Hartley investigates the background of possibly the largest fraud perpetrated against a government institution - a vulnerable hospital already in financial crisis.
Greed, a passion for cars and boats, and southern business interests, were the undoing of Michael Swann, of Dunedin, who along with business friend Kerry Harford, of Queenstown, was last night found guilty of defrauding the cash-strapped Otago District Health Board (ODHB) of almost $17 million over six years until late 2006.
The compelling question was how Swann, without arousing suspicion, received on average $43,000 a week from fraudulent ODHB "contracts", gave his $145,000 salary to his then wife Anna Devereux, and went about spending almost $11.6 million on a fleet of luxury cars, boats and properties.
There were more than 100,000 pages of documents involved and 49 witnesses appeared during three weeks before Justice Stevens and a jury in the High Court at Dunedin.
During cross-examination by the Crown prosecutor, which prompted an objection by Swann's Auckland QC John Haigh, Swann was asked if the licences referred to in a multitude of invoices tendered to the ODHB, reaping him millions of dollars, was "meant to read licences to print money".
Swann, as the ODHB's chief information officer, was an acknowledged expert in computer technology and denied the charges.
However, his crime was simply a 21st-century version of the centuries-old scam of supplying fake invoices, which delivered him the lion's share of almost $17 million from the stressed ODHB coffers.
He contended the invoices of Sonnford Solutions Ltd were a form of "risk mitigation" insurance, should the hospital IT system ever need fixing, while the Serious Fraud Office (SFO) said that situation was already covered by agreements with the supplier of the hospital's three main computers, IBM.
At the time of the frauds, the ODHB was trading in deficit, grappling with the transition from the government-appointed Healthcare Otago to a new elected health board model.
Amid the large deficits, ring-fenced funding issues and major employment problems, the ODHB was being further constrained by the introduction of unpopular population-based funding, with the spiralling cost of patients' treatment always under the microscope.
Before the trial, not only were local lay people affronted by Swann's apparent callousness to defraud a struggling hospital, staff, too, were appalled at the loss of $17 million, with many people asking "just how many heart or hip operations was that worth?".
The relevance of potential operations may over-simplify the case. However, the Dunedin court heard during the past three weeks that the work undertaken on the computers, if carried out by supplier IBM, would have cost less than $3 million, against Swann's invoicing of $16.9 million.
That is an apparent difference of almost $14 million which could have offset or at least cushioned health board losses elsewhere.
Long before Swann's sacking and the subsequent trial just over two years later, discreet questions were already being asked around Dunedin's tight business community about ex-bankrupt Swann's lifestyle, seemingly so at odds with his $145,000 a year salary.
This was a man who parked his Lamborghini in the health board car park, had a 50m luxury motor vessel berthed at a Fiji resort and lived in the large 1849 heritage home, Ferntree Lodge. He also bought luxury cars from upmarket Dunedin car sales company Armstrong Prestige, with some rumoured to have been paid with suitcases of cash.
In ODT news stories in January 2006, the then relatively unknown Swann was revealed as the local businessman behind a proposed $3 million redevelopment of the former Miller and Tunnage boat building site at Careys Bay, then later in the month as a part-owner of the ship Townsend Cromwell, berthed in Dunedin's upper harbour.
He estimated then its purchase and refit would cost less than $1 million in total, but the ship went elsewhere and opportunity for news stories went cold, then fizzled out for lack of any paper trail, on any subject.
With the benefit of hindsight, the ostentatious lifestyle screams out for explanation to the outsider, but rumours of the extent of Swann's asset empire could only be verified by SFO investigators and later made public in court.
That was because before 2000, Swann maintained a relatively low-key lifestyle and little was known, publicly at least, about the John McGlashan and University of Otago-educated man, who did not appear on any recent company lists even in 2005, other than him being a discharged bankrupt.
Swann left little or no paper trail of company appointments or interests and, as it would transpire, no tax returns or accounts were filed.
Aside from owning Central Otago properties, Swann and then wife Ms Devereux, while living in the historic Dunedin lodge, purchased the neighbouring property because it overlooked the lodge and, according to her evidence, they also owned a "rumpy old crib" on the Pig Root at Waynestown.
Among the six vessels controlled by Swann was Townsend Cromwell, with its 21 flat-screen TVs, a fitting asset for a person buying and selling numerous classic, exotic and vintage Porsches, Mercedes Benz and Rolls-Royces.
Swann hinted to colleagues and friends his lifestyle was fuelled by his having sold a software programme to computing giant Microsoft, with trial testimony later recounted by witnesses that his royalty payments were well beyond what the ODHB paid him.
He simply did not exist on paper when it came to companies involved in the fraud: the Kerry Harford-owned Sonnford Solutions Ltd providing invoices - prepared by Swann - to Computer South Ltd which channelled the rapidly growing proceeds to Grant Fyfe to a trust account of law firm Checketts Mckay in Alexandra. Computer South was controlled by Swann.
Swann's personality prompted a wide variety of reactions in people, both acquaintances and work colleagues.
Those recollections ranged from "generous" and "thoughtful" through to Swann being a "bully", having a "split personality" and "using standover tactics".
A solidly-built man, Swann wore a conservative dark jacket and tie throughout the trial. Despite having to repeatedly translate complex computer and contract arrangements, he spoke clearly and in measured tones and did not rise to baiting comments by the Crown prosecutor.
The complexity of issues dealt with precludes a description of having given compelling, concise answers, and he was often asked to explain answers, but during Swann's two days in the witness box he only occasionally snapped out a firm "no" or "yes" answer to the prosecutor.
Including in court statements such comments as "Mike would fix it", there were instances recounted by some before the trial of Swann endearing himself to people through favours.
During brief interviews with the Otago Daily Times after his sacking, Swann was always congenial but rarely forthcoming on the fine details of business enterprises he was involved in, always leaving unstated the actual extent of his involvement.
In a relaxed mood during an interview at Ferntree Lodge in November 2006, weeks after his sacking, Swann was in a confident frame of mind, shambling about the large slightly unkempt colonial kitchen, with peeling paint overhead and a few dishes piled haphazardly.
Dressed sloppily like any householder about to tackle weekend gardening chores, Swann dispensed coffee from a commercial-style machine. In a bachelor twist, the sugar on the marked wooden table was in its original packet, the sides rolled down and obligatory spoons sticking out.
"No", there wouldn't be any photographs today, "maybe another time, for the ODT". Otherwise, just some "background information", but not for publication.
He maintained at that early stage his defence would be the "risk mitigation" insurance claim, and this week repeated the same metaphor in court to the jurors during cross-examination, that you did not go back to your house insurer after paying premiums for several years and ask for that money back.
After his sacking, but before the trial, there was a belief among Swann's acquaintances, and especially some former junior work colleagues, that he would clear his name. However, few people would be interviewed about him.
Swann sent several emails to the ODT in response to questions, during the first half of 2007, making claim and counter-claim about the ODHB and its chief executive, Brian Rousseau, and legal process in general.
One reads: "Given I was the ODHB employee involved with the contracts with Sonnfords, I will have some degree of responsibility but let's be a bit more balanced in [reporting] who actually invoiced and was paid the money by the ODHB," Swann told the ODT.
In another email, Swann said "Not sure how I was ever a business associate of Harford as I have never been in any business with him ever".
Years earlier, several prominent Dunedin business people had dealings with Swann on unrelated ventures, none of which prompted any investigations. But they left a sour taste in the mouth of many. The businessmen involved declined to be interviewed.
Swann's demise came about from one person, who held a grudge from a soured business deal several years previously. He alerted another party to be wary of dealing with Swann.
The warnings came to fruition when then Southland District Health Board chief financial officer, Robert Mackway-Jones, began working with the ODHB in 2003, with the purpose to possibly set up some shared financial systems.
When formally seconded to the ODHB in 2006 as part of his job, Mr Mackway-Jones was able to get access to the "contracts" Sonnford Solutions had with the ODHB, later describing in court finding "apparent irregularities" with Sonnford invoices, and them not making "a great deal of sense".
In early October 2006, Swann was named as the suspended ODHB employee and eight days later was sacked for "gross mismanagement", prompting a flurry of activity as his widely-dispersed assets around Otago were seized under court orders.
Once the ODHB main investigation was under way and a civil case filed in the High Court at Dunedin on October 27, the board asked the SFO to run a separate but parallel investigation. Seven months later, the SFO filed criminal fraud charges against Swann and Harford in June last year, essentially overtaking the ODHB civil case.
The trial in the High Court, before a jury of eight women and four men, attracted a wide following in the public galleries.
Swann continued to maintain the Sonnford invoices were a computer "risk mitigation" insurance on behalf of the ODHB, and he and Harford had not acted dishonestly. The SFO and Crown prosecutors maintained there was no service provided by Sonnford.
While many trusts and companies were involved, the principal invoicing and money-go-round was between Harford-owned Sonnford Solutions and then via Computer South. This company was set up in 1995 by Swann so he could continue to work, because as a bankrupt he could not be a director or shareholder.
Ms Devereux, now separated from Swann, had a majority 34% shareholding in Computer South and friend Peter Ibbotson and lawyer Grant Fyfe, of Wanaka, had 33% each.
Just weeks before Swann was sacked there was a shareholder change, in September 2006, which showed on Companies Office records that Ms Devereux's shareholding was removed from the register in favour of a 50-50 split between Mr Ibbotson and Mr Fyfe.
Ms Devereux, who initially went to Australia with the Swann children but is now back in Dunedin, said in written evidence she never asked where the money came from and had "no idea how the company [Computer South] generated funds".
Swann's fortnightly ODHB salary of $3300 was banked directly into her account. She admitted to having "probably" signed some cheques for Computer South, while a shareholder, but not filling them out. She had no idea why, or who gave instructions to have her removed from records as a Computer South shareholder, the court heard.
The SFO claimed in one example that in late 2005 Swann paid $262,000 for a Porsche, later traded it for a Mercedes Benz, then paid $250,000 for the same Porsche, later registered in Ms Devereux' name.
Ms Devereux acknowledged Swann's passion for cars and said she never purchased the cars in her name or drove them, claiming a "zero interest" in vehicles.
Similarly, Mr Ibbotson said in written evidence he signed "heaps" of cheques, but otherwise did not know the source of Computer South's income and, although a company director, had little to do with the company.
A forensic document examiner said all but one of 29 signatures on Computer South cheques - those of Ms Devereux and Mr Ibbotson - were "simulations" and "appeared to be Swann's" writing.
Swann testified Sonnford's limit of exposure was up to $50,000, reflecting the split of 10% to Sonnford and 90% to Computer South, which "underwrote" the remaining exposure.
In one of several examples presented to the court, Sonnford sent invoices to the ODHB in November 2005 for two bills; one for $198,800 and another for $207,000.
One payment from the ODHB of $178,959 was made to Sonnford, then it went on to Dunedin car dealer Armstrong Prestige, while the second ODHB payment of $186,300 was paid to Computer South.
On numerous occasions during the trial, Swann said the creation of the invoices was done by him, with details emailed to Harford, entered into a template, then emailed back. Swann printed them off and delivered them to the ODHB's finance department, but he disputed claims he sought swift payment at 48 hours' notice for some invoices.
Swann was at pains to point out Harford, with whom he attended Otago University, flatted with and had as his best man at his first wedding, knew little of computing or the fraud allegations being addressed in court, but as a surveyor would otherwise be expected to be "pedantic" on details.
"Kerry Harford was in no way party to deceit in any way. [A] totally above-board operation in every way," Swann said.
Harford, who also denied the charges, is a shorter but also solidly-built man and was similarly dressed as Swann. He elected not to give evidence and sat through the proceedings showing little emotion.
On the question of Swann's not listing his conflict of interest on the ODHB register, as required, (a document which is publicly available at monthly meetings) Swann claimed he had spoken to Mr Rousseau on "numerous" occasions and was told if he was not a director or shareholder of a company he had nothing to register.
"I was at significant arm's length and so had no conflict [to register]," Swann told the court.
While much of the evidence and cross-examination was semantic and dwelt on technicalities of the meaning of licensing, clauses in contracts and relatively highly-technical explanations of computing jargon, the contracts with the ODHB were the heart of the matter.
A telling admission by Swann in Crown cross-examination, having claimed no dishonest intent throughout and that the contracts were for "risk mitigation" insurance, was his acceptance the 16 Sonnford contracts did not mention the words "insurance cover" or "risk mitigation".
Crucial to the case was a supposed "umbrella" contract overarching the 16 Sonnford contracts. Swann admitted this had sat "unfinished" for six years in his office and, once he left the ODHB, there was no copy. He claimed he was forbidden by Mr Rousseau from engaging lawyers to complete the contracts.
The 16 Sonnford contracts were devised from a "template" contract of law firm Chapman Tripp. On questioning from Justice Steven of phrases in the contract at odds with IT terminology, Swann said the phrases were left in and that he had otherwise "filled in the blocks" in the template contracts.
He denied having "cut and pasted" the Chapman Tripp contracts.
Crown prosecutor Robin Bates repeatedly asked when Harford had signed the 16 Sonnford contracts, claiming some could have been signed and post-dated in a "flurry" one weekend, which Swann rejected but could not provide specific dates of their signing.
The forensic document examiner also looked at Sonnford contracts, believing some were inconsistent with when they were said to have been created; one dated February 2000 was signed while resting on a contract dated April 2004. But she also agreed Swann and Harford might have signed them at different times.
Just as the "umbrella" contract was missing, so too was Swann's laptop, which he claimed "crashed" just before he went to Fiji on holiday and it was given to the ODHB's computer helpdesk. It has not been seen since.
Mr Bates' cross-examination, while at times tense and frustrating, with himself and Justice Stevens interrupting Swann for "clarifications", briefly took on a lighter tone at one point when Mr Bates touched on the fleet of cars owned by Swann, which the defendant said were for trading thorough Computer South.
Just as he had previously reeled off the names, tonnage and overall length of six vessels the day before, Swann systematically described the individual models of each of 19 cars, encompassing a Lamborghini, Rolls-Royces, Porches, Mercedes Benz and a lone Bentley, plus more than 20 Land Rovers, Landcruisers, Buick, Cadillac and American Jeep - his depth of recall on this relatively small matter amusing the jurors, court staff and legal counsel.
However, as the cars were under the umbrella of Computer South, Justice Stevens next asked for clarification on whether Computer South paid tax or had accounts done "as a business".
"That oversight [no tax or accounts rendered] was my responsibility," Swann said, referring to the list of more than 34 cars, having said in his evidence the day before there was "quite a tidy-up to do" on Computer South tax issues.
After Swann's recitation of the car models, prosecutor Mr Bates drily said "the only thing truthful" heard by the court during the past two days of Swann's evidence and cross-examination was his name and the details of the six boats and more than 40 vehicles.
When Swann was giving evidence earlier about the six vessels, he said Townsend Cromwell was bought for $800,000 and refurbished for what "could be more than $1 million".
In earlier evidence he accepted $7.8 million was "close" to what he had spent on "exotic, classic and vintage" cars and boats, saying "I wouldn't be surprised, but I don't have the details".
He defended the lack of tax paid and took "responsibility" for that, noting he had not claimed GST returns on cars or boats, and that cash was paid to subcontractors working on the boats.
"The marine industry . . . tends to be a cash-focused industry still," Swann said.
Swann admitted one Sonnford contract was not for risk mitigation but actual services, which contradicted earlier statements given to the SFO.
He defended the contradiction as resulting from the stress of a two-hour SFO interview, later confirming a QC and another lawyer were with him at the time.
"It was a lot to squeeze in, in a small room, being filmed and interrogated and with no rights," Swann said.
How Swann was able to push through 198 invoices, sometimes for more than $300,000 apiece, undetected for so many years has many dumbfounded, especially when Mr Rousseau's evidence said Swann's signing authority was for $200,000, in total, per year.
Because some Sonnford contracts were done before early 2003, they would have fallen outside the board's existing policy of delegated authority, Mr Rousseau said.
ODHB chairman for much of the period, Ross Black, said in evidence there was a "two tick" approval procedure for paying invoices, requiring contracts to be approved, after negotiation by management and in conjunction with finance general manager Ewan Soper.
However, Mr Black did not recall any Sonnford invoices going through the process, although he agreed they would be in budgets and expenditure breakdowns, to be approved by the board.
He similarly agreed the requirement for two signatories for contracts meant the second person would not know if it had been "appropriately" signed by the first person.
Former chief executive Prof Bill Adam also said he did not know of the existence of Sonnford, and would have expected the invoices to have been brought to his attention for board approval, given their size.
ODHB assistant accountant Murray Bell, who had to make sure cash was available for invoice payments, had queried Sonnford and looked it up on Companies Office records.
He was told by Swann that Sonnford was a broker/dealer in international software licences, and that its two directors did "a very good job".
Arlee Folkers, ODHB chief financial officer from 2002 to early 2006, gave evidence Sonnford payments had been made for years prior and there were no flags to query, noting also Sonnford appeared in a top 10 list of hospital suppliers.
She had assumed more senior management would have verified the Sonnford invoices and "also assumed" that "auditors or members of my staff" would have checked the validity of Sonnford contracts to support invoice payments.
Finance and corporate general manager Ewan Soper, employed from mid-1998 to October 2003, said he was given a clear message by the board to improve the control environment; changing ways capital expenditure requests were moved to the board for approval and also introducing a contracts register, requiring board ratification.
Following Swann's sacking and the laying of SFO charges, the ODHB reviewed its fraud prevention measures, then eight weeks later said neither internal or external finance auditing processes were designed to detect fraud.
Present chief executive Brian Rousseau said at the time the public would find that admission "surprising"; however, internal audits looked at a small number of accounting samples while independent Audit New Zealand took a wider sampling.
The Crown and SFO prosecutors and defence teams of Swann and Harford summarised their respective positions on Thursday, with the prosecution reiterating no services were supplied, Swann had lied, the contracts and invoices were a sham and Harford's Sonnford company was set up to supply invoices, not for doing any work.
Counsel for Swann, Mr Haigh said while Swann may be guilty of breaching his employment contract, delegated authority and failed to record a conflict of interest, he was not guilty of criminal offending.
Counsel for Harford, Greg King, said Sonnford was run as a legitimate business, paying tax and GST, filing financial documents and paying directors, saying Harford had trusted his persuasive and eloquent friend.
Justice Stevens gave his directions to the jury, noting the key component was whether the pair intentionally set out to defraud the ODHB.
There are still several acts to be played out in this saga, including the pair's sentencing, whether they may appeal, the level of reparation which may be ordered to the ODHB, insurance claims and issues of accountability.
The ODHB's legal bill as understood by some sources (but otherwise not confirmed) is at least $3 million and the question remains whether its civil case will go ahead, and also whether the Inland Revenue Department may have a claim over assets for unpaid tax and GST.
It has sickened many in Otago to know Dunedin Hospital was financially hemorrhaging at $40 million in the red at the time of the frauds. It was unable to invest in critical medical equipment - equipment to save or prolong lives.
The thieves may have been brought to justice, but the time, cost and depreciation of the seized assets for the ODHB - whose estimated annual deficit was this week increased beyond $13 million - may far outweigh it getting much back of its stolen $16.9 million.

SFO charges
• Between October 2003 and August 2006 with intent to obtain a pecuniary advantage, they dishonestly used 119 Sonnford Solutions Ltd invoices addressed to the Otago District Health Board, in the sum of $11.6 million.
• Between November 2000 and September 2003 with intent to defraud, used 75 Sonnford Solutions Ltd invoices addressed to the Otago District Health Board or Healthcare Otago to obtain a privilege, benefit, pecuniary advantage or valuable consideration, in the sum of $5.05 million.
• Between August 2000 and October 2000 with intent to defraud, used four Harford Sonntag and Associates invoices addressed to Healthcare Otago to obtain a privilege, benefit, pecuniary advantage or valuable consideration, in the sum of $237,885.

The main companies
• Sonnford Solutions Ltd, (formed Nov 2001) owned by Kerry Harford. Sent invoices to ODHB for computer risk mitigation services. Received 10% of monies. Paid tax and employees.
• Computer South Ltd (formed 1995), operated by Michael Swann. Inaugural shareholders wife Anna Devereux, Devereux Family Trust, lawyer Grant Fyfe and Peter Ibbotson. No employees or tax returns. Received 90% of monies.