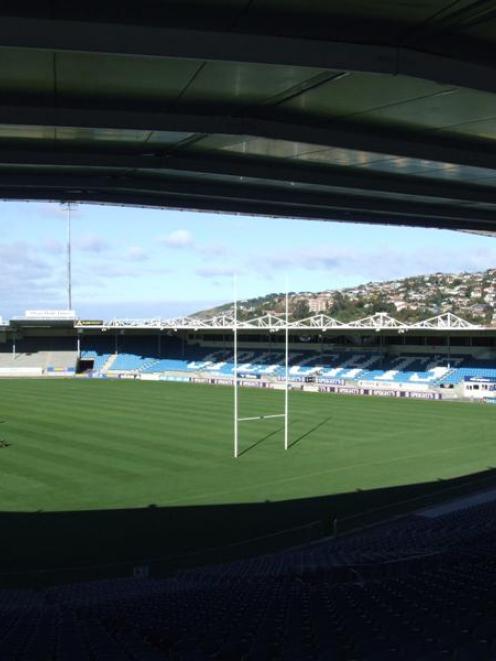 A Dunedin valuer's assessment of Carisbrook, which the Dunedin City Council says guided its thinking when it bought the stadium, valued the property at between $7.1 and $7.5 million, Mayor Peter Chin said yesterday.
The valuer, John Dunkley of DTZ New Zealand Ltd, said he based his valuation on splitting the properties into blocks and selling them separately, and that the newer building housing corporate boxes could be re-used for offices.
Otago Regional Council chairman Stephen Cairns also worked for DTZ, though is now part of Colliers International, and regional councillors Bryan Scott and Gerry Eckhoff recently attacked the appropriateness of his carrying out both chairmanship and real estate roles.
But Mr Cairns said yesterday he had "not a bloody inch" of a role in the valuation.
"John Dunkley doesn't even work in the same office," he said.
"I can't even get access to John's files, not that I want to."
Mr Chin announced the valuation after what he said was "a high level of media interest" in the purchase.
The Otago Daily Times requested information on the sale in July under the Local Government Official Information and Meetings Act, but was turned down because the sale was still being negotiated.
A second request for a copy of the sale agreement, and tenancy agreement with the Otago Rugby Football Union, was sent last week.
When the $7 million price was confirmed by the council recently, Mr Chin referred to "rigorous independent valuation" advice the council had relied on when it bought the properties.
He said yesterday he had decided to release the details of the valuation "for the avoidance of doubt, and to avoid further speculation".
"The council was guided in its deliberations by the advice of John Dunkley, from DTZ New Zealand Ltd, whose professional assessment was a figure of between $7.1 and $7.5 million for the three property packages - Carisbrook, the adjacent car park and a block of rental housing in Burns Street".
Mr Dunkley said he based his valuation on splitting the land into blocks to sell separately, something that had not been considered in public discussion about Carisbrook.
The building housing the corporate boxes was relatively new, and could easily be used as offices for architects or engineers, for instance.
Mr Dunkley said he did not envisage the land being used for larger "dirty" industry, but it could accommodate anything from business to service industries or even a rest-home, as one side of the property was next to a residential area.
The valuation was done "quite a while ago", and while the economy was now in worse shape, industrial land in Dunedin was still "at a premium".