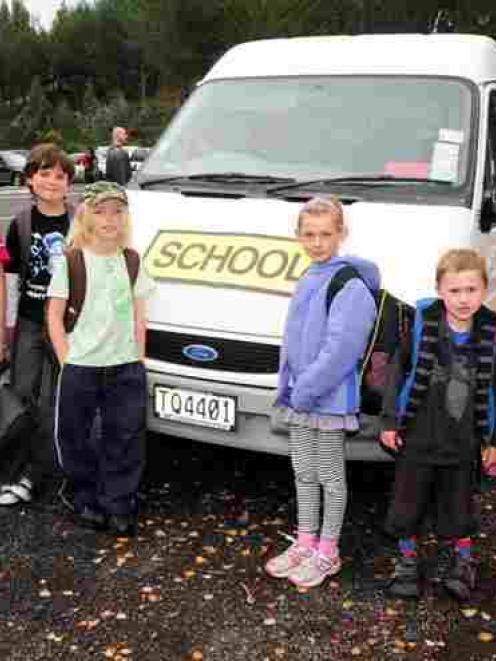 Waitati School's bus service is about to reach the end of the line, leaving staff and the parents of some pupils concerned for their children's safety.
The service is run by School Support Ltd, which manages about 700 school bus routes in the South Island on behalf of the Ministry of Education.
Ministry resourcing group manager John Clark said the Waitati bus service (route 8018) would be terminated at the end of this term because a routine two-year survey had found there were not enough pupils to justify the service.
The route was used by five eligible pupils, but the ministry required at least eight for consideration of a contracted bus service, he said.
At present, the service was costing $43.33 per pupil each day, and the ministry's limit was $7.50 per pupil per day.
The service provides transport to Doctors Point Rd, Michies Crossing, Mt Cargill Rd, State Highway 1 and Waitati Valley Rd, where there are open speed limits and no footpaths on many of the roads.
Nicky Clarke is a parent concerned about the consequences of the service cut.
She said her 9-year-old son used the bus service and was worried he, and the others who used the service, would be in danger if they walked or cycled to school.
"These kids live in a 100kmh speed zone, so they can't walk.
"I'll have to change my schedule and drive him to and from school.
"But there are some families who don't have the ability to drive a car, and other families who only have one car, which is in town with whoever is working."
Waitati School principal David Fitzgerald said it was a very difficult situation to deal with.
He, too, agreed it created safety issues for children in the catchment.
"The road they would have to walk on is dangerous.
"It wouldn't take much for something untoward to happen to them."
Mrs Clarke said to cut a school bus service because the means did not justify the ends was short-sighted.
"I think you can't put a price on children's safety.
"Another option could have been that parents could pay a small subsidy to keep the service going.
"But we haven't been given that option."
The situation had arisen because the school's roll was declining.
Both Mr Fitzgerald and Mrs Clarke called for parents who lived in the Waitati catchment, who had children at primary school, or who had children about to go to primary school, to consider Waitati School as an option for education.
It was hoped it would boost the school's roll and save the bus route.
Mr Clark said the Ministry of Education advised the school of the termination before the start of term 2.
"The ministry is required to give at least a full term's notice prior to terminating a school bus route.
"That notice period has been complied with."