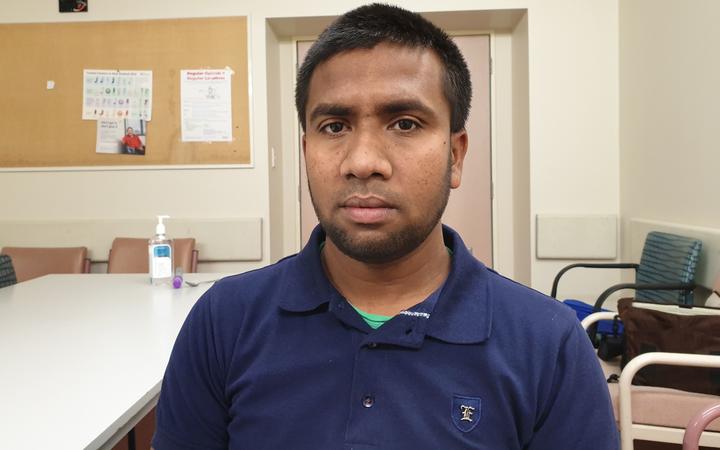 The husband of a woman severely injured in the Christchurch mosque shootings says he's worried about the couple's financial future.
Mohammed Mashud hasn't been able to work since his wife was shot several times in the abdomen and chest while trying to flee Al Noor Mosque in the 15 March attacks.
Sazada Akhter (25) is now paralysed from the chest down.
Her husband has remained by her bedside for more than three weeks as she faces further treatment, but now he's worried about mounting bills and rent.
Ms Akhter was unconscious for more than two weeks, and when she regained consciousness, her husband had the job of telling her she may never walk again.
"She has got life, but this is not life. That's why she is crying, crying. She tells me, my life is finished," Mr Mashud said.
Mr Mashud - who has lived here for six years - only recently convinced his wife to move here from Bangladesh, but he now wonders if he did the right thing.
"She came last year in December ... but she don't want to come, that's why I say, no, here is a very good country. I've been here six years and nothing happening here, lots of things I telling [her]. And I say you [can get a] job also here, you can make happy life. Now she asking, but what is this my life now."
Ms Akhter remains in hospital after undergoing several operations, including another one recently for an infection that developed from an earlier operation.
Mr Mashud stays with her for up to 18 hours a day, trying to reassure her and build her strength again by preparing her home-cooked meals, although she was still struggling to keep food down.
"At the moment I need to do everything, I need to do cooking ... I haven't got time ... morning until one o'clock [in the morning] I can't go home. Weekly, I need to pay a lot of bills ... that's why I am trying [to get] some help from Winz [Work and Income] but Winz can only help a little, not much," he said.
His sister was the only family he and his wife had in Christchurch and he was desperate for family members to get here from Bangladesh to help his wife at the hospital and allow him to get back to his steel fabricating job.
With no help from ACC for his lost wages while he had been at his wife's side, he worried how he would make ends meet now and in the months to come.
An ACC spokesperson said there was nothing in the legislation that allowed it to make payments to the family of those injured for lost wages while they cared for them.
RNZ asked Minister for ACC Iain Lees-Galloway if there was any plan to change the law in light of the mosque attacks.
He said the government was "considering options to ensure people directly affected by the attacks receive an appropriate level of support".
RNZ understands this may include an expansion of the definition of who is eligible for payments for mental health trauma.
Mr Mashud said he asked for people to pray for his wife and that he bore no ill will towards his adopted home country, despite what had happened.
"Mostly everybody is a good people, only one person is a little crazy but ... I think it is safe here."
As of Monday, Ms Akhter was one of 14 people still in hospital following the shootings.
One remains in a critical condition.