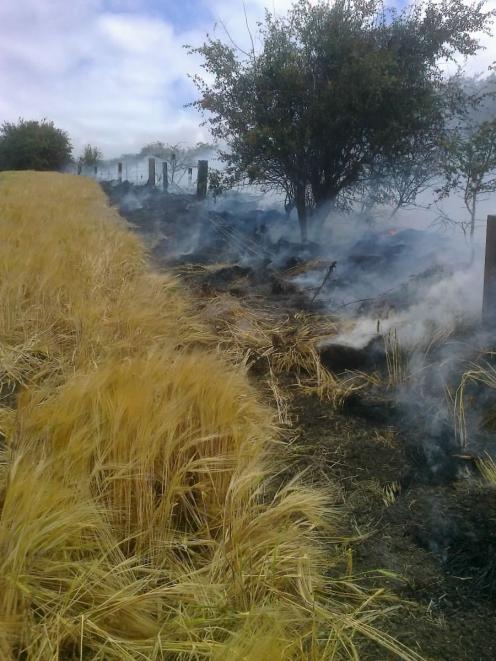 Dunedin Railways has been billed about $66,000 by the Otago Rural Fire Authority for a series of fires between Oamaru and Maheno in January started by a steam train it was operating.
The Taieri Gorge railway and excursion trains operator also faces additional bills from property owners who suffered damage from 21 fires started alongside a 12km section of track.
Fire brigades, rural fire forces, property owners and public volunteers all helped fight the fires, which also briefly closed State Highway 1 just north of Maheno, because of smoke from plastic-covered baleage.
Dunedin Railways operations manager Grant Craig would not tell the Otago Daily Times yesterday how much the extra bills were for, but said all would be covered by insurance.
While Dunedin Railways had investigated the fires, he did not want to comment what caused those while the claims were with its insurer and until they had been settled.
A fire mitigation plan had been put in place for the excursion trip to Oamaru on January 24 using a coal-fired locomotive and carriages with about 400 passengers on board.
Because of drought conditions in the area, the fire authority had been consulted about the trip.
''It was disappointing the plan went belly-up,'' he said yesterday.
Fire authority chief executive Stephanie Rotarangi said its investigation into the steam train fires had been completed.
The cost of suppressing the fire came to $66,145.07 (including GST) and the authority was ''seeking full recovery from those responsible''.
She did not want to comment further, but it was confirmed Dunedin Railways had been sent the bill.
The authority has the right to recover the costs of the fire from whoever was responsible. At the time of the fires, the Otago Daily Times was told by passengers they had overheard crew say an ash door or ash tray had been left open at Oamaru.
However, Dunedin Railways said while that was one angle of its investigation, other factors could also have contributed to the fires.