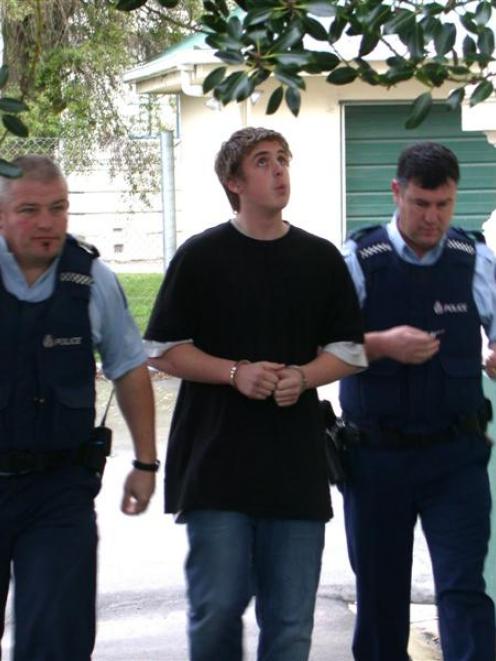 An Oamaru teenager will spend at least 10 years in jail for killing another Oamaru teenager in April last year.
Daniel Ethan Smith (17) was sentenced in the High Court at Timaru yesterday to life imprisonment with a minimum non-parole period of 10 years for murdering William Lewis (16).
Smith was also 16 years old when he stabbed Mr Lewis three times in the back about 9.45pm on April 1 last year, after a running altercation in central Oamaru that ended in the fatal confrontation in Exe St.
Smith was convicted of murder by a jury of 10 women and two men on May 6 and yesterday was back in the same courtroom for sentencing by Justice John Fogarty.
It emerged during sentencing yesterday Smith had offered to plead guilty to manslaughter and, when that was rejected, denied the murder charge, claiming self-defence during his trial.
Smith either stood or sat silently in the dock with his head down and eyes on the floor for virtually all of the two hours and 45 minutes in court, including the reading of victim impact statements by Mr Lewis' father, Peter Lewis, mother Jenny Brokenshire and stepmother Tania Mann.
The only interruption came when one of Mr Lewis' family shouted "get a real job" while Smith's counsel, Bernadette Farnan, was making submissions.
That prompted Justice Fogarty to warn about 50 people in the gallery not to speak "otherwise we will not be able to do this task [sentencing] properly".
There were no other outbursts, even after Justice Fogarty left the court.
Ms Farnan said a sentencing such as yesterday's was always very difficult and there "can be no winners".
She tried to argue a sentence of life imprisonment was unjust because of Smith's age and circumstances surrounding the stabbing, but the judge said the facts presented during the hearing and his statutory obligations meant a life sentence was the only option.
Ms Farnan then argued for a minimum non-parole period of 10 years, the least that could be handed down under the law.
Crown prosecutor Andrew McRae submitted an 11 to 12-year non-parole period was appropriate to deter others in the community from committing the same offence.
It was also needed to send a message to like-minded youths that carrying knives in a public place was totally unacceptable.
Justice Fogarty said Parliament had indicated it was only on rare occasions a life sentence should not be imposed for murder, and there had only been three cases in the past decade.
While acknowledging Smith did not want to fight Lewis when challenged, was pushed, taunted and pressured, the judge said the three stabs in the back with a hunting knife buried to the hilt was not justified as self-defence.
That was coupled with Smith's very poor history of self-control, reflected in his previous record of offences dealt with by the Youth Court.