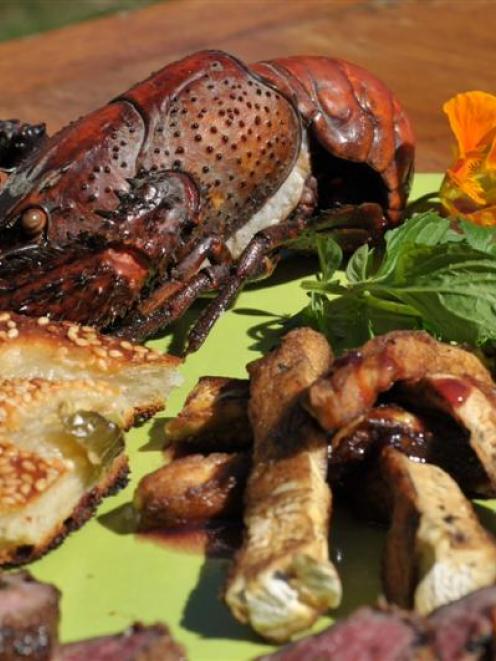 While many home chefs make the trek to the supermarket for supplies, Chuck Berry went foraging at Rob Roy glacier and base-jumped off a waterfall before flying a microlight plane to catch freshwater crayfish to make a meal.
For his efforts, the Queenstown adventurer came third in the Glenorchy Wild Food Challenge on Saturday.
His dish consisted of fallow back steak with onions and pine nuts, wild crayfish and home-baked focaccia stuffed with wild pig.
However, groper ceviche in coconut cream, lime and tomatoes, tuna sushi stuffed with baby carrot salad and crayfish salad with lime leaf cupped by avocado proved to be the winning match for Rachel Holmes-Lippis, who has been living in Glenorchy for a year.
A Glenorchy family cleaned up the prize plate. Mother Glynnie Barry came second and son Dart Watson, (8), took home the kids' prize for his specialty of fried deer brain, acquired on a hunting trip with his father.
Ms Barry entered a dish of wild pork belly with cabbage tree heart slaw and elderberry syrup.
Tadpole patties earned Paul Fraser the wildest ingredient award and best effort went to Heather Vincent and her impressive list of ingredients for a wild dessert.
Ms Vincent presented lavender and manuka honey with sugared walnut ice cream and wild raspberry and white chocolate elderberry cheesecake with hazelnut praline accompanied by a sorbet combination which included wild mint, watercress and dandelion.
The inaugural competition last year was won by Shaun Fa'Amalepe, of Arrowtown, and organiser Bill Manson, of Wellington, said Glenorchy folk were already planning their entries for next year.
Mr Manson said he travelled
the world helping to organise wild food challenge events, which are all about ''embracing the places these guys live''.
He said it was not about ''just one day a year eating the freakiest thing they can''.
Despite 15,000 people being at the Gibbston Valley Summer Concert, Mr Manson estimates a couple of hundred people visited the food challenge.
The competition drew 28 entries.