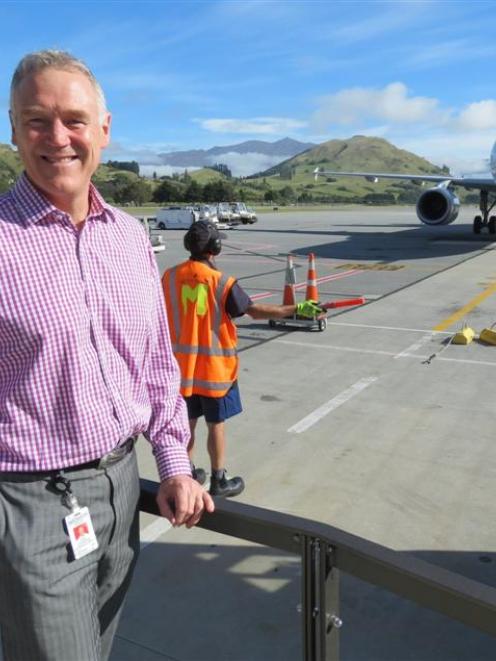 In his 10th month in charge of arguably the South's most important asset, Queenstown Airport chief executive Scott Paterson says he has never worked in an industry that is so seasonal.
Passenger numbers soar in summer, from December to the end of Easter, then tail off in April before a ''dead'' May and a quiet June. Then, they rocket back up in the space of a weekend for the ''full-on'' winter sports season.
All four airlines that service Queenstown move from a shoulder-season timetable to a winter timetable, then back to a shoulder-season timetable, in a constant merry-go-round.
''It's almost as if the tap's turned off, so those peaks and that seasonality is new to me, and from a chief executive's perspective, it's important to plan my team's resources and the activities I want the company to focus on, while maintaining momentum,'' Mr Paterson told the Otago Daily Times.
Being chief executive also involved gaining ''a ferocious insight'' into the ongoing Environment Court cases involving Frankton Flats, where the airport is situated.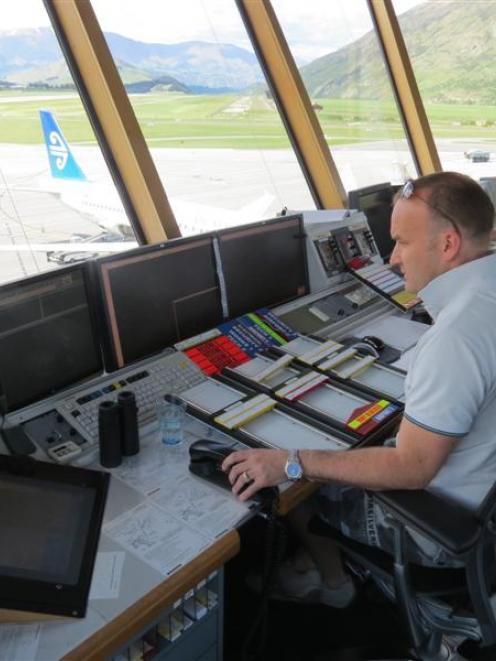 Mr Paterson said he had spent far more days in court this year than he would have liked.
''We're part of it - some might say we're part of the problem.
''Our two major things in the Frankton Flats are introducing new noise boundaries, which are really important ... for the airport because we need to have confidence in planning our growth.''
Mr Paterson said there was agreement about the extent of the proposed boundaries over 25 years, but the court needed to finish the agreement.
Boundaries were gradually expanding, due to flight frequency more than engine noise.
Those most affected by expanding boundaries live at the end of the runway in Frankton. Only a few households were expected to need noise mitigation in the early years of the plan.
Noise mitigation at the developers' expense was a building requirement for the expanding Lake Hayes Estate and the proposed greenfield residential development, Shotover Country.
''It's really important for our nearest neighbours because we're introducing obligations on ourselves to mitigate against airport and aircraft noise, which includes double-glazing insulation and mechanical ventilation,'' Mr Paterson said.
''Until that's been resolved, we just don't know where we're headed.
''The other big activity is the acquisition of land from Remarkables Park Ltd, currently earmarked as an alternative location for Frankton Golf Course, but [it] has a restricted use and we'd like to acquire it to allow the development of a whole new aviation precinct.''
Mr Paterson said the land in question was between 46ha and 48ha. There was plenty of room for the golf course and the 16ha the airport needed for its precinct.
''The problem is, we have a landowner who doesn't want to part with that piece of land, and so we have to go through a long drawn-out process of compulsory acquisition.
''The landowner believes that the aviation precinct is not needed and if it is needed, it could be located somewhere else on the airport ... the precinct is needed, it should be on the south of the runway [but] we're not anticipating a decision until after winter.''
Airport infrastructure continued to expand in 2012 with the construction of the international departure lounge and Air New Zealand's new Koru lounge above it, which cost the bulk of the $4.2 million set aside for capital works.
Building occurred despite formidable weather and the airport's busiest winter ever, with almost a quarter of a million passengers in two months alone.
A factor in rocketing winter passenger numbers was the lower number of diverted aircraft, because airlines installed navigation performance technology that helped pilots tackle the Wakatipu terrain and changeable weather.
Security and customs areas were also expanded, Mr Paterson said.
The Southern Lakes tourism industry hosted international travel trade expo Trenz last year and, two hours after the last flight one May evening, the terminal was transformed into a themed reception area for 750 delegates.
The terminal was then cleared, cleaned and made available for passengers the next morning.
The airport corporation reset pricing for airlines in 2012, the first time since 2004, as did Dunedin, Christchurch, Wellington and Auckland airports, and the departure tax was abolished because it was ''not a good passenger experience'', Mr Paterson said.
Income is now derived from the airlines directly as a passenger charge, instead of being split between airlines and passengers.
The airport board announced last August 28 it would pay its shareholders, the Queenstown Lakes District Council (75.1%) and Auckland International Airport Limited (24.9%), a final dividend of $2.6 million, bringing the total dividends paid from profits earned for the year ended June 30, 2012 to $3.6 million.
A $1 million dividend was paid in January 2012.
''We anticipate to be up slightly on last year's dividend,'' Mr Paterson said.
''We're working closer with Auckland Airport on not just route development, but closer as a team.
''It's around accessing intellectual resource up in Auckland, be it my aeronautical team turning to their team for ideas and assistance, our fire rescue guys training with their fire rescue and for me, bouncing ideas off a group of senior executives is quite helpful.''
The 12-month rolling average of one million passengers through the terminal was celebrated last March and trended towards 1.1 million passengers in the year ended October.
The million domestic passengers in a 12-month period milestone might be reached sometime in 2013, he said.
''Our next major terminal build is for the international arrivals, but that's maybe 2015.
''We're going to focus back inside the terminal in 2013.
''We'll have new carpet throughout the terminal. We're trialling theming the terminal with flags and banners and we're looking at where the rental cars are next year.
''We're going to lose some of those rental car booths to `back of house' developments for inbound international passengers.
''We're introducing three bands of value proposition for rental cars. The first band will be premium ... and they will get a slightly bigger booth and their customers will have access to priority pick-up areas and close-to-terminal parking, where the taxis are.
''We're looking to refresh the retail area in the second quarter of next year and that's a work in progress. We have a flow of people looking to have space in the terminal all the time, but we can't accommodate them.
''It's going to be difficult to create much more space. There's a new duty free shop in the international area to take place in the first quarter of 2013.''
The airport maintains its interest in operating services after daylight hours to better utilise facilities by widening the narrow windows of arrivals and departures. The airport already has consent to take flights from 6am to 10pm. However, existing arrangements between airlines and the Civil Aviation Authority prohibit evening flights and no airline has applied to change its arrangement.
''We're pretty clear that if there are to be evening flights, there's more lighting to be required at the airport,'' Mr Paterson said.
''We've got light on the runway, but no lights on the apron and we need to illuminate the area and there's other things we will have to do.
''Later in 2013, after winter, we expect to be able to have those conversations with the community about what evening flights really mean.''