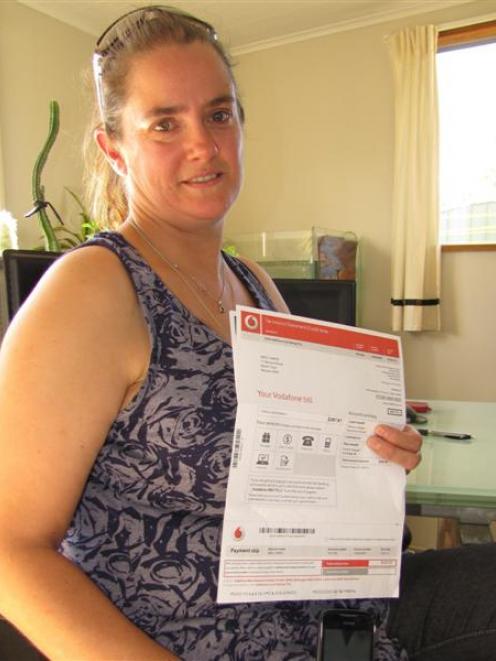 An Albert Town woman whose partner died in June says Vodafone made a difficult time just that little bit more difficult when she came to ''terminate'' her late partner's phone contract.
Joanne Sands says it is all sorted now, but she had endured two weeks of unnecessary stress.
''It's been really hurtful. It's kind of a kick in the guts again.''
Ms Sands' partner, Des Wallace, died of cancer on June 7 aged 54.
Ms Sands had nursed him, while also working full time as a chef.
The couple had a contract with Vodafone for land line, internet and two matching mobile phones that cost them $120 a month.
That included $18 a month for Mr Wallace's mobile phone.
Speaking to the Otago Daily Times, a sometimes tearful Ms Sands said it took her a couple of months to ''pluck up the courage'' to deal with the mobile phone contract.
''Because he used it, it was a hard thing to cancel ... sentimental value, pretty much,'' Ms Sands said.
Vodafone would not accept her word over the phone that Mr Wallace had died so she did what was requested, and sent a copy of Mr Wallace's death certificate at the end of October.
Providing a death certificate had become ''kind of natural'' Ms Sands said, when changing such things as bank account details.
''Each time I do it, it has not been easy.''
She got a call from Vodafone to confirm it had received the death certificate ''and no mention of fees or anything like that''.
But then, two days after Christmas, her phone account showed a $188.20 ''termination fee''.
Ms Sands said she spent two weeks waiting and phoning for an explanation of why the termination fee was being applied, and then made an official complaint on January 8.
Within two hours she had been refunded the $188.20 and five months of the contract she had paid after Mr Wallace's death.
''The problem is, why couldn't they just do that to start off with and as soon as I phoned, say, 'We're very sorry about that', We'll take that off'.
''It's not a good thing to go through. How many times has this happened to other people?''
Asked how Vodafone might have made it easier for her, Ms Sands said the company could have taken her word that her partner had died and it could have automatically wiped the termination fee when it received the death certificate.
A Vodafone spokesman told the ODT it aimed to make its termination process as ''painless as possible'' for the family of the deceased.
''In some cases, presenting a death certificate is required before the account is cancelled, but termination fees should not be charged and existing account charges are often cleared.
''Unfortunately, we made a mistake processing Joanne's request and the termination fee was applied. The situation wasn't handled as well as it could have been and we sincerely apologise to Joanne for this.''
The spokesman said while termination fees varied depending on the length of contract remaining, in the case of bereavements, ''Vodafone mobile, fixed and broadband customers should not be charged termination fees''.
''This was a mistake which we put right with Joanne.''