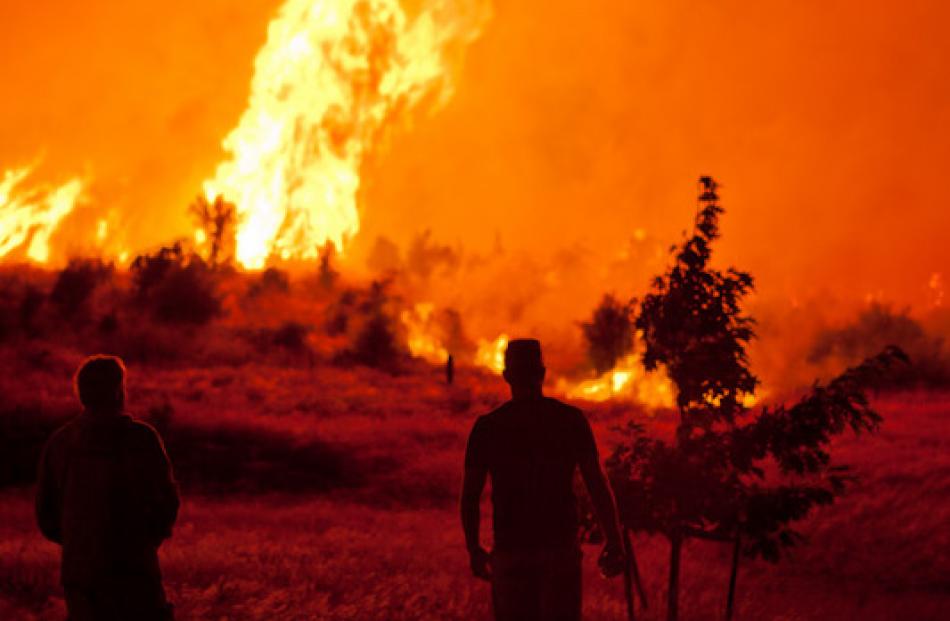 Dozens of Mt Iron residents evacuated their houses about 4am this morning after a large vegetation fire took hold in a gully between Aubrey Rd and Bevan and Islington streets.
The fire was extinguished after about two hours by up to 50 firefighters from Wanaka, Lake Hawea, Luggate and the Department of Conservation brigades.
The entire district's firefighting resources were used to quench the fast-moving fire and save several houses.
Wanaka Volunteer Fire Brigade chief fire officer Bruno Galloway said, when interviewed at 6.20am, that the brigades had achieved a "good save''.
Their first priority was to save a house low on the slopes of Mt Iron, near the seat of the fire.
"When we got here it was here in front (of the house), and a bit of wind blowing. That was our priority to protect the house and it wasn't until the crews from Luggate and Hawea got here that we could start fighting the fire,'' Mr Galloway said.
Some people were suggesting it could have started near an abandoned vehicle and rubbish on the vacant section. When interviewed, Mr Galloway did not know what had caused the fire.
Fire brigades have been warning about tinder dry conditions. A district-wide prohibited fire ban begins at midnight tonight.
"It was worrying for everyone. It is extremely dry. We were lucky we could save it when we did,'' Mr Galloway said.
Doc firefighters helped because the fire was within 1km to the heavily vegetated Mt Iron Recreational Reserve.
There were very real concerns the fire could have spread into the reserve.
Mr Galloway said the fire was a good warning of the type of situation that could present itself to residents of the neighbouring subdivision, Hidden Hills, which was built several years ago among kanuka trees and has such narrow, steep access that fire trucks cannot get to the houses and building sites.
The brigade did a pamphlet drop to householders in the heavily vegetated subdivision just before Christmas warning of summer fire risks.
Fortunately, access to the site of this morning's fire was not impeded, Mr Galloway said.
Firefighters were clearly happy with the save and some residents shed tears of relief as they were allowed back into their homes around 6.30am.
Many residents spoken to by the Otago Daily Times said they had self-evacuated because they realised they had to act quickly.
Some had got up to go to the bathroom, others were getting a drink or closing banging windows when they noticed the fire.
Several emergency calls were made and Radio Wanaka made an very early broadcast announcement.
Neighbours went and knocked on each others doors to raise the alarm and friends from other parts of town arrived in vehicles ready to help, if needed.
Many grabbed pets, photographs and passports, while others turned on their garden sprinklers or hosed down firewood piles.
St John Ambulance and police also attended. No major injuries or accidents were reported.
Some residents reported their cats had run away from home.
Bevan St resident Mary-Lou Roulston said the fire was "absolutely terrifying'' and reinforced how unprepared people are for an emergency.
"When you are at your kitchen window and see flames leaping over the fence, all you can think of is those poor people in Australia. You start to look around the house at things you want to take and you have no idea. I've got the computer and the photos . . . It is just immense panic,'' Mrs Roulston said.