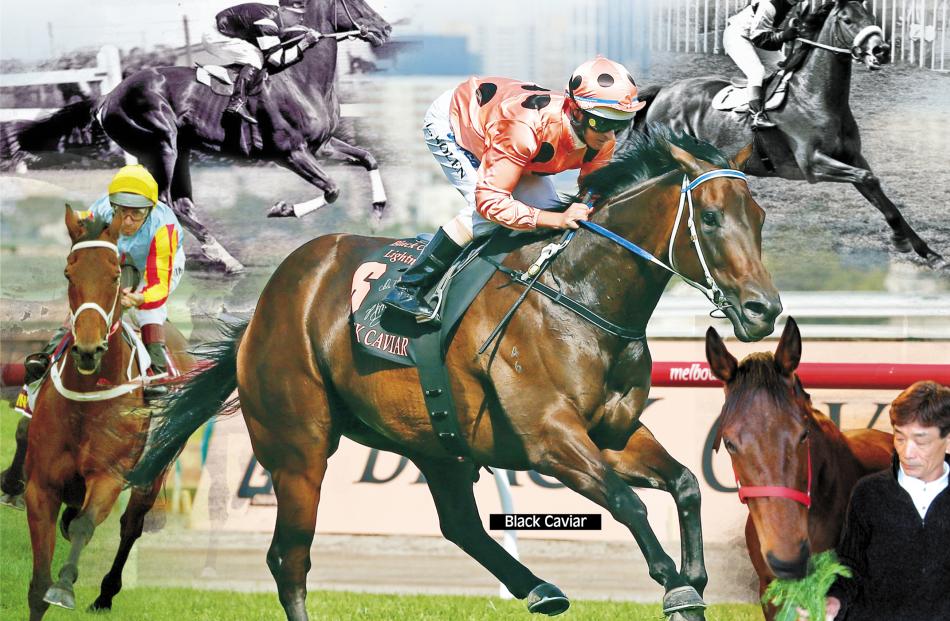 Wonder mare Black Caviar has been bringing the Australian public back to the races in their droves during her 25 unbeaten starts. As the curtain came down on her career yesterday, racing writer Matt Smith looked at other thoroughbred horses who captivated the public.
Black Caviar's pulling power enticed more than 20,000 to Randwick on Saturday for what would turn out to be her final start, and the Australian Turf Club played its part, with Royal Randwick festooned in the horse's colours of salmon and black.
The publicity campaign around Black Caviar - whose retirement was announced yesterday - has been precise and overwhelmingly successful. Much of this can be put down to the media savvy of trainer Peter Moody and the owners.
Moody, in particular, has turned out to be the perfect spokesman for the horse, making himself available to the media at every opportunity, and taking part in speaking engagements all over Australasia.
The mare became very used to being taken out of her box for her latest photo shoot, and her demeanour around people made her much more accessible than a flighty colt may have been.
The PR machine is in overdrive - Black Caviar has a Twitter account, a website, and merchandise ranging from ties to can coolers, iPhone covers and umbrellas.
Of course, the major reason for Black Caviar's popularity is her winning streak, which will stand at 25 forever more.
Nothing gets people more excited than following a winner, and feeling like you're part of the journey, even if you're never going to make your fortune by punting on her.
But there have been plenty of other horses who have captured the public's imagination over the years for a variety of reasons. Here are just a few of them.
PHAR LAP
Record: 51 starts, 37 wins, 3 seconds, 2 thirds.
Even after 80 years, the battle still rages about whether Phar Lap was a Kiwi horse or a fair-dinkum Aussie, but what cannot be debated is his impact on Antipodean society. Phar Lap, much like legendary Australian cricketer Don Bradman, provided an escape from the harsh realities of life for the residents of two countries as they plunged into the Great Depression.
Phar Lap's success right across Australia, and his last win, in Mexico in 1932 before his mysterious death, gave his fans something to smile about during tough times.
SEABISCUIT
Record: 89-33-15-1.
Much like Phar Lap, Seabiscuit was a people's champion during the Great Depression, albeit during the latter part of the 1930s. He was a battler early in his career, failing to lead the field home in his first 17 starts - all as a 2yr-old. In fact, he had a staggering 35 starts as a juvenile, eventually winning five races in his first season - a punishing schedule for any horse.
His life has been documented in the movie bearing his name, but his ''Match Of The Century'' win as a 5yr-old against Triple Crown winner War Admiral ensured his place in history, even before he won the 1940 Santa Anita Handicap in stunning style.
HARU URARA
Record: 113-0-5-7.
Who Haru talking about, I hear you ask? Haru Urara became a sensation in Japan for 2003, but I can already see your eyes flicking back to her race record and wondering why. As much as the Japanese love a winner, they're also partial to the quirky. You just have to watch their game shows to realise that.
The reasonably well-bred mare had her first race start in 1998, but it wasn't until her 80th start in 2003 when the Japanese public cottoned on to her losing streak. She was quickly dubbed the ''shining star of losers everywhere'' and betting tickets with her name on it strangely became lucky charms to ward off car accidents. She even attracted 13,000 fans to one of her races in March 2004. Her last race was in September that year. Which, by the way, she did not win.
RED RUM
Record: 100-24-15-23.
If you're a race horse and you've got your likeness on a jigsaw puzzle, you have entered the mainstream. But Red Rum did so much more than that. In his 100 starts over jumps, he never fell once. And considering he tackled the giant fences at Aintree five times in the Grand National Steeplechase, that is no mean feat.
He won the great race three times - in 1973-74 and in an unforgettable win as a 12yr-old in 1977 - and ran second on his other two attempts. Upon retirement, he opened a rollercoaster in Blackpool and supermarkets around Great Britain. I'm not entirely sure whether he held the scissors to cut the ribbons, though. He died in 1995 aged 30, and is buried at Aintree Racecourse in Liverpool.
KINGSTON TOWN
Record: 41-30-5-2.
Sure, he's an Aussie, but sometimes you have to bow to the demands of your Australian-bred editor and include another West Islander. He earned his spot by winning three Cox Plates, the third in 1982 when even commentator Bill Collins thought he was no hope with 400m to go.
Aside from being the first Australian horse to earn A$1 million, he netted an Australian record of 14 group 1 wins, bettered only last weekend by - you guessed it - Black Caviar. The ''King'' was ridden for 25 of his 30 wins by Malcolm Johnston, who has now forged himself a career in the media, being the oddball on the Australian television programme Off The Rails.
SHERGAR
Record: 8-6-1-0.
Six wins from eight starts including two Derby wins is a good career in anyone's book. But that's not why people care about Shergar - they just want to know where he went. The bay colt was a class above in the Epsom Derby, streeting his rivals by 10 lengths, and later that year, he went to stud for a future of making little Shergars.
But two years later, he was kidnapped (horsenapped?) from Ballymany Stud. Despite negotiations with the thieves, who were believed to be linked to the IRA, the horse - or his remains - were never found. Rumours suggesting the elusive Lord Lucan will ride into town one day on the back of Shergar are so far unfounded.
SUNLINE
Record: 48-32-9-3.
''The mare of the world'' exclaimed David Raphael as she hung on gamely to win the Hong Kong Mile in 2000. But Sunline was first and foremost New Zealand's mare, winning 13 group 1 races during her six seasons.
She was cantankerous, often taking bites out of strapper Claire Bird, but that didn't stop the New Zealand public taking her to their hearts. Sadly, laminitis claimed Sunline at the age of 14 in 2009, and she was buried at Ellerslie Racecourse.
CARBINE
Record: 43-33-6-1.
I won't lie: despite gaining a few wrinkles in my 33 years, I wasn't around to see Carbine race in the final years of the 19th century. But, if you look at that race record, you'll notice his record was impressive. He won the Sydney Cup as a 3yr-old, he won the All Aged Stakes twice and he won the Melbourne Cup in 1890, carrying 66kg against 38 other horses.
If you look at the weights jockeys carry now, you'd consider that slightly excessive, but he wasn't carrying just a few kilograms more than the rest of the field. The second-placed horse, Highborn, had 42kg of jockey and weights on top of him. That's a difference of 24kg. No wonder the Kiwi-bred was so popular with Australian race fans with tenacity and determination of that level.
SECRETARIAT
Record: 21-16-3-1.
Those Americans do love a good-horse racing movie. And to be fair, Secretariat was a pretty good choice for a subject. Consider this: Secretariat won the Triple Crown (the Kentucky Derby, the Preakness Stakes and the Belmont Stakes) in 1973 and his winning times in all three of those races remain as the benchmark today.
His victory in the Belmont Stakes has to be seen to be believed - Youtube it, if you get a chance - as he bolted away to win by an ever-increasing 31 lengths. Many of the tickets on Secretariat in the Belmont Stakes were never cashed, as punters wanted to hold on to a slice of history - although he was at a minuscule price.