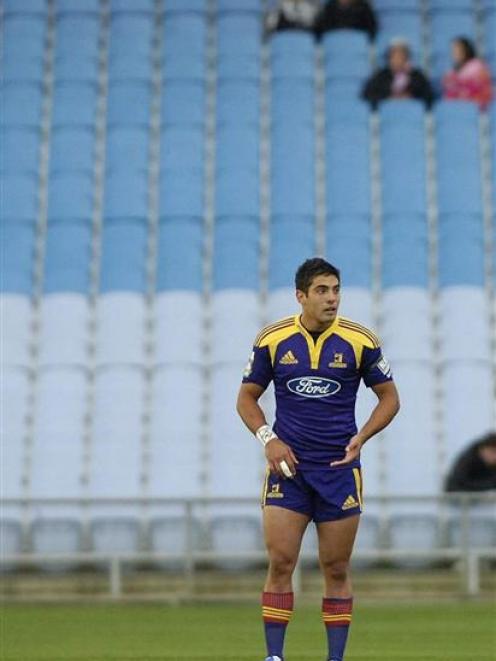 The number of ground member ticket holders have plummeted at Carisbrook, with the drop blamed on the credit crunch, night rugby and team performance.
The Otago Rugby Football Union yesterday said it had 803 ground members for 2009, a 38% drop from 1300 last year.
In 2004, the union had 3700 ground members but it has dropped 78% over the past five years.
ORFU marketing manager Chris Green said there were numerous reasons for the drop and the union was not immune from the tough financial situation which was facing the economy.
A crowd of about 4000 turned up to Carisbrook on Friday night to see the Highlanders lose in the last minute to the Brumbies in the opening game of the Super 14.
Green said people did not appear to be attracted to the Air New Zealand Cup, and that was not helped by Otago's disappointing performance in that competition last year.
Otago finished 10th and did not make the quarterfinals.
The Air New Zealand Cup was not seen as attractive as the Super 14.
The ground member tickets range in value from from $160 in the terrace to $340 for the stand.
The tickets get entry to four Super 14 games, seven Air New Zealand Cup games and the test between the All Blacks and France on June 13.
Green said night rugby was also having an impact, especially on older people.
"We have lost a significant number of businesses - due to the credit crunch - but also it is hard to pass on tickets all the time, especially to the Air New Zealand Cup."
He said one business made a quite telling comment: "How can we buy passes to enjoy the games when we are making staff redundant at the same time?"One option the union was investigating was to have a Super 14 and test-only membership.
Other unions have been hard hit, with the Wellington union reportedly losing 25% of its season ticket holders from 2008.
Bottom Bus general manager Ralph Davies confirmed the company did not renew 100 Carisbrook ground member tickets, and said it was strictly a commercial decision.
He said due to the company being busy it was hard to commit to getting 100 clients to every game at Carisbrook.
The company was still taking clients to the ground but was being more selective about the games.
Wayne Soper, of Alexandra, said he had not renewed his ground membership after 12 years.
He said night games often meant he did not get back home to Alexandra until after midnight, which was tough.
It was not easy driving all that way and then be expected to get up to go to work early the next day.
He started off in a group of nine travelling to Carisbrook, all with ground membership, but everyone had now pulled out.
Soper also admitted it was now just as easy to get tickets for games.
"I'll still keep going but it is just as easy now to bowl up and buy a ticket. You can pick and choose your games."
He had asked many times to be moved seats with no success.
Another ground member who had not renewed her membership said she was disappointed the union did not value ground member tickets enough. She declined to be named.
"Why do they give offers away like bring a friend for $5 when we have paid all that money up front? They are not doing enough for their loyal supporters," she said.
The decline in ground member numbers at Carisbrook
3700 in 2004
2400 in 2006
1300 in 2008
803 in 2009