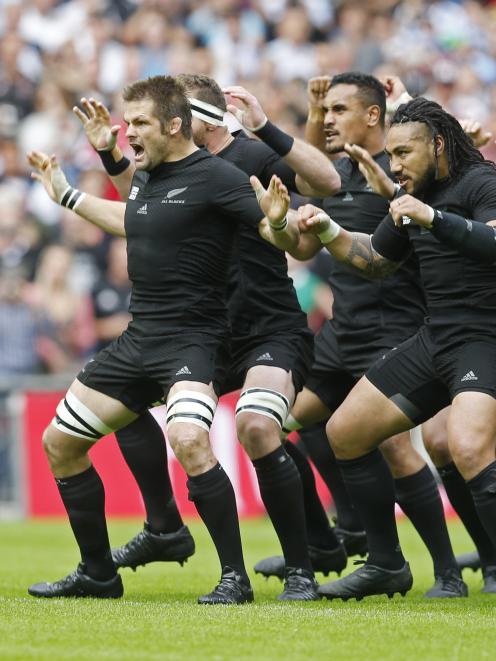 Conrad Smith is refusing to reveal the origins of the All Blacks new haka formation shown for the first time against Argentina at Wembley Stadium yesterday.
Performing their traditional Ka Mate haka, the team formed an arrowhead formation with Richie McCaw in the vanguard, a move which was coincidentally reminiscent of the French challenge to the haka in the last World Cup final at Eden Park when the Tricolours formed behind their inspirational captain Thierry Dusautoir, a challenge which almost resulted in a shock victory.
The All Blacks visited the Ngati Toa marae in Wellington on the eve of their departure for the World Cup in England, but they have so far been reluctant to talk about their new formation.
McCaw, the All Blacks captain, is at the front of the challenge, with fellow experienced players Kieran Read and Ma'a Nonu behind him and the rest of the team fanning out in rows behind them depending on seniority.
"It's just something we discussed as a team," midfielder Smith said.
"That's about it. We obviously had a bit of time in New Zealand before we went away and it's something we wanted to do but that's about all I want to say."
However lock Brodie Retallick told Fairfax New Zealand the new shape was locked in before the All Blacks departed for England.
"It is something we talked about way back in the camp in Wellington," he said.
"Obviously we also spent a wee bit of time out at the marae [at the Ngati Toa marae near Wellington].
"We thought it was something we would do for this group and it brought us together. So it is the way we will be doing - that is going to be the formation of the haka going forward.
As reported in the New Zealand Herald before their departure for the tournament, the All Blacks paid thanks and respect to Ngati Toa, an iwi based in Porirua and which extends to Nelson and Blenheim, for the continued use of Ka Mate.
It's understood the All Blacks also referred to the newer haka Kapo O Pango, one which refers more specifically to the team and which they tend to reserve for significant tests.