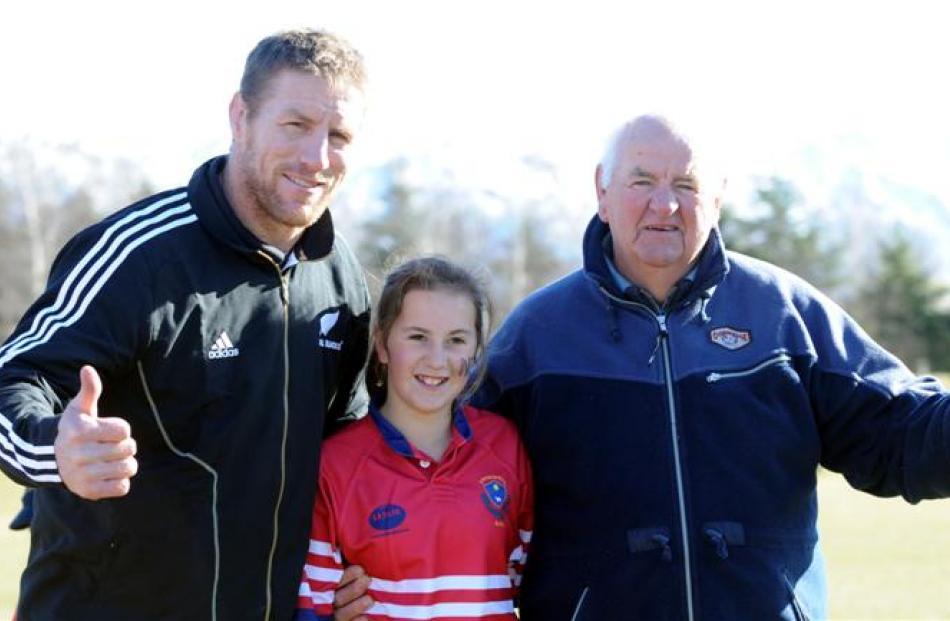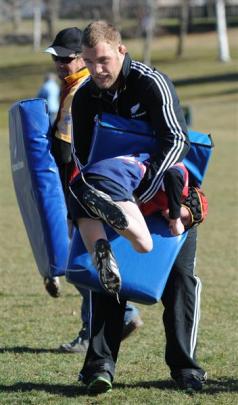 Brad Thorn walked down memory lane yesterday, meeting his first rugby coach, and rumbling around the fields of Cromwell, the town where it all started.
Thorn, the veteran All Black lock, and team-mates Corey Flynn and Owen Franks, were in Cromwell as part of a countrywide promotion yesterday, with groups of All Blacks visiting small towns around New Zealand.
Thorn (36) lived in Cromwell for four years when he was aged from 5 to 9, before his family shifted to Brisbane.
"I played my first game here, under-6s I think it was. We lived up at Bannockburn on a wee hobby farm," Thorn said.
"My dad helped build the primary school here and I still remember that Chinatown they had down by the river. When I got here they started building the dam. It was supposed to be finished by the time I was 13. I think I was about 18 when it finished."
Thorn, who was born in Mosgiel, and played rugby league for Australia, was first coached by former All Black Don Clark, of Bannockburn, who said Thorn was always a talent.
"He had a bigger head than the other kids. But he was a good runner. We used to just have to give him the ball and he would run through them. He was a skinny kid, though," Clark said.
"I used to say get the ball to Brad and then told him to run straight. No-one could stop him. It was tackle in those days and he was hard to stop."
Thorn had earlier been asked in a question and answer session on the best piece of advice he had ever been given.
"Don Clark gave me a good piece of advice when I first started. That was to always go forward. But the best bit of advice I ever got came from my dad. He said the greater the effort, the greater the reward. Work hard, you get the results."
Franks said the session was a great way to get back to the supporters.
He had enjoyed a couple of days at home but was looking forward to the World Cup.
"It's pretty exciting. We've got training tomorrow and really looking forward to getting into that. This here is a pretty cool and a bit of fun," Franks said.
Franks, Thorn and Flynn, all tight forwards, signed autographs and then did a few training drills with some Cromwell youngsters. A crowd of about 1200 was at Anderson Park to greet the players.
The trio left just before lunchtime to travel to Auckland to start preparations for the World Cup.
Andrew Hore and Jimmy Cowan had travelled to Winton yesterday to meet fans.