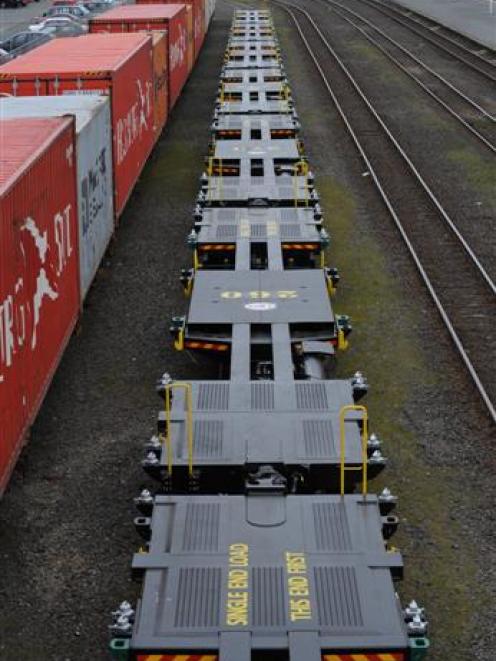 Completion of new KiwiRail wagons, constructed at Dunedin's Hillside Engineering, has renewed calls from the Rail Maritime Transport Union for contracts to continue for New Zealand workers rather than out-sourcing to China.
Hillside, which is engineering and manufacturing division of KiwiRail, delivered 18 container wagons last week as part of a contract for 35 of the general-purpose flat-bed units.
KiwiRail chief executive Jim Quinn said the Hillside wagons were part of an overall freight upgrade to replace old wagons and improve carrier reliability to meet growing customer demands.
The national rail carrier announced last year it would buy 300 wagons from a China-based engineering company, to which it also awarded a contract for another 200 wagons last month.
During the next 10 years, KiwiRail wanted to replace about 4000 wagons with a standardised fleet of intermodal general-purpose wagons, Mr Quinn said.
The decision to outsource the construction of the 500 wagons has been criticised by the RMTU, with a Hillside union representative, David Kearns, renewing calls for KiwiRail to change its mind and keep construction in Dunedin.
"If we don't put up a fight it is unlikely that Hillside will get to build any more of the 4000 new wagons needed by KiwiRail - an estimated $100 million plus worth of work," he said.
Hillside needed the work, which was being outsourced to CNR in China, because the money invested in Dunedin would have flow-on economic benefits throughout the city.
"It will provide jobs, training opportunities and have major flow-on effects for other local businesses," Mr Kearns said.
Hillside Engineering and local engineering firms had been building rolling stock for more than a century.
"The work can be done to a higher standard at Hillside. It works out cheaper for the New Zealand taxpayers and they are the ones footing the bill. It makes absolutely no sense to have the wagons built overseas," he said.
Mr Quinn said the decision to buy wagons from China involved a "rigorous assessment" between tenders.
On price, the Hillside bid was about 15% more expensive than the CNR-PPD tender, he said.
A short timeframe for the requirement of the wagons had also counted against Hillside, Mr Quinn said.
"New wagons are required urgently to meet increasing customer demand and because the accelerating failure rate of ageing wagons is compromising KiwiRail's ability to meet existing customer needs."
Hillside was scheduled to start work on a range of 58 "specialist" rail wagons to continue with KiwiRail's network upgrades of its rail lines - a $12 million design and build project, Mr Quinn said.
The wagons would be used to deliver ballast, rails, and sleepers to track upgrade sites - a vital component of KiwiRail's turnaround plan, which has been likened to the "last roll of the dice for rail in New Zealand".
Mr Kearns said a campaign had been started to raise public awareness about the need to keep engineering construction and expertise in Dunedin.
"Dunedin needs more than a university and hospital.
"It needs a strong industrial base. We've long been regarded as a centre of engineering excellence and have the expertise and infrastructure ... We just need the work," Mr Kearns said.
Mr Quinn said KiwiRail valued the skills and capabilities of Hillside and its workers and would continue to look for opportunities and contracts for the engineering division outfit.