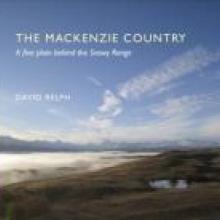 Bryan James reviews The Mackenzie Country.
THE MACKENZIE COUNTRY
David Relph
David Ling, $49.99, pbk
David Relph's 2007 book about inland South Island regions, From Tussocks to Tourists (2007), established a style of content he has successfully repeated in The Mackenzie Country, subtitled "a fine plain behind the Snowy Range".
The quotation arose from the most famous person associated with this area, the shepherd Jock Mackenzie, and was made by the man who effectively captured him on the brink of moving his 1000 stolen sheep off the Mackenzie Pass to the plain - John Sidebottom.
It's possible Mackenzie already knew of the existence of this hidden plain, but Sidebottom did not, although it is thanks to him and his associates the area was opened up to farming and settlement.
Relph wisely does not waste much space on Mackenzie for it is ground well covered by others; he gets his due, no more.
The Mackenzie Country is a far more comprehensive survey of this fascinating and very beautiful part of the high country, discussing its geology, climate, settlement, development, exploitation, even its influence on the arts.
It is also comprehensively illustrated, the text is lively without being overly detailed or authoritative, and is, I should think, aimed at the general New Zealand reader rather than as a mere picture book souvenir for tourists.
I fancy it will find a home in most of the region's households and quite a few beyond.
It also has added value in the form of a bibliography and an index.
Bryan James is the books editor.