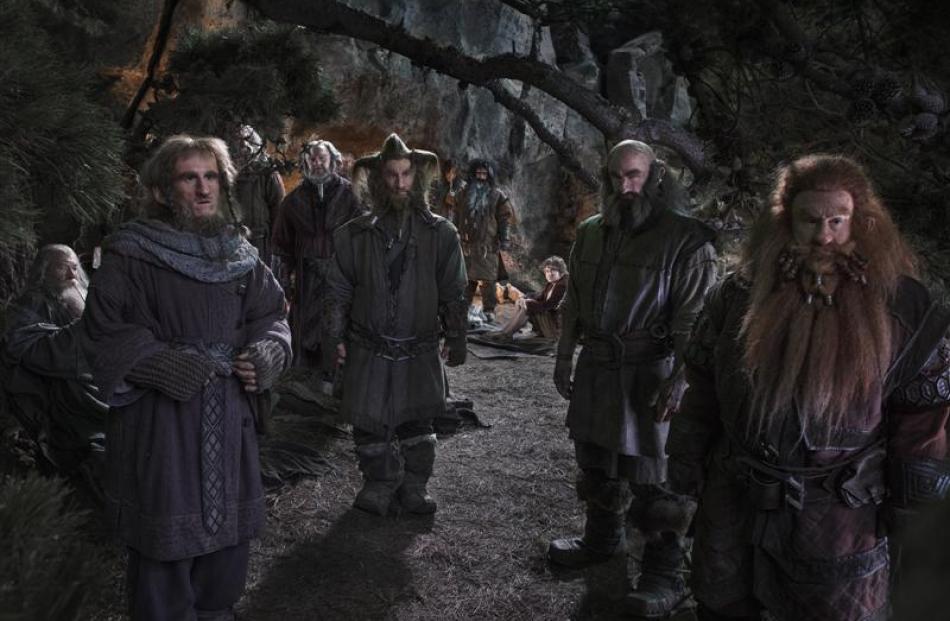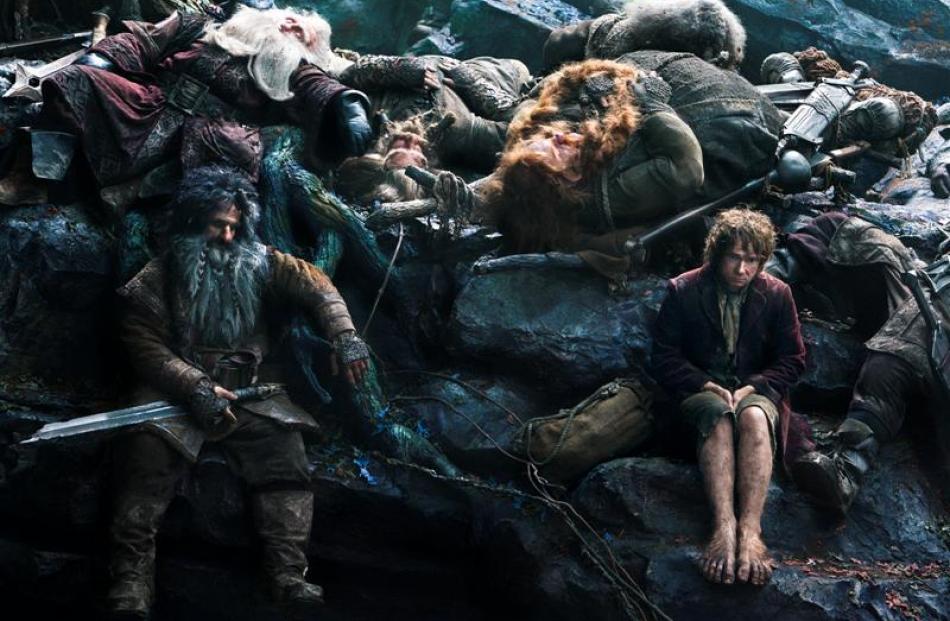 I hope those who were excited about seeing The Hobbit are still so, after all the hype and negative publicity.
The Hobbit: An Unexpected Journey
Director: Sir Peter Jackson

Cast: Martin Freeman, Sir Ian McKellen, Richard Armitage, James Nesbitt, Elijah Wood, Hugo Weaving, Cate Blanchett, Christopher Lee, Andy Serkis, Barry Humphries, Benedict Cumberbatch.

Rating: M +
Four and a half stars (out of five)
Given that omnipresent build-up (some might say hard sell), however, it will be hard for most to go to the film without some pre-conceptions, and it's likely many will travel to the first instalment curious about how Sir Peter Jackson will turn a 300-page novel into three films with a combined running length of nearly nine hours - this first instalment clocks in at a whopping 2 hours 45 minutes.
So is he pulling it off so far? 
That's an unreserved yes from me. This film, although not without fault, is a remarkable achievement.
Shot at 48 frames per second, twice as fast as usual, The Hobbit is ground-breaking in the same way Avatar was.
Explaining 48fps is difficult. The action on screen (and there's plenty) does not look like it is moving twice as fast as normal, it is just somehow brighter, more clear cut and more fluid.
It is a visual feast. It is like watching high definition television for the first time, or a particularly lifelike video game.
Yes, it is disconcerting at first while your brain tries to figure out what is going on, and whether this looks sort of basic or really awesome, but once you just roll with it (after about 10 minutes for me), it is a whole new level of cinema watching.
The film is a giant leap in special effects, with what were sometimes, for me, rough CGI battles in the LOTR films, now smooth and real.
Academy, you may as well pack the award for special effects in some bubble wrap and send it out to New Zealand now.
The Hobbit, as a children's book, is very light on character development and action sequences, so to turn a 300 page children's novel into a blockbuster perhaps required some padding.
I am sure fans of the book will enjoy seeing characters and action fleshed out a bit more, but almost an hour spent introducing the dwarf company at Bilbo Baggins' (Martin Freeman) house dragged - in the book it is two short chapters before the journey begins.
Once the adventure is under way, the viewer is back in the very familiar territory of wider Middle-earth.
And, my, how beautiful it is.
The scenery, particularly from the South Island, has to be one of the big winners in this film. It is absolutely stunning, made all the more impressive in 48fps.
One of the first major action scenes of the film is an extended chase across landscape near Middlemarch, and what a backdrop it makes - the drive to Hyde may never be the same.

Middlemarch, Wanaka, Fiordland and Twizel all feature extensively in the film.

One has to worry a little that so much CGI in some scenes might lead international viewers to question what scenery is real, but then again, the CGI eagles soaring over the Southern Alps and a thunderous mountain battle between rock giants are some of the movie's highlights.
The chamber of riddles beside the underground lake, where Bilbo Baggins meets Gollum (Andy Serkis) for the first time and gains possession of the ring, is an extraordinary sequence made even more so because it was the first scene shot in the film, and surely oscar-worthy for Serkis.
As good a piece of cinema as The Hobbit is, it is hard to see how the films are going to win new fans.
While the amazing acting, much of it from excellent New Zealand actors alongside the brilliance of Sir Ian McKellen (Gandalf the Grey) brings a film lighter in tone and funnier, it still has a similar feel to the LOTR films.
For LOTR fans it will be a very welcome return to Middle-earth, to non-fans they may still wonder what all the fuss is about.
Yes, Sir Peter, you have given us a reason to go back to the cinema.
I recommend seeing it the way the director intended (in 48fps) on the biggest screen possible. It cannot yet be replicated in your home cinema, no matter how good it is.