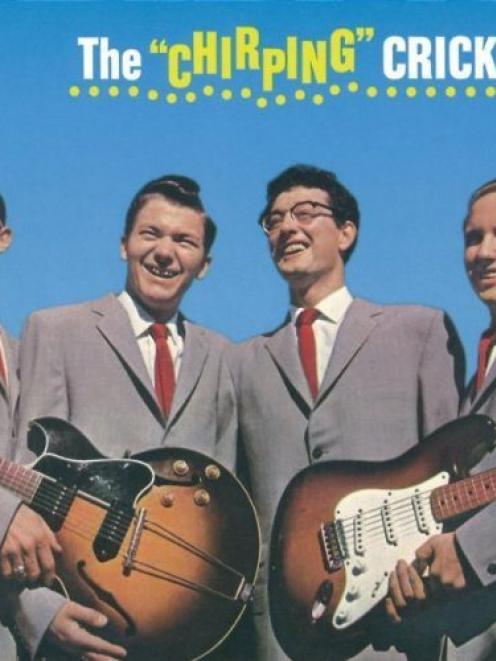 The day the music died, Buddy Holly's wide-eyed good-gosh-almighty image was forever frozen in time.
Also suspended was his passage through the inevitable convolutions of love, work and family life that would have gone on to shape his music. What we were left with matched perfectly the naivety of the 22-year-old's clean-cut persona.
Of course, the real Buddy Holly had by then experienced more than most men of his age, and had seen the good, bad and ugly sides of the industry that forged his public identity.
But his songs spoke of the yearning and burning of young love.
His repertoire painted him as an ever-hopeful suitor for his dream girl, a David among Goliaths whose never-say-die spirit and self-belief would earn him his heart's desire.
Debut album The "Chirping" Crickets (the only Crickets album released before his death) contains a generous handful of the hits that capture this irrepressible energy.
The 1957 LP features That'll Be The Day, Oh Boy, Not Fade Away, Maybe Baby and I'm Lookin' For Someone To Love among its dozen tracks, each of which find Holly in cocksure form, whether in or between relationships.
The geek in the horn-rimmed specs looks in the mirror and sees a broad-shouldered lothario, and who are we to argue?
It's the same Buddy Holly who won black audiences over to his rudimentary rock and roll.
Yes, Buddy and his Crickets were about as white as it was possible to be, but listen and you'll hear their earnest attempts to decipher the language of rhythm and blues.
Not quite rockabilly, western swing or doo wop, not yet relaxed enough to call itself dangerous, this music is caught in a whirlpool of converging influences and is therefore, of itself, revolutionary.
Holly's trademark hiccups, the Picks' cheesy backing vocals and the Crickets' solid rhythms inspired Dylan, the Beatles and many more.
This album can therefore be counted among rock's founding documents.