Expect The Best - Armstrong Prestige continues to deliver on its mission, with some exciting prospects for 2019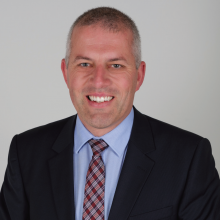 The two Dunedin central Armstrong Prestige dealerships located on Princes Street and Andersons Bay Road are well known in the Otago and Southland region as the go-to dealers for top luxury car brands. Although many of the faces around the dealership can be recognised, Dealer Principal, Greg Hannaford has recently joined the team to oversee operations at both of the Dunedin sites for the national automotive group.
Managing Director of the company, Rick Armstrong, says Greg was hand-picked for the Dealer Principal role in Dunedin because of his extensive experience with luxury automotive brands and his proven track record in effectively managing teams. "I'm very pleased to have Greg on board" Rick says, "he has an authentic customer-centric approach to business, and I believe he will really look after the customer base we have established here in Dunedin. Despite no longer living in the South Island, I really enjoy coming back down to visit the dealerships in Dunedin, our staff are so friendly and welcoming here, and I think Greg has been integral in creating this environment" Rick concluded.
With over 18 years of experience, Greg is by no means a stranger to the car business. Previously working as a General Manager for Trivett, an Australian owned automotive group, Greg says there were a few things that set this role in Dunedin apart for him. "Moving to Dunedin from Sydney to pick up this role at Armstrong Prestige was a no-brainer for me" Greg says, "Mercedes-Benz is the number one luxury European brand in New Zealand and I've worked with Jaguar and Land Rover products for over 15 years in Australia - combined with the other brands the Armstrong Group represents here - the job was really a bit of a dream come true for me" he continued.
"I've always believed that working with the brands you love makes your job a whole lot easier. When you are selling a product that your staff and customers are so enthusiastic about, your day-to-day activities become really engaging and enjoyable. In the case of Armstrong Prestige, I think that positivity feeds into the overall experience and atmosphere of the dealership".
The Armstrong Prestige dealership on Princes Street opened in 2003 starting as an official Mercedes-Benz retailer and later expanding to accommodate Jaguar, Land Rover, Volvo, Jeep, Alfa Romeo, Fiat, Chrysler, Dodge and Ram Trucks. As a result of the growth of these brands, the Andersons Bay Road dealership was established in 2016 to allow the Princess Street site to be fully dedicated to Mercedes-Benz, Jaguar and Land Rover.
Rick says the market has changed quite substantially since first establishing the business. "We've seen the demand for luxury vehicles in the region increasing steadily" he says. "Dunedin used to be quite a conservative market, but we've seen a significant change in the types of vehicles our local customers are buying - I think this is a result of the Otago and Southland regions' strong economic growth." Rick continued. "These changes in demand could also be partially attributed to the advancement of automotive products over the past 16 years.
I think in particular the prestige brands have taken technology, safety and comfort to the next level, and there's a huge amount of additional value attained when you purchase a new vehicle now too. We've also got a fantastic range and I think their capabilities fit with the region really well. The majority of our products are all-wheel-drive, with incredible on-road dynamics; it's almost as if they have been built for the roads in Otago and Southland." Rick concludes.

Armstrong Prestige was awarded the International Retailer of the Year for the Asia Pacific Region last year and also scooped up the national award for Retailer of the Year for 2017/18 at the Jaguar and Land Rover Excellence Awards last May. Greg attributes this success to an unparalleled customer experience. "I believe the experience we provide every customer and how we consistently deliver, is what sets us apart. With these accolades we have proven that our dealership is amongst the best in New Zealand and we have the right people here to continue this trend into 2019 and beyond" he says. "The team here are extremely energetic and vibrant. Many of our staff have worked in various departments within the business, giving them a greater understanding of how the whole operation works together. On top of our excellent team, I'm so pleased to see that we have loyal customers that keep coming back car after car" Greg went on to say. "It just goes to show their dedication to these brands and the quality of service they receive here" he concluded.
Armstrong Prestige has a number of long serving employees that have been dedicated to the company for many years. Award-winning Senior Mercedes-Benz Sales Consultant, Matthew Smith has been with the business for over 16 years and Senior Automotive Technicians, Ned Kumar and Phillip Clarke have been keeping Dunedin's luxury cars running smoothly for over 10 years. "Having these experienced members amongst our team provides a stable base and friendly familiar faces for our customers" says Greg.
Greg says that the Armstrong Prestige team are expecting a busy year ahead. Both Dunedin dealerships will be hosting a number of events including golf days, off-roading events and the annual Jaguar Land Rover Art of Performance Tour.
"Sponsorships are also something we are putting a lot of our focus on leading into this new year, says Greg. "We are once again the major sponsor for the Otago Boys First XV and we have a number of other opportunities that we are currently exploring. I personally have always been a big believer in backing local businesses. Getting out there and supporting local Dunedin charities and sports clubs is a great way for us to give back to the Dunedin community, which all of us here at Armstrong's are so passionate about".
Read more:
Jeep, Volvo & Alfa Romeo setting the pace