Classic-car enthusiasts should get along to the annual Autospectacular, which is on at the Edgar Centre this Saturday (September 8).
With 35 car and motorcycle clubs, plus numerous individual entries, it means close to 300 vehicles covering the spectrum of motoring are on show for your enjoyment.
Many of the clubs will use the suggested theme of Summer Days to enhance their displays.
Sadly, Holden has passed into history but we can celebrate the life of this iconic Australian car. The Holden was unveiled 70 years ago in 1948, but the poor cousins (that's us) did not get it until 1953. The Autospectacular will have 30 of them on show to bring a lump to the throat, remembering the good old days when Aussies were nice to know.
It is also 70 years since the first XK engine debuted in the lovely XK120 Jaguar, taking the racing world by storm. The Otago Jaguar Club has assembled an exciting collection for your enjoyment.
They may be far below Jaguar in the pecking order, but the humble Ford Escort will trigger memories. It is 50 years since the ubiquitous little Escort was unveiled, filling all the roles from mum's shopping basket, to world-class race and rally car.
Free entertainment
The Everitt Enterprises Autospectacular is an event the whole family can enjoy.
For children, there is a magic show, balloon-making, and face-painting from 11am-2pm - and it is absolutely free! Kids can gorge on candyfloss, while mum and dad enjoy a variety of food, barbecue, and coffee.
Admission prices are: $10 adult, child under 5 free, child 5-13 years $2, family (two adults, two children) $20; cash and eftpos only. Open from 9am to 4pm. Door prize drawn at 3.30pm.
English car-lovers will enjoy the cluster of Escorts and also something much rarer - two Austin A90 Atlantics, made principally for the American market, hence the name. Buick, only one GM rung down from Cadillac, is still going strong after 115 years, a good enough reason to present 15 of them, headlined by a stunning 1954 Skylark convertible. Few were made, so this model is exceptionally rare and valuable. Two 1914 models and six from the 1950s are included in this group.
Each year one of the show highlights is the exotic cars that appear on the South Pacific Packard Club court. Tony Devereux does a sterling job of locating these cars and persuading their owners to bring them from far and wide. His selection for the Autospectacular includes Rolls-Royce, Bentley, Lagonda, Lorraine-Dietrich, Darracq, Delage, Packard, Cadillac, and more. France, England, and America enjoying each other's company - you don't see that every day!
The organisers aim to keep the show, which has been held annually for 40 years, fresh and entertaining. They particularly want to see the next generation of car enthusiasts enjoy the Autospectacular. With this in mind, visitors will see an exciting array of hot Japanese cars as another special feature. The V8-powered Nissan Cedric is one that really stands out.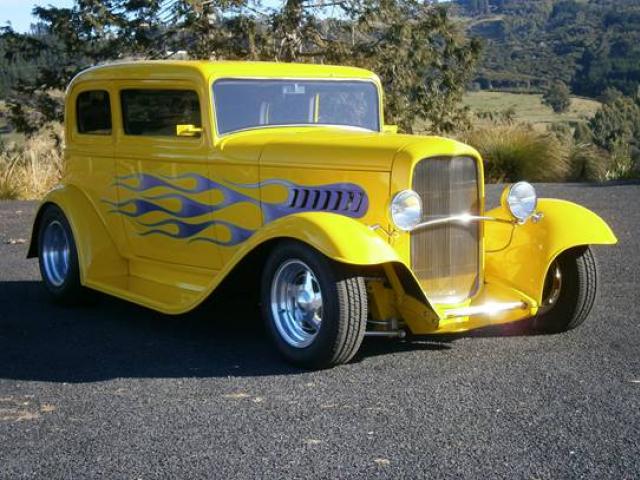 One of the reasons people enjoy a car show like this is pure nostalgia. Patrons can wallow in it, as so many of the cars they remember from their lost youth will be there. Point them out to your children or grandchildren.
Heck, one of your old rockets might be in the show! Falcons and Holdens, Minis and Vauxhalls, Rovers and Austins, Volkswagens, Hudsons, and Jaguars are cheek to jowl with rat rods, street cars, and some rather unusual exhibits such as scaled down Land Rovers.
Model cars, drift cars, speedway cars, race cars, karts, and a Mk2 Zephyr towing a period caravan, military vehicles and motorcycles, including a show-winning chopper and a Boss Hoss V8 motorcycle - they've got the lot. Mixed in with the cars are trade sites relevant to restoration of vehicles, plus a "boutique'' swap meet where you may find that useful part.
All entrants are in with a chance to win one or more of the nine trophies on offer. The "Best in Show'' trophy is sponsored by NZ Classic Driver magazine. Its writers rate the Autospectacular as possibly the best in New Zealand for sheer quality, variety, and presentation. Patrons can vote for "People's Choice''.
Each year a different charity shares in the profit from the show, and this time Heart Kids Otago will benefit. Talk to them at the show for information on this very worthwhile cause.
Be in to win
A special thank you goes to Mag & Turbo, which is providing the very generous $1000 tyre voucher door prize, and also to Radio Dunedin for its great advertising package (the silver-tongued Owen Rooney will be on the mic). This show could not happen without the support of the many sponsors - Thank you.
Read more on the links below:
Bill Richardson Transport World