Wanaka chef Lucas Parkinson wants to share his passion for sourcing organic, ethical, local, sustainable, seasonal ingredients and creating good food.
In this column he does an ode to meat and three veg.
At Ode, I always serve meat and three veg as our main course.
It started out of spite. I wanted to do progressive cuisine like the cool restaurants in big cities were doing, but the locals always complained: they wanted more veges and potatoes with their meat.
One night I snapped and served what I thought was somewhat of a joke: grilled sirloin, boiled broccoli, mashed potatoes, roast carrots and gravy.
To my surprise, every customer came up to the pass and commented about how great and substantial the main course was.
From that day forward I realised that here in Otago, "dinner ain't dinner" unless it's meat and three veg.
So I can be as creative as I want, but the main course has to stay within that format.
I took it off once for a couple weeks.  Needless to say, the locals kicked up - emails, phone calls, one regular customer even stormed into the kitchen and demanded I put the meat and three veg back on the menu.
Funniest thing is, I love meat and three veg, too. I was just blinded by what was "cool" at the time.
The dish now is called "social acceptance" and though it changes guises, it will always be meat and three veg - in this case wild shot venison fillet with cauliflower puree, red wine jus, tamari glazed bok choi and coriander with roast carrots and parsley with a creamy potato bake.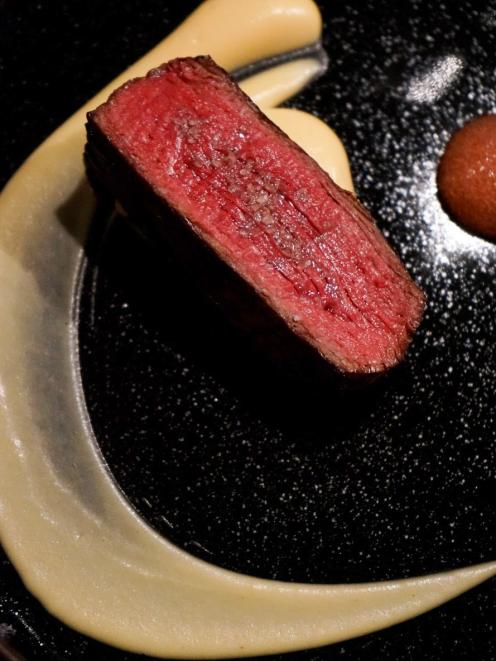 Ode's meat and three veg 
SERVES 4
850g venison fillet
500ml extra virgin olive oil
2 sprigs rosemary
1/2 head cauliflower
1 litre cream
8 heads bok choi
100ml tamari or soy sauce
250g carrots
500g agria potatoes
2 litres beef stock
1 litre chicken stock
500ml red wine (I use pinot noir)
salt,  butter and cooking oil
Method
First cut the venison fillet into four 200g portions and marinate in olive oil and rosemary. Overnight is best, but for at least a couple of hours.
Put stock and red wine in a pot and reduce until medium thickness and sticky, should have a deep meaty flavour. This may take an hour or so of rapid boiling/reduction.
Slice potatoes as thin as possible and layer into a baking dish with a light sprinkle of salt every few layers. Bring cream to a boil and pour over potatoes, place in oven at 165degC for about one hour or until golden and cooked through. This can be set aside and reheated or served fresh.
Peel carrots, toss in olive oil and season. These can cook in the oven with the potatoes, and should be golden and soft to the bite when finished.
Boil cauliflower florets  in salty water with a dash of cream or milk in the water to make it cloudy. Boil for five to eight minutes until soft, then blitz in food processor with a few spoons of butter and salt to taste until smooth. This can be easily reheated in a saucepan.
To serve
Sear venison in cooking oil in a hot skillet then transfer to oven for five minutes.
Saute bok choi in a hot pan and deglaze with tamari - that should steam the bok choi through and add a nice sticky glaze.
Serve cauliflower puree, venison and jus (gravy) on one plate and the sides to share are served in separate bowls.
I like to serve with red wine vinegar on the side to help cut through the gaminess of venison.