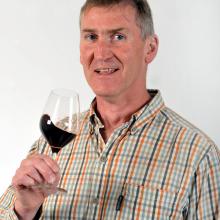 A recent Sunday afternoon saw 15 friends and wine-lovers crowd my lounge to take part in the annual Blind Chicken Wine Options competition - a long-standing tradition, where five multi-choice questions were posed on each of a series of white and red wines, Mark Henderson writes.
As the winner of last year's event it was my task to host this year's contest. At stake was the much-coveted Blind Chicken trophy.
At the end of a closely fought competition, regular panellist Ricky Collins and another friend, David Tasker, were tied for the lead, with local wine-lovers Fred Gianone, Warwick Mason and Brendon Woodford one point off the pace.
A playoff wine saw Tasker crowned as Blind Chicken winner for 2016.
''Normal service'' resumed the following day, with a foray into some northerly pinots, including a clutch from Hawke's Bay not often seen in these parts.
2015 Sileni Estate Selection Springstone Pinot Noir
Price: $35
Rating: Excellent to outstanding
Dusty at first with lead pencil, raspberry and a hint of oak, becoming more floral and perfumed with time. Powerful and richly fruited, this brings in ripe cranberry and sour cherry giving a refreshing zing, with tilled earth and savoury notes building.
Chewy tannins and a long finish. A lot going on here and quite delightful.
2015 Framingham Pinot Noir
Price: $30
Rating: Very good
This opens with a juicy freshness highlighting raspberry and red fruits; wild herbs, forest floor and burnt match follow. A sweet fruit core with raspberry and cherry, perhaps plum also, before fine tannins make their presence felt.
A crisp acid line through the wine is bracing at first, but softens to leave a zesty finish.
2013 Sileni Exceptional Vintage Pinot Noir
Price: $70
Rating: Excellent
Darker fruits with loganberry, savoury and brooding, and a hint of mystery. Richly fruited with powerful dark fruits and charry oak, that sweet fruit undercurrent balanced by nicely judged acidity and tannins.
This builds touches of bramble, cherry and liqueur fruits and a grippy finish. A powerful style that works.
2014 Craggy Range Aroha Pinot Noir
Price: $120
Rating: Excellent
More of a distance runner than a sprinter this one, initially seeming a finer style with its perfumed, red-fruited nose leading to a supple mouthfeel and chewy tannins. Time sees much evolution with fruit pastilles, plums, bramble, wild herbs and an appealing savoury note.
This quietly builds in weight and intensity becoming rather assured.
2015 Allan Scott Generations Pinot Noir
Price: $36
Rating: Good to very good
Dusty notes, liqueur fruits, oak spices (clove?) and dried herbs. Rich fruits but not oversweet, highlighting raspberry and liqueur fruits again with the oak-derived spices quite evident before the chewy tannins on the finish.
Texturally a fruit-pithy grippiness in play. Young and a wee bit gangly for now, yet the elements are there.
2015 Sileni Estate Selection Plateau Pinot Noir
Price: $33
Rating: Very good
Rather attractive nose with spices, cherry and dusty red and dark fruits. Cherry and oak to the fore with forest berries and spices, the palate nicely textural before the tannins firm up.
This is a bright and fresh style with wide appeal showing a sweet fruit carry on the finish, that is drinking well now.