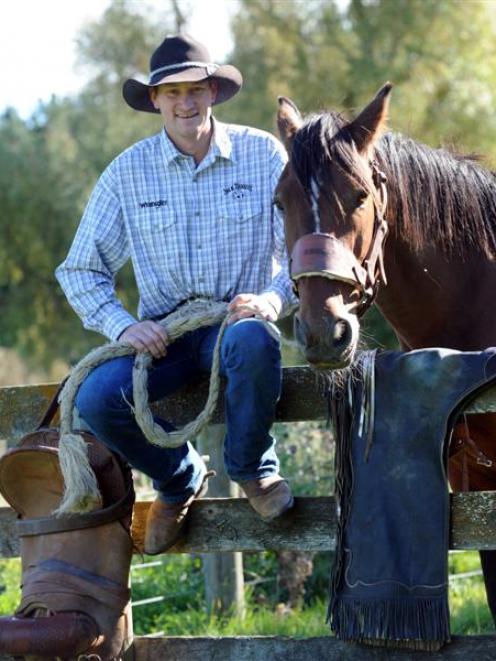 In November, the country comes to town in all its western finery for the International Rodeo. Shane Gilchrist discusses broncos, bulls and a few bucks with those in the know.
Paul Robsinson is both a third-generation cowboy and a farrier. So it's fair to say he has seen horses from all angles, including aerial perspectives. After all, possessing the gumption to get on the back of a bronco requires a realisation that there's often only one way off.
The 33-year-old, originally from Middlemarch but now based in Dunback, is looking forward to the International Rodeo, to be held at Dunedin's Forsyth Barr Stadium for the first time in November.
Although riders had yet to be officially invited to the showcase at the time of writing earlier this week, Robinson reckons his recent second placing in the saddle bronc section of the New Zealand Rodeo Cowboys Association series can't hurt his chances.
"I'm pretty sure I'll be there because they take the top three riders in the national standing. Last season, I won the national saddle bronc title and I just missed out this season."
Robinson says he's been hooked on the sport since he first rode a bucking horse in a competition at the age of 15.
"It was an awesome buzz. I have had a bit of time off, but got back into it in the last few years and have carried on."
Robinson plans to warm up for the International Rodeo with a series of competitions in North Queensland next month, then South Island contests at Labour Day weekend.
"Fitness, like any sport, is a key thing. The fitter you are, the faster your reactions and recovery time, so when you do get injured you bounce back more quickly; also, you tend not to get hurt so much if you are fitter, says Robinson, whose injuries include tearing "all my stomach muscles" in his mid-20s and ending up with a hernia.
"The animal jerked round; it put me out for about two seasons."
The biggest thing, he says, is facing one's fears.
"You can't be scared. If you were, you wouldn't be doing it. You don't think about falling off; you just think about doing the best you can with the animal underneath you and working on little things as you go."
Fred Doherty, the production manager for the International Rodeo, has other things with which to concern himself - including dirt. Specifically, he requires 300 cubic metres of the stuff.
Doherty just wants to borrow the brown stuff for a couple of days, whereupon it'll be returned, perhaps even aerated a little by the boots of riders, clowns and others inclined to share an arena with bulls and broncos, the dispositions of which tend towards dangerous.
Doherty, who has organised many of the logistical details for previous stagings of the event in Christchurch (2007-2009) and Hamilton (2011), says he has yet to finalise a source for the soil but has a "fair idea" where he'll get it from.
The "little old farmer from Outram" has been closely involved in other rodeos at both national and local level, including the Outram Rodeo Club, and has worked with the New Zealand Rodeo Cowboys Association in various capacities.
That insight, coupled with his organisational role, means Doherty is in a good position to comment on just what the International Rodeo means to those both in Dunedin and further afield.
"I think it is huge for our sport in this country. When you take an event like rodeo, on this scale, to a city it attracts a different bunch of spectators - perhaps those who wouldn't drive to the country and sit on a grassy bank, like they do in Outram," Doherty enthuses.
"There is quite a buzz going round now people have heard this is happening."
Staging the International Rodeo at Forsyth Barr Stadium is not without its challenges.
The biggest concern surrounds the venue's grass surface, which can't be covered for too long.
Hence, Doherty and crew will be working to tight deadlines to ensure the event goes to plan.
"We'll start on the Friday morning, put in a 15-hour day, then get it finished on the Saturday morning. The stock arrives early that afternoon and the event gets under way that night. Then we turn around on Saturday night and pull down the arena; the soil will disappear on Sunday morning so by 2pm that day it'll be all over," he explains, adding the stadium's surface will be protected by a network of boards - 600 sheets of plywood, to be exact.
The International Rodeo will use the New Zealand Rodeo Cowboys Association's portable arena, essentially a series of interlocking panels and gates, that arrives in a couple of shipping containers.
"There will certainly be a big crew of labour required, though I'm not sure of the exact number," Doherty says.
"The arena is going to be a bit bigger but that's a good thing. For typical competition arenas there are maximum and minimum sizes, but because this is an exhibition rodeo we can change the arena size to suit."
Doherty's role includes organising cowboys and clowns alike, both from overseas and within New Zealand. For last year's Hamilton event foreign entrants hailed from Canada, the United States and Australia.
"I'm just getting started there. I emailed some Canadian boys last week and at least one of them is keen as hell to come back over here.
"The international contestants lift the profile of the event. I get hugely excited by it all. It's like bringing some great American basketballers to town for a showcase."
Among the rodeo's various technical staff will be a team involved in filming the event for wider distribution.
"There will be four or five cameras working on an outside broadcast as well as providing footage for a DVD," Doherty explains, adding previous rodeo footage has been sold to the United States' Foxtel network.
Rodeo is, typically, a competitive circuit in which contestants chase prizemoney.
The winnings go towards points and, ultimately, titles. However, the International Rodeo is an exhibition event and therefore offers no points, though there is plenty of money at stake, "more than would be on offer at a club event", Doherty says.
"There will be $25,000 on offer over four events. A bull-rider might be able to walk away with $2500 for about eight seconds work. Those guys understand that if they don't perform they don't get any money; that's just the way it works.
"The competition is serious. The modern rodeo contestant is an athlete. But once those riders have faced their fears they are in party mode. It is a party atmosphere."
Contributing to the atmosphere is a master of ceremonies (who provides a running commentary) and a supporting cast comprising pick-up riders, clowns, an arena director as well as medical teams - for humans and livestock.
"Like any rodeo in New Zealand, there has to be a veterinarian present and the stock is all checked as it arrives. A vet is on hand at all times and also has to fill in a report that is sent to the national association. We are very conscious of animal welfare.
"There will be first aid and paramedics. As you get up the scale, there are fewer injuries," Doherty says, adding "the potential for injury is always there."
He should know, given he helps organise bucking broncos and bulls alike, some of which boast names that would hold up in a professional wrestling bout (last year's event in Hamilton featured animals with names such as Crankhandle, Terminator and Bogeyman).
"We have contract bulls and horses down this end of the country. We will be getting some horses from Waimate and Lawrence. Most of the bulls will be local, from Clark's Junction, but I might have to get some others from Christchurch. We are certainly sourcing the best stock we can from the South Island.
"They have their own personalities. They all have things they will or won't do. Some bulls are quite social, while others have to be penned on their own, or you can't pen this one with that one because they'll have a scrap."
---
The show
The International Rodeo will be held at Forsyth Barr Stadium, Dunedin, on November 17.
---