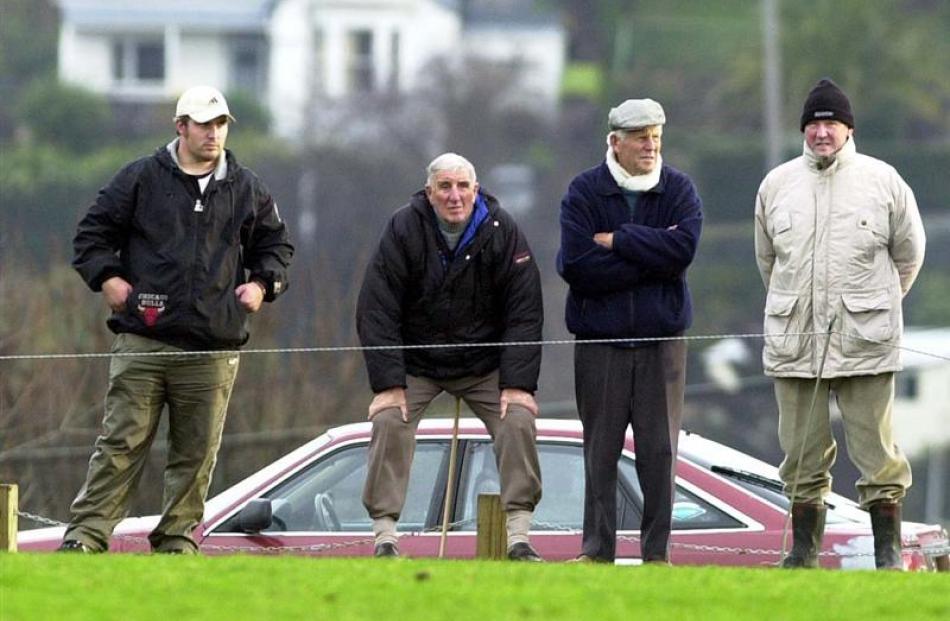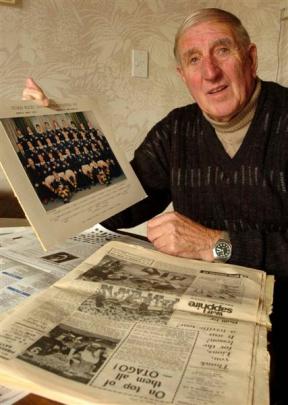 Eric Watson is one of the latest inductees to the Otago Rugby Hall of Fame after an outstanding career in which he coached the All Blacks, the New Zealand Juniors to victory over the All Blacks, transformed Otago into one of the most successful and entertaining teams in the country and contributed hugely to the administration of the game in the province. He reflects on his career with former Otago Daily Times sports editor Brent Edwards.
Eric Watson lives simply in retirement in St Clair these days, a far cry from the time he held the job many regarded as second only in importance to that of the Prime Minister.
He's 88 now, and has had two knee replacements, but he lives by himself, cooks for himself and retains the deadpan wit which made him one of the characters of New Zealand rugby during almost two decades of coaching at the top level.
He was at the helm of Otago for nine years, of the New Zealand Juniors for seven winters, and coached the All Blacks for two years before he resigned the position after the triumphant tour of Wales in 1980.
He was brought up in the Great Depression and is an unpretentious man of simple tastes who combined his sporting career with his business as a sign writer which suffered during his absences on coaching duty.
He was a talented artist - some of his work adorns the wall of his home - and he had to decline an art scholarship to Otago University because of family circumstances. Back then, money was scarce and he had to make do as best he could.
He loves a flutter on the horses, watching rugby (mainly on television) and reminisces about his days in the rugby spotlight.
His Otago teams were famed for their rucking and willingness to run the ball, his New Zealand Juniors for their remarkable win over the All Blacks at Carisbrook in 1973 and his All Blacks for their memorable win over Wales in the centenary test of 1980.
Loyalty is big for Watson. He has been involved with the Zingari-Richmond club for more than 70 years as a player, coach, administrator and life member. He watched them in rain, hail or shine until a few years ago but is choosier about the weather these days.
It was at Zingari that Watson began his association with All Black prop Keith Murdoch, notorious to many for his expulsion from the tour of Britain in 1972-73 and his decision not to return to New Zealand but to live in Australia.
Watson had no problem with Murdoch the person. He had more problems getting him to play to his potential.
''Keith was a fine person,'' Watson recalled.
''He would do anything for you. He was a gentleman.''
Watson is adamant Murdoch would not have suffered the ignominy of being sent home had he been in the Otago environment.
''We would have known how to handle him. I got on well with him and so did the Otago players. We knew how to talk to him. I was able to get him to do anything. The hardest thing was to motivate him to play.
''I had to jolly him along to play for Otago. Sometimes I would have a jug of beer with him to get him interested.
''Keith was probably over-rated as a player. Players with less ability who gave 100% were more valuable. He played some mighty games - I remember one against Wellington when he played like a great All Black - but I had to find reasons to get him to play. He would play about one good game out of every four.''
There was plenty of banter between them. Watson once quipped that the Otago front row (Murdoch, Dave Pescini and Tony Kreft) ''would not get School Cert between the three of you''.
''Murdoch replied 'that's a good one, Skellerup' and, when I asked him where he got that from, he said 'you've got a face like a twisted sandshoe'.''
Watson last saw Murdoch during the New Zealand Juniors' tour of Australia in the mid-1970s.
''He just came around to say hello and then left again. I hardly recognised him with all that hair. He was good but he didn't want to talk about what happened in Wales.''
Watson was at the height of his coaching powers when he ended his tenure in 1971 but he had to wait until 1979, when he was 54 - which he believes was too late - for the All Black job.
The knives were out after the All Blacks were beaten 2-1 in Australia in 1980. The series was level at 1-1 when the All Blacks were struck down with food poisoning before the decider in Sydney.
''About eight of the players were affected fairly badly but we all agreed there would be no moaning. We never used it as an excuse. Ray Harper [manager] came to me on the morning of the test and told me how sick some of the boys were.
''I gave the team talk as usual but it was the deadest team talk I ever gave. If it had been a boxing match it would have been postponed.''
But there was redemption in Cardiff and Watson's time at the top ended with the All Blacks leaving the ground to a standing ovation after their sparkling display.
''I loved my time as All Black coach,'' he reflected.
''It affected my business really badly as I worked on my own and wives weren't part of it, as they are now, but I don't think they enjoy it as much these days.''
Watson was paid $11 a day as All Black coach and recalls paying about $200 for tickets for friends to the test in Cardiff.
He had a particularly strong relationship with captain Graham Mourie, who had been part of the juniors who had beaten the All Blacks in Dunedin.
''Graham said that when players had been coached by me he always knew they would be proficient in the basics. I took that as a real compliment.''
Watson's coaching style was influenced heavily by Otago identities Vic Cavanagh, Charlie Saxton, Norm Wilson and ''Grub'' Garden.
''Vic and Charlie taught me so much about coaching. They wanted to me to take over as Otago coach and I couldn't have learnt from two better men. They were real students of the game.
''They taught me all about the basics of forward play. Vic was a big influence in my philosophy of rucking. I couldn't stand the thought of anybody being kicked on the ground. Stamping isn't rucking. We bound, drove in over the top and rucked the ball back. We didn't kick or stomp players.''
But rucking has now all but disappeared from the game, much to Watson's frustration.
''The ball used to be a lot quicker and cleaner. There are a lot of players falling down all over the place now.
''There didn't used to be. You had to stay on your feet and drive the opposition off the ball. We used to practise it in slow-motion to perfect it. The players learnt it by heart, by repetition.
''Rucking was a great skill but it's virtually been lost.''
His coaching philosophy was influenced by his playing experience for Zingari and Otago (two games as a midfield back) before he broke a collarbone.
''I played at second-five for Zingari in a team that played 10-man rugby and I always said I wanted to be in a team where the wings scored tries.
''I was determined the backs in my teams should run with the ball and score tries.
''We spent a lot of time on the basics of scrummaging, lineouts, kick-offs and correct body positions.''
Watson's wit was never far from the surface.
When the media congratulated Watson after his ''wee Juniors'' beat the All Blacks, Watson replied without the trace of as grin: ''Well the players did help a bit!''
Watson's witticisms have become a source of rich anecdotes.
Some examples include an Otago team talk: ''Now you props just out and play and I'll come out at halftime and turn you around.''
After Otago just failed (8-9) to win the Ranfurly Shield off Hawkes Bay in 1967: ''Well Dudley [Dudley Manning, sports editor of the Otago Daily Times], there goes my knighthood!''
After his triumphant return from Wales in 1980: ''It's a change from a few months ago. I'm more popular than the Beatles!''
Watson was a fine sportsman in his own right.
He played cricket for Otago from 1949 to 1960, often opening the batting with Bert Sutcliffe and taking some outstanding catches in the slips.
He also played for Otago at bowls and was a stalwart of the St Clair club.
There has been tragedy in Watson's personal life.
Both his wives, Billie and Daphne, died of cancer, Daphne in 2001.
''I've had two lovely wives,'' he said.
''It's hard on your own but I'm managing. I try to keep myself busy.''
A friend comes in once a week to help around the house and he keeps in close contact with his daughters, Lynette Moses and Henrietta Watson.
And it seems his humour has been passed down to his family.
''I was complaining about something once when they told me to stop moaning and wait for God.''