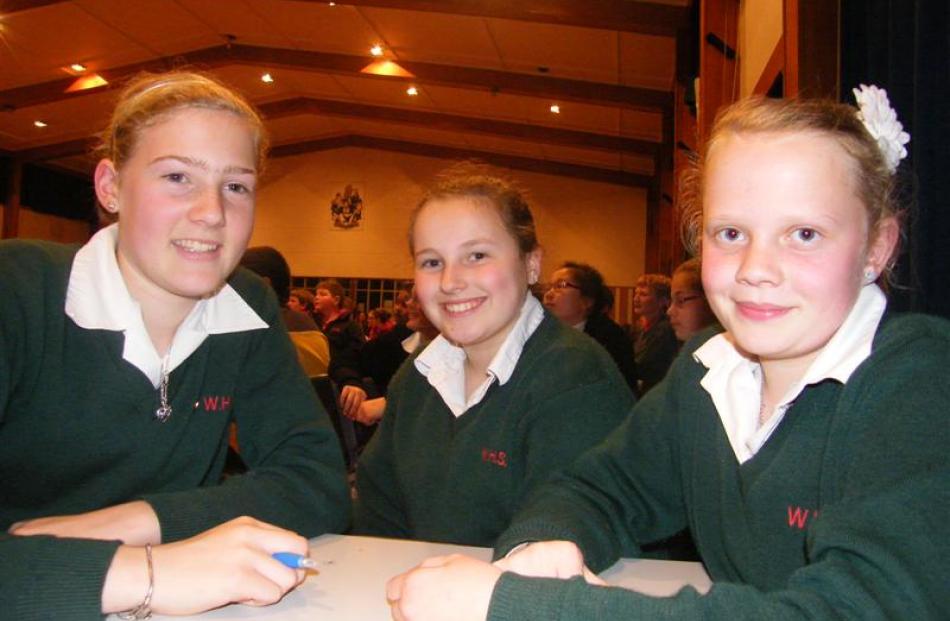 Ashburton schools came up trumps at the Otago Daily Times Extra! social studies quiz held at Timaru Boys' High School yesterday.
Ashburton teams took first prize in both age group sections and were also second and third in the senior section.
Fifty-two teams entered the years 7 and 8 section while 34 teams entered the years 5 and 6 section.
In the years 7and 8 section Ashburton schools scooped the top prizes, with Ashburton Borough 1, of Joshua Lowe (12), Hunter Stewart (13) and Hamish Sheate (11), beating Ashburton Intermediate 1 in a tiebreaker on 98 points. Ashburton Intermediate 3 was third with 95 points.
Ashburton Borough School deputy principal Fiona Ross said her school got the ODT Xtra every month for the children to read and it held a weekly current events quiz.
The children also watched the news and read the newspaper.
"They have swotted all term," she said.
Earlier in the evening, the younger Ashburton Borough 1 team of Duncan Wheble (11), Harry McMillan (10) and Kate McIllroy(10) won the years 5 and 6 section, with 94 points out of 100.
Geraldine School was second on 94 points and Temuka and Hampstead Schools were tied for third, one point behind.
With nine out of 10 rounds played, five teams were tied for first place and quiz co-ordinator and Extra! editor Ivan Behrnes said it was the first time he had seen that number of teams on equal points going into the final round.
ODT Extra! quizzes are held in Alexandra, Dunedin, Christchurch and Timaru and involve more than 1300 pupils.
The quizzes are part of the newspaper's Class Act project, which celebrates the excellence of young people.
- Marion Mouat.