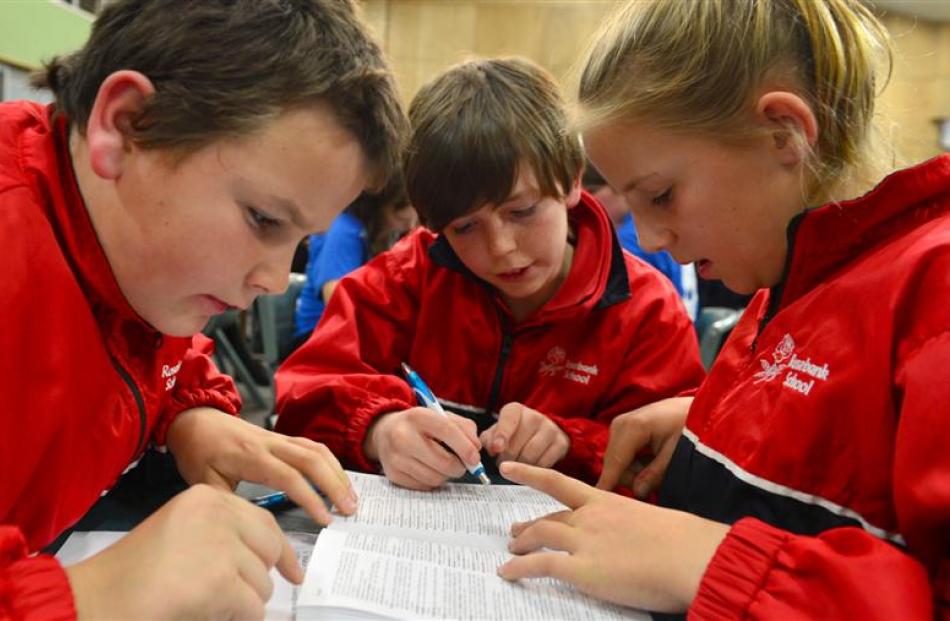 Young brains were working overtime at the 2013 Otago Daily Times Extra! spelling quiz at Tahuna Intermediate School last night.
More than 60 teams from 25 Otago schools competed in the year 5 and 6 event.
''It's great to see all the rural schools involved. Schools like Rosebank, Balclutha, Waikouaiti and Waiwera have all come a long way. That's great to see, because we want to encourage rural schools to get involved and take on the Dunedin schools,'' Extra! editor Ivan Behrnes said.
Grants Braes won the year 5 and 6 quiz with an all-but perfect score of 99 out of 100.
The only word the team got wrong was ''weather'', team member Gregor Clarkson (10) said, because they were not sure whether it was ''weather, whether or wether''.
Opoho 1 and Columba 3 tied for second, with 98 points, before Opoho claimed second by winning a tie-breaker by spelling the word ''meringue'' correctly.
The pupils were tested on spelling, dictionary skills and their understanding of abbreviations. The 7 and 8 quiz was won by Tahuna 4, with 99 out of 100 questions answered correctly.
''We think the one we got wrong was the abbreviation 'Mt','' Asher Quin (12) said.
''We put 'Mountain', but it was probably just 'Mount'.''
John McGlashan College 1 finished second, just one point further back with 98 points, with John McGlashan 3 and 6 and Taieri College tied for third.
The quiz is on in Cromwell next Wednesday and Thursday and in Timaru the following week.
The postponed Canterbury quiz would be held on the first Monday of the third school term, Mr Behrnes said.
The Otago Daily Times Extra! spelling quizzes are part of the newspaper's Class Act project, which celebrates the excellence of young people. Extra! is a monthly educational publication produced by the newspaper for senior primary, intermediate and junior secondary school pupils.